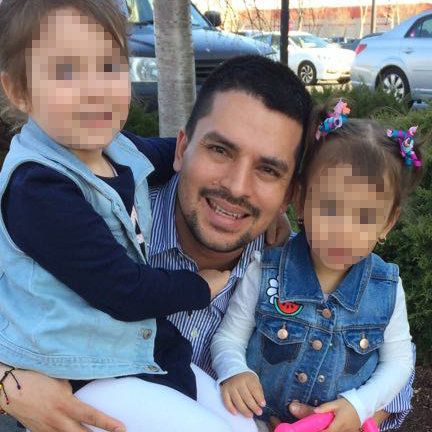 Pablo Villavicencio was detained while trying to deliver pizza to Fort Hamilton.
Photo: Pablo Villavicenci/Facebook
Here's a bit of positive news: A judge has granted a stay of deportation to a restaurant worker detained by ICE, at a moment when all signs pointed to his imminent deportation. On June 1, Pablo Villavicencio was turned over to U.S. Immigration and Customs Enforcement by a military police officer after Villavicencio attempted to deliver pizza to Fort Hamilton in Brooklyn. Gregory Copeland, Villavicencio's representation from the Legal Aid Society of New York, told the Times that the next focus is getting him out of detention. The father of two, who has no criminal record, is still at risk for deportation.
Last week, in the hours after it was reported that Pablo Villavicencio had been arrested and moved to Hudson County Correctional Facility in New Jersey, accounts from Fort Hamilton police, along with information from Villavicencio's family and a statement from ICE, revealed a complex case. Villavicencio entered the U.S. in 2008 without documentation, and as such was the subject of a voluntary removal order in 2010. He is married to a U.S. citizen and initiated a green-card application in February, his wife said. On the day of his detention, Villavicencio traveled from his job at a Queens pizzeria and presented his IDNYC card at the Fort Hamilton gate. Fort Hamilton military police claim that Villavicencio signed a mandatory waiver related to a background check, which Villavicencio denies. "I am 100 percent sure that I did not sign any document there," he told the Post.
Pablo Villavicencio has no criminal record, and New York is a sanctuary city. Over the weekend, Governor Cuomo and Mayor de Blasio commented that the detention was a "part of a pattern targeting New York residents" because of authorities' limited cooperation with officials, and that Villavicencio is not a risk to public safety, respectively. While his case remains to be adjudicated, restaurants in the vicinity of Fort Hamilton are reportedly refusing to deliver to the base. "If they want food, let them come here [to pick it up]," one delivery worker told the Post, while a manager of Orders2me, a delivery service, said that the base had been removed from its delivery zone.