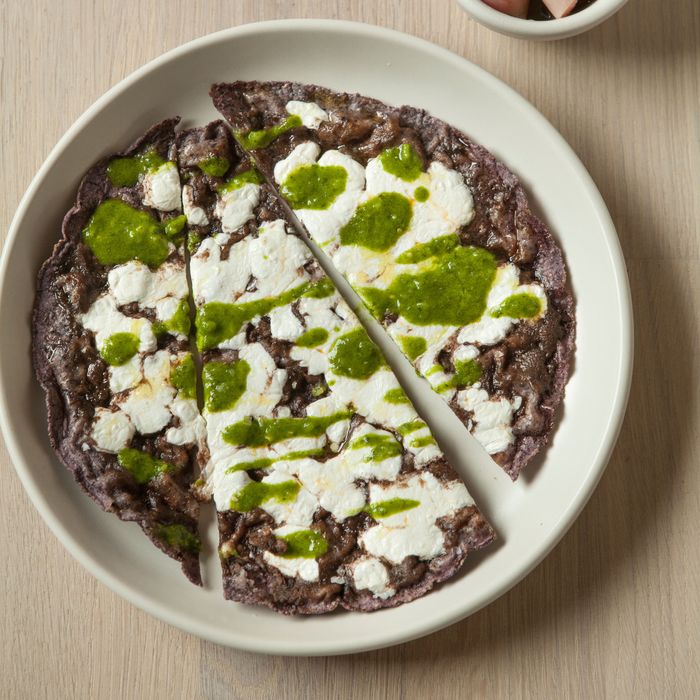 The tlayuda with lard, house quesillo, refried beans, and salsa de pipicha.
Photo: Melissa Hom
Pizza and tacos are two of the world's great foods. "So why not cook both?" is more or less the question chef Justin Bazdarich asked himself. His restaurant Speedy Romeo is one of Brooklyn's most popular new-school pizzerias, popular enough for him and his partner to open a second branch on the Lower East Side. Bazdarich and his crew cook every dish at both in the wood-fired oven — even the chicken parm — and he's something of a culinary pyromaniac. Back in December, Grub spilled the beans that at his next restaurant there'd be no margheritas, just margaritas: serving, he told Grub then, wood-fired Mexican. Located in Greenpoint and called Oxomoco, that restaurant opens for business today.
"I'd sort of written a menu that was my vision and fantasy," Bazdarich says, before he was helped in refining by his chef de cuisine Matt Conroy, who worked at Empellón Cocina, and a hand from consultant Kaelin Ulrich, who Bazdarich says "kind of grew up" in Oaxaca. "What kind of brought things together is that we've taken all the best of Mexico and put it into one menu."
The menu is a grab bag of Mexican dishes: It traverses from Tijuana (via the Caesar salad, for which they're grilling half the romaine) to Ensenada (from which they've borrowed their style of tostadas) to Oaxaca (tlayuda with lard) over to the Yucatán (skewered swordfish achiote with habanero salsa for tacos). There's also a nod to modern Mexican cooking in the tuna tostada, the style of the famous Contramar. "Everyone has sort of ripped off their tuna tostada," Bazdarich says.
Here, it's served with mashed avocado, thinly sliced radish, yellowfin tuna that's brushed with soy sauce, and then topped with a smoky, sesame-based salsa macha and toasted sesame seeds. Speaking of toasting: "We're just trying to make sure everything touches the grill somehow in some element of a dish," Bazdarich says, an approach he's imported from his pizzeria. Just as they make mozzarella at Speedy Romeo, they're making giant balls of quesillo at Oxomoco, as well as a Valentina-like house hot sauce of arbol and guajillo chilies, vinegar, garlic, and salt.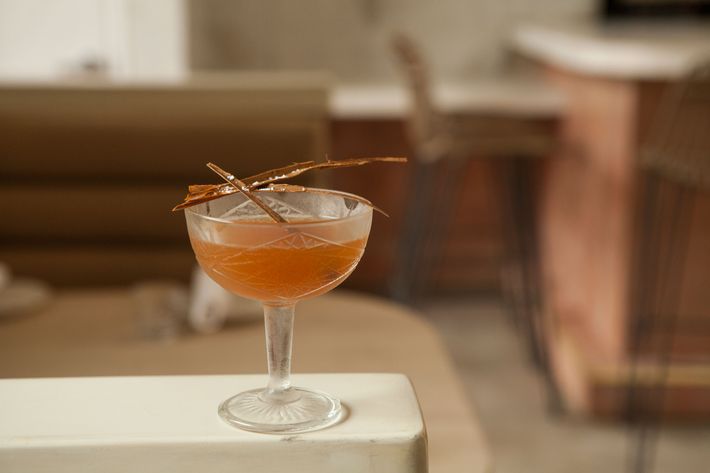 For the drinks, they've brought on one of the cocktail world's big names: Eben Klemm, the biologist turned bartender, whose consulted here on a mezcal, rum, and tequila heavy set of drinks. The kitchen's emphasis on incorporating grilled things carries over to drinks like the Hue Hue, a mix of bourbon, mezcal reposado, fernet, and smoked mole. Orgeat is usually made with almonds, but for the rum-based Teo Teo, Klemm has instead prescribed a pumpkin-seed orgeat. There are also wines, including some from Mexico, and both American craft beers and Mexican macrobrews, as well as nonalcoholic agua frescas like tamarind tepache and cucumber-mint-kiwi-lime.
What originally attracted Bazdarich and his business partner Chris Walton to this space was its giant skylights, which flood the room with plenty of natural light. They've built a hanging plant shelf inside of the skylights and decorated the room with plants, but it's otherwise an uncluttered space. "It's sort of a very minimal, Art Deco, Mexican-style design that you'd see in Mexico City in the '20s or so," Bazdarich says. "We didn't want any bright pops of color. We want the food to be the color in the room."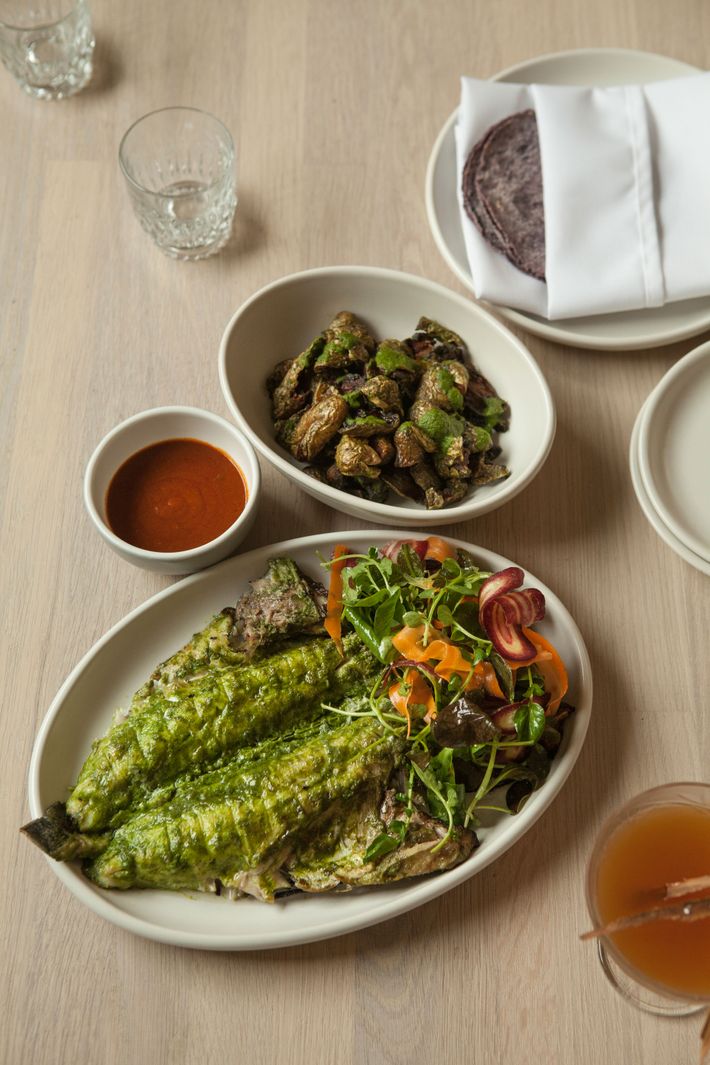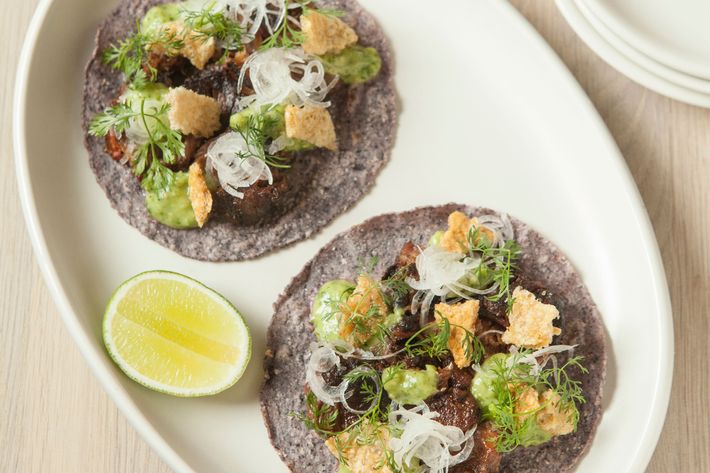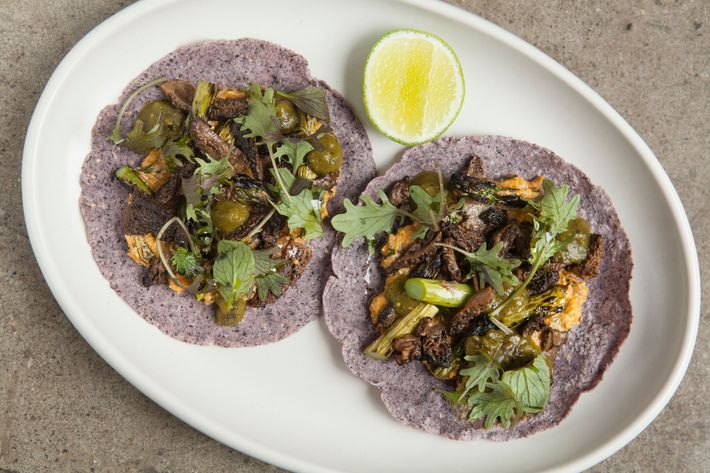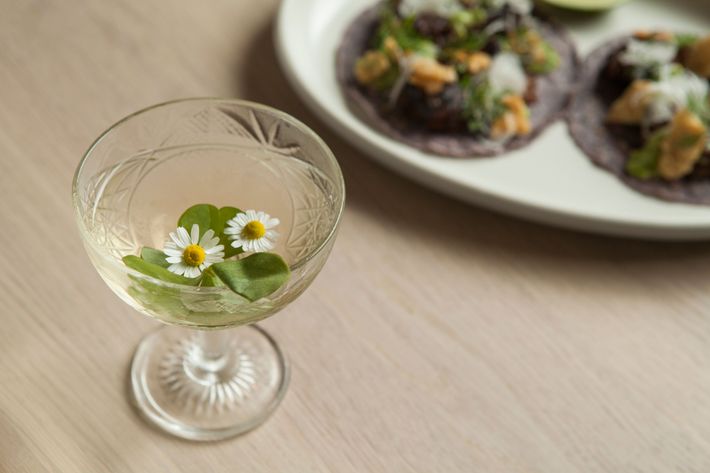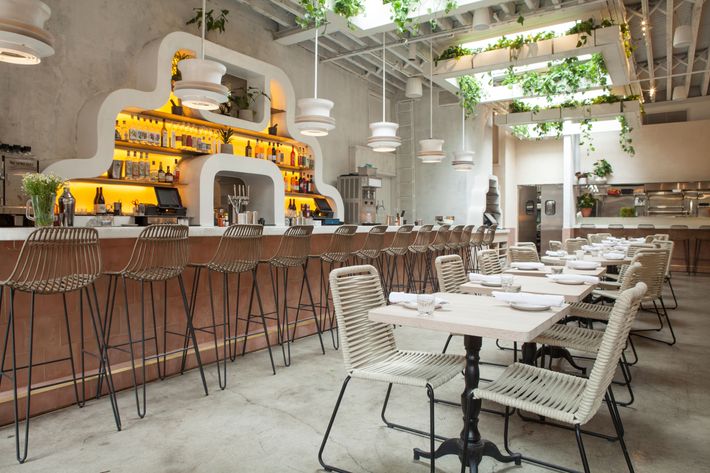 Oxomoco, 128 Greenpoint Ave., nr. Manhattan Ave.; 646-688-4180