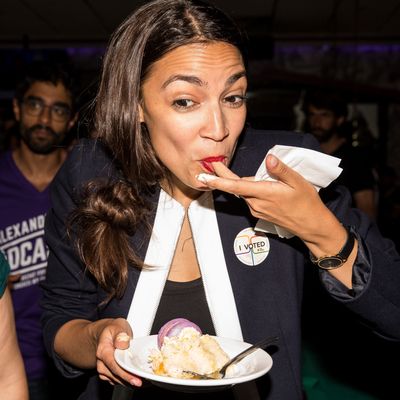 Ocasio-Cortez last night.
Photo: Scott Heins/Getty Images
In a "stunning upset," Alexandria Ocasio-Cortez last night won a decisive victory over ten-term congressman Joe Crowley in the Democratic primary for the Bronx-Queens 14th congressional district. It's early, but the win could be viewed as a potential victory for New York restaurant workers, who routinely endure long hours, low pay, high-cost health care, and insanely high rent.
A member of the Democratic Socialists of America, Ocasio-Cortez has invoked that scenario repeatedly: It was only nine months ago, after all, that she was a bartender and server at a Manhattan restaurant, work she did even while running her campaign. She was doing it to help support her family after her father died, she's said, and a photo of her that reporter Dave Weigel tweeted still appears on the website of her old employer, the Mexican restaurant and tequila bar Flats Fix.
Much of the hospitality industry's most thankless roles are filled by people from marginalized communities. As a working-class person from the Bronx, Ocasio-Cortez didn't need a restaurant gig to encounter this demographic. Regardless, her platform indicates that she will be a much-needed advocate for restaurant workers.
Obamacare was a boon for workers at (and even owners of) independent restaurants and food businesses. These same workers stand to benefit even more from "Medicare for all," which Ocasio-Cortez argues for along with a federal jobs guarantee that would include a $15 minimum wage pegged to inflation and paid child and sick leave for all. The minimum wage varies by state, but currently the federal tipped minimum wage (paid to many restaurant workers) is a meager $2.13 per hour, while the minimum wage is $7.25. (It should be noted that Crowley signed the Raise the Wage Act in 2017, and helped reintroduce the Equality Act.)
Dismal pay is one smaller part of an industry demonstrably infested with pervasive labor issues spanning from wage violations to discrimination based on sexual orientation, gender, and race. Mario Batali and his business partner Joe Bastianich's B&B Hospitality Group was hit with two wage lawsuits and a discrimination lawsuit last year alone. Between 1995 and 2016, restaurant workers filed more sexual harassment claims than workers in any other industry, on the order of 1.3 a day — and this happened only at full-service restaurants. In fast-food restaurants, 40 percent of female workers have said they experienced sexual harassment. Tipping has been argued to contribute to sex- and race-based discrimination from customers (and to have a racist history), but low pay is also something that restricts workers who can't afford to lose their jobs.
In her platform, Ocasio-Cortez emphasized support for the LGBTQIA+ community, including the Equality Act, which would make gender and sexual-identity discrimination illegal, and equal pay for women. She puts particular emphasis on mother's, women of color and indigenous women, and queer women. She's called for abolishing ICE, which has repeatedly conducted immigration raids in restaurants across the country, including in New City, where it seems restaurant workers now have an advocate who understands the protections they're lacking, and need.