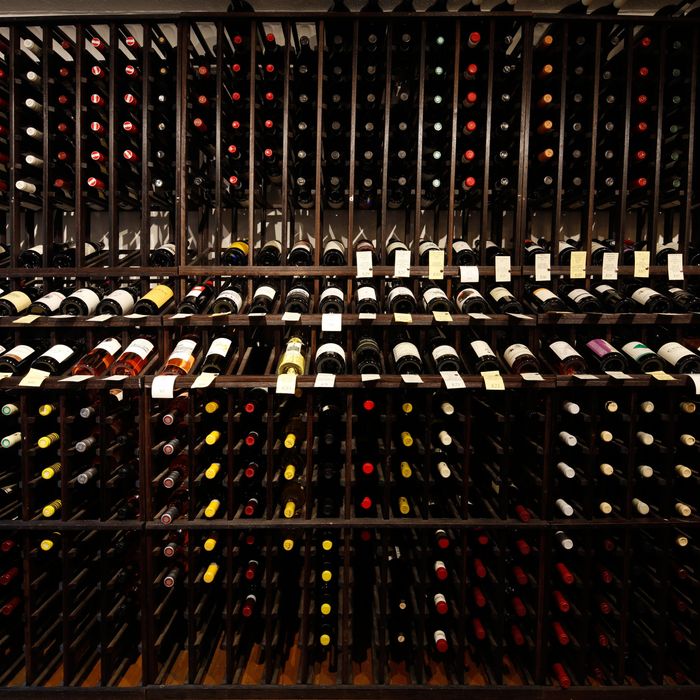 If two proposed bills become law, it will be more difficult to find obscure bottles.
Photo: Melissa Hom
New York City's wine stores and restaurant wine lists are known for their mind-boggling variety. But all of sudden, much about the way wine merchants and sommeliers achieve that breadth stands to change under two proposed bills, NY S05437 and NY A10737. Introduced by State Senator Terrence Murphy and Assembly Member Carrie Woerner, it could be argued that each bill addresses a baroque set of existing rules and the New York State Liquor Authority for the benefit of consumers. Shop owners and collectors, however, argue that the bills redraw the way businesses will find the wines they want to buy and sell, and possibly result in "almost no access to older vintage wines."
At the moment, it's unclear if either bill is a priority for lawmakers, or if they'll even come to a vote. If made law, however, changes could result in higher prices and fewer choices, particularly at smaller, shelf-space-challenged shops. Prestige wine programs at places like Eleven Madison Park and Frenchette would also be affected, along with the house red and white selections at neighborhood bistros.
Here's why: Currently, merchants and restaurants seeking, say, a certain Rioja might be able to buy it from a wholesaler, but can also purchase the wine from another entity if they want more than the wholesaler has in stock. The language of the proposed bills seeks to empower what are termed the "primary American source of supply," or wholesalers (a.k.a. the Empire Merchants and the Southern Wine & Spirits of the industry). The new rules would give any one, and only one, wholesaler control of any label, so individual winemakers, or "any single brand," becomes an exclusive part of the wholesaler's portfolio. It's effectively a monopoly, so anyone who isn't concerned about the prospect of fewer lip-smacking Jura reds might be worried about steep price hikes that could result from a newly homogenized market.
A second implication that has wine drinkers reeling concerns the often-extraordinary impact that wine shops will have to compete and stand out by selling interesting, older bottles. Current rules allow certain merchants to buy wine directly from sources beyond wholesalers, including the cellars of private collectors. Several of the best wine shops do this; it's what keeps the city's wine scene diverse and interesting. And as writers like Jason Wilson have argued, the ability of merchants to specialize and sell wines made from more obscure grapes (or from far-flung regions) conveys the added benefit of biodiversity and environmental stewardship, a good remedy against the tide of industrial bottles.
The proposed legislation limits the meaning of "private collection." Collectors would have to be "non-licensed" individuals, only selling wine that originated at a retail store or at auction, and transactions would require the original proof of purchase. Finally, if the wine is white or rosé, all bottles would have to be at least five years old; if the wine is red, port, or sparkling, that number goes up to ten.
Critics argue that these cutoff dates for cellared wines seem arbitrary. Take, for example, a hard-to-find 2010 Champagne from producer Cédric Bouchard, which is fine to drink now but wouldn't qualify for resale until 2020, which will inevitably make the price higher. The bills' language also makes no mention of orange wine, or fortified wines like Madeira. In other words: It seems random and ill-considered. Merchants are asking people who care about wine to contact elected officials. You can view a letter for submission, addressed to state assembly members and senators, here.
In addition to limiting the type of wine that's available, the bills could be a disaster for the state's small, independent wine shops, where profits are already hard to come by: The standard markup is 33 percent and most shops offer discounts for cases of wine, which further trims already-slim margins. In New York City, where rents are prohibitively high and unstable, the issue is only further compounded.