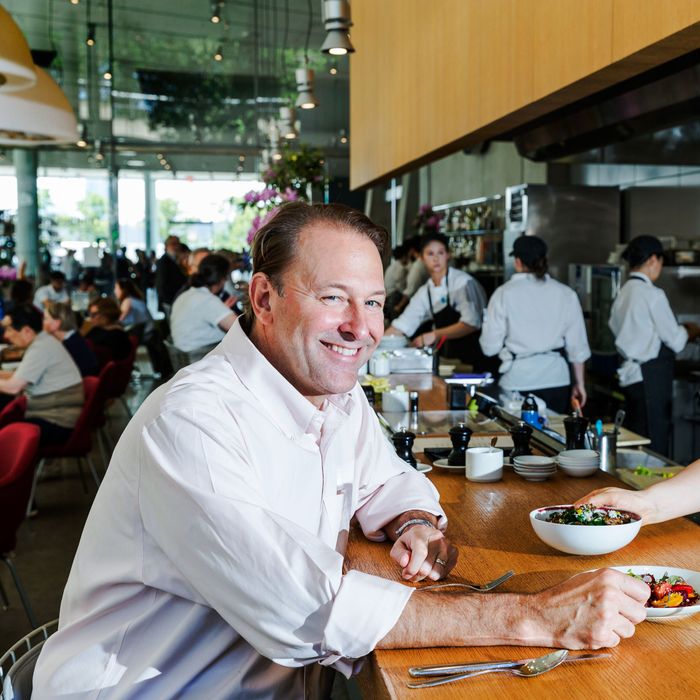 "I've had lots of moles … But this was unlike anything I'd ever tasted."
Photo: Mark Abramson
If you like to cook, or have ever wanted to learn, you've likely read something that Michael Ruhlman wrote. As one of the country's most recognizable and prolific writers on food and cooking, he's authored and co-authored many books, including The Making of a Chef, A Return to Cooking, and his latest, Grocery: The Buying and Selling of Food in America. This week, Ruhlman drank mezcal and fell in love with mole negro during the tail end of a trip to Oaxaca before returning to New York (where he now lives), where he got in meals at some of his favorite restaurants (like Barbuto) before, finally, finding time to cook dinner. Read all about it in this week's Grub Street Diet.
Thursday, May 24
We'd begun that day at our lovely hotel, Casa Oaxaca, with a banana muffin with strawberry preserves, and fruit: granadilla (passion fruit), mamey, papaya, pineapple, banana, pear, apple, all with a squeeze of lime. I had promised myself not to eat more so that I'd be hungry for lunch, but I failed, and ate half of Ann's chilaquiles: two eggs atop crisp tortillas with green mole, Oaxacan cheese, salsa, and black beans.
A moment sometimes comes, on the road, when you encounter the ineffable authenticity of place that led you on the journey to begin with. For me, that moment happened on Thursday at 1:30 p.m., in the village of Teotitlán del Valle, a 40-minute drive from the city of Oaxaca in southern Central Mexico.
My wife, Ann Hood, and I were at the famed restaurant Tlamanalli, where the Mendoza sisters cook traditional Mexican food from scratch. They do everything from scratch — not only grinding corn on a metate for tortillas but also grinding the clays and bugs and flowers with which to dye the yarn for the rugs they weave (the town is famous for rugs as well).
The chief cook, Abigail, was away at a funeral, but her sister Rufina had no problem accommodating us, the only people in the "restaurant," a big, open kitchen and sprawling, unlit dining room with a dozen tables, all empty but for ours. We sipped the house mezcal, and Rufina delivered a squash soup with a crispy quesadilla, filled with cheese and squash blossoms, deep-fried, a great combination of fresh, light soup with crispy, cheesy goodness.
Next, I received chicken Seguesa, chicken breast in a tomato-based sauce with chilies and corn and a fabulous large, mintlike leaf called hoja santa, "holy leaf." But it was not until Ann passed me the plate she'd been served, a chicken leg completely draped in the blackest sauce I'd ever seen, that the moment arrived. I cut into the pollo con mole negro and ate. And there, I swear, was the heart of Mexico itself.
I've had lots of moles. Ann makes a great mole. I've eaten moles by Rick Bayless, arguably the most knowledgeable gringo chef on Mexican cuisine there is. We'd gone to the excellent Claro, in Brooklyn, in preparation for the trip. But this was unlike anything I'd ever tasted.
Will I describe it? No. It was ineffable! You had to be there; that's why you travel. The smoky depths and three dozen chilies grown in the area, the Mexican chocolate that enriches and deepens the sauce, the variety of fruits and herbs that give it such complexity along with a week's worth of cooking. It was an entire Mexican landscape condensed into velvety blackness.
My wife has been a traveler since well before her years as a TWA flight attendant and well after that through her career as a novelist and essayist. She was why we were here. She'd awakened one morning in April obsessed, for no good reason, with Oaxaca, where we'd never been, capital of moles and mezcal. It would be a gift to me on the occasion of our first anniversary.
We returned from Teotitlán, and on our way that evening to explore the other M, mezcal, I stopped at a street cart selling the big ears of corn called elotes. The young man slathered it with mayo, dredged it in cheese, doused it with lime, and sprinkled it with chili powder. This was not tender sweet corn. This was thick, dense corn, like posole, minus the broth, on a stick.
Still full from lunch, we opted for street food for dinner at a fabulous food cart called Lechoncito de Oro, where we ordered tacos con lechón and chicharrón, which were so good; we had tostadas con lechón and chicharrón, fatty roasted, chopped pork shoulder and crispy cracklings on a crisp tortilla, sauced with green mole.
Friday, May 25
I love routine when I travel, doing the same things over, making yourself a temporary regular. Good coffee in bed, then to the courtyard for fresh fruit and the same chilaquiles with sunny-side-up eggs. We needed a good breakfast for a deep dive into the mezcal, with the fabulous Andrea Hagan, a 29-year-old Chicago expat who started and runs Mezcouting, a gastro-tourism business based in Oaxaca.
Even Mexicans tend to look down on mezcal, but I found here an extraordinary spirit of great complexity and nuance — far from the worm-in-the-bottle crap I used to do shots out of in college.
Mezcal is indigenous to this area, where dozens of varieties of agave grow, and each variety makes a different mezcal. After a tour of the agave-growing and greenhouse at Real Minero, which described the company's commitment to sustainable growing (they harvest their own seeds and plant agave, which typically take 15 to 20 years to mature), our first taste was from a piece of cooked agave heart itself, cut out with a machete and sucked on. After seeing the clay-pot distillation process, we went to their tasting room for a taste of nine different mezcals.
The next mezcal producer Andrea took us to, Ranchos Los Nahuales, was on a small ranch that had three stills and a cinder-block room filled with jerricans of tequila. On the way, we snacked on pumpkin seeds and chili-coated, dehydrated fava beans that Andrea had brought along. The distiller of this mezcal, Felix Angeles, filled large wooden bowls with the many varieties that he cooked and distilled for tasting. We came away with two more liters, at about $45 per liter, of this genuine, great, ancient elixir. I should note that we drank a lot of mezcal, and never once felt even the slightest bit hungover after. Andrea said this was because it was organic, pure agave, no cane sugar.
After all the mezcal, Andrea took us to a roadside restaurant called Los Huamuches where tortillas were pressed and cooked on circular metal trays over wood fires. Here, we had tlayuda de cecina; a crisp enchilada with chorizo and cheese; fried pork in red sauce with black beans that had been cooked in a clay pot over fire; and memela de queso con tagajo, grilled beef with lard and string cheese, in a tortilla. Oh, and Victoria beer.
That night, we hungered for, and found, those same roasted pork tacos at Lechoncito de Oro and elotes.
Saturday, May 26
It is the hard but inevitable fate of modern travel: Our next meal was probably the grossest meal I've ever been served on a plane. Curdled eggs in a red sauce with ten or so black beans in a foil tray. Thank you, Aeroméxico! The transition out of an extraordinary land of food was not an easy one.
Happily, we had dinner at Barbuto in the West Village with my best pal, biographer Blake Bailey. He had been staying in our apartment all week during and following the death of his current subject, writer Philip Roth. I gave Blake a mezcal tasting (complete with worm-and-chili salt that I'd stolen from the casa) before we headed to the restaurant, where my wife and I split what we almost always do, the food we ate here after our wedding one year earlier: the kale salad, the roast chicken with salsa verde, and the smashed and fried potatoes. (I took home all of the bones to make a small batch of stock.) The kitchen also sent out some squid-ink pasta with shrimp for us to taste.
Sunday, May 27
After Saturday's dinner, I drank far too much bourbon with Blake on the fire escape, so woke up with a resounding hangover. Should have stuck with the mezcal!
Sunday morning began with fried eggs, bacon, and Bays English muffins. Soon after, my mom and her husband arrived, along with Blake, for Bloody Marys, as we were to attend the opening of The Diana Tapes, in which Ann's son was a lead, at Here Theater on the edge of Soho.
It was a short walk afterward for a late lunch at Lupa. My mom at first refused to go in, having watched the Mario Batali piece on 60 Minutes. When questioned about the choice of restaurants, I explained to my mom that the restaurateur she'd named was in the process of divesting from the company that owns the restaurant. There, I had fabulous fried artichokes, delicious goat-cheese agnolotti with a bright pea purée and English peas, and split the porchetta with Ann.
Monday, May 28
I started the day with some corn bread and berry preserves and a side of bacon at Cafe Cluny, one of our habitual morning and midday restaurants on our street, as I knew lunch would be a good one. We took my mom and Bill to the Whitney to see the excellent Grant Wood and Zoe Leonard exhibit, followed by lunch at Untitled.
The restaurant's all-glass walls let tons of natural light in, so the food always looks gorgeous. We had a fine salad of little-gem lettuce, with blue cheese and bacon, and the mushroom-and-sausage pasta adorned with little yellow mustard flowers. Untitled's lovely chef, Suzanne Cupps, sent out a perfect salad of spring beets and the first strawberries of the season, fried-tilefish lettuce wraps, as well as some big shiitakes with a peanut sauce and grated radish.
Memorial Day ended quietly with Mary Shelley, followed by pepperoni pizza for two and shitty wine at John's Pizzeria in the Village.
Tuesday, May 29
The long weekend over, it was time to return to routine: coffee with red grapes and the Times first thing, and before getting to work, a poached egg on half a Bays English muffin. Breakfast is always either that or steel-cut oats, soaked overnight in water and some lemon, eaten raw with full-fat Greek yogurt. I eat Fage or Chobani yogurt, but store-bought granola is too sweet. Bear Naked is okay, but I prefer to make my own.
Lunch after working out was my customary wedge of raw cabbage and three carrots, salted, and a handful of almonds and some of those dehydrated favas that Andrea, our mezcal whisperer, had given us.
And finally, a home-cooked meal at long last, steak-frites with beef from Hudson & Charles, the rest (potatoes, arugula, butter, and shallot) from D'Agostino around the corner from my apartment — so lucky to have a grocery store so nearby. I'd started the fries in cold oil to see how it worked and it worked great, despite some stickage on the bottom. I chose steak-frites because that's the next chapter I have to write in the cookbook I'm working on. And so ended a week of travel, entertaining, and then routine.
But I will never ever forget that black mole, and will be ever grateful to the woman and writer and wife who brought me to it. I think I'll pour her a mezcal, in fact, and tell her just that.