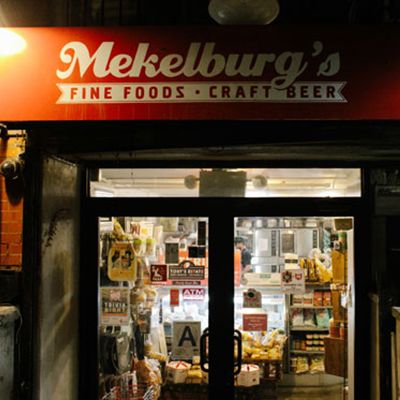 Mekelburg's.
Photo: Angela Datre
In a bizarre and detailed story, HuffPost has revealed the identity of one of Twitter's most prolifically hateful and visible trolls. The account, @AmyMek, is followed by individuals like Sean Hannity and White House press secretary Sarah Huckabee Sanders's personal account. As HuffPost reports, the @AmyMek account is operated by Amy Jane Mekelburg, whose last name may be familiar to followers of New York's food scene: Her brother, Daniel, runs a Clinton Hill grocer and craft-beer bar that bears the family name. And now the grocer has gone to pains to point out that they have absolutely no affiliation with the owner's sister.
In response to the story, Daniel's wife, Alicia Guevara, published a statement to Mekelburg's Facebook page, Instagram account, and Twitter in which she said Amy has "never been linked to" the business, and that they are "disturbed, revolted and humiliated." (Daniel himself was not named in the story and neither was his business, which was just described as a "popular restaurant and craft beer bar in Brooklyn.")
"I think, and it's been proven by the responses we've been getting, that there's an association when you have a sibling; there is a closeness and camaraderie there. That is so not the case," Guevara tells Grub. "This has always been a volatile relationship, even before we were made aware of this Twitter account, which we were not until yesterday."
Since posting the statement, Mekelburg's has received a flurry of responses. Some have taken issue with the statement, questioning them and writing things like "I doubt this was a revelation" and "This is the equivalent of saying 'thoughts and prayers' after a school shooting." And other individuals have, Guevara says, gone so far as to threaten them.
"I'm a little worried about security. We're getting some pretty nasty phone calls and threats and stuff like that," she says. "We're probably going to have some security over the weekend out front. I have to just take care of my staff right now."
By and large, though, there's been an outpouring of support. Guevara says their regulars, neighbors, and industry regulars like Sunday in Brooklyn's Adam Landsman and Fausto's Joe Campanale have all rushed to support them. In comments on Facebook and Instagram, people are expressing empathy that "this even needed to be addressed," sharing "love," and writing that they're "sorry for what you guys are going through." Mekelburg's is a well-respected and popular business that serves some pretty good food, and Guevara reiterates that Amy's "hate-spewing" is not what they stand for.
"I don't want to be in a country with this type of rallying up of hate and fear; I have to denounce that. I regret not having known about it sooner," Guevara says.