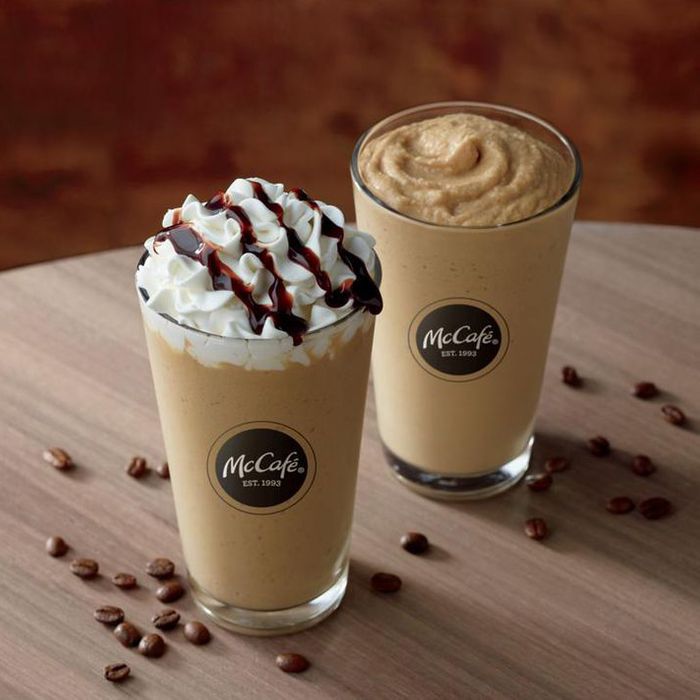 Photo: Courtesy of McDonalds
Leave it to McDonald's to corrupt one of life's simple pleasures: cold-brew coffee.
Yesterday, the fast-food chain debuted its take on everyone's favorite cold caffeine hit, which is deceptively simple to make: Brew coffee in cold water for 12 to 24 hours and you're set. But McDonald's take on cold brew, which starts at 300 calories and $2, is unsurprisingly complicated.
Before even getting to the coffee itself, the ingredients list (via BuzzFeed) starts with cream, skim milk, sugar, and then comes the cold-brew coffee extract — water plus cold brew. All of that is followed by dipotassium phosphate, guar gum, mono and diglycerides, tripotassium citrate, disodium phosphate, and carrageenan.
In addition, diners can choose a number of toppings for their "cold brew," from Oreo topping to chocolate and caramel drizzle, and, of course, whipped cream.
Why McDonald's would need to add preservatives and stabilizers to something as beautiful and innocent as cold brew is inconceivable, but we'll chalk it up to the fact that, as always, the fast-food industry is inherently the worst.