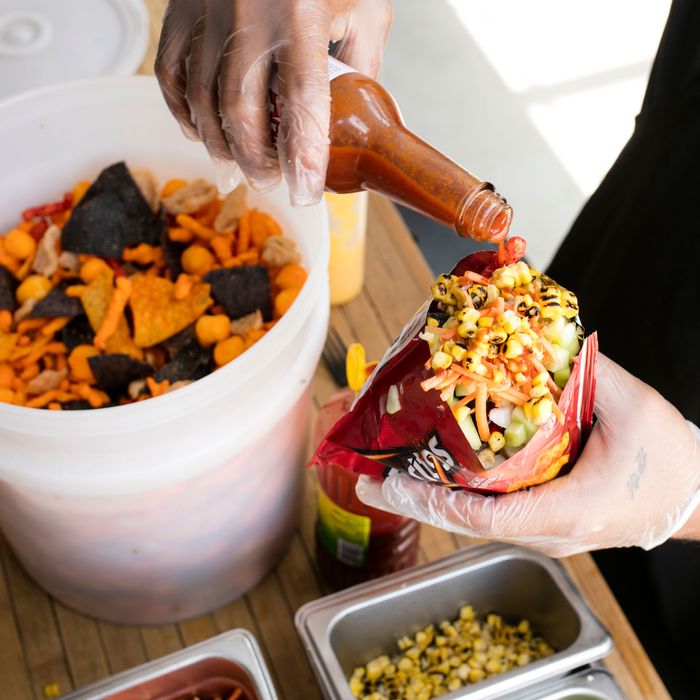 Doritos and so much more.
Photo: Melissa Hom
Imagine the most over-the-top snack you'd actually want to eat. Now, meet Mexico's Dorilocos, a junk-food fever dream. Nacho Cheese Doritos are enhanced with a slew of ingredients: pickled pork rinds, jicama, cucumber, carrots, Japanese peanuts, lime juice, chili powder, a hot sauce like Valentina, the sweet and sour pickled fruit sauce chamoy, and, uh, gummy bears. What at first seems to be too much contains a lot of what makes Mexican snack food so difficult to put down. It's a carnival of flavors that's alternately spicy, salty, and sour, with some crunch and real, live, actual vegetables.
The origins of Dorilocos are about as confused as your palate after downing a bag: Tijuana is a top guess, but Sonora and rougher neighborhoods in Mexico City have also been named. A snack cousin of the similarly junk-food-based Tostilocos, it only dates back to early last decade. You're not likely to find them while seeking out tacos de canasta in Jackson Heights. One place you will find a version of them: Madre Taqueria (formerly known as El Atoradero Taqueria) at Gowanus bar Parklife.
Called Madrelocos, they're available out of the bag ($6) or in a larger tray ($10). (Get the large, you'll just order another if you go small.) They're made with a party mix of chips: Nacho Cheese Doritos, Cheese Puffs, Flamin' Hot Cheetos, and, in an artisanal divergence, Madre's own blue corn tortillas. Most of the ingredients are, otherwise, the same, but not entirely. Jiggly cueritos are subbed out for crunchy, deep-fried chicharrones. There's no Tajín chili powder, and instead mango-lime puree, and, to go with the usual vegetables, diced onion and cilantro. But there are chewy, faintly-sweet gummy bears, which work confoundingly well in this non-sundae setting. For something that's essentially junk-food-on-steroids, what really makes the snack work are the vegetables: They're a fresh relief from the salt bomb of condiments and processed foods.
"I think it reaches that weird balance where's there's enough fresh ingredients, if it was just chips and salsa and gummy bears, it wouldn't really work," says Noah Arenstein, one of Madre's owners. "It kind of balances it out in such a way where you're like, 'I know this is really gross on some level, but it also has lots of different textures and flavors.'"
In Mexico, they're really popular — the most watched Dorilocos YouTube videos have millions of views — and also as contentious as junk food gets. The Mexican food rag HojaSanta called them both "an example of everything that is wrong with industrial, globalized food systems" and "thoroughly Mexican." In other words, a very 21st-century food.