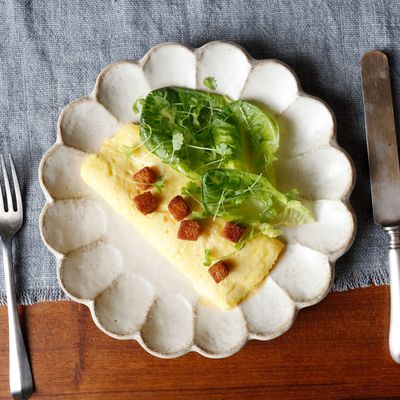 La Mercerie's cheese omelet.
Photo: Melissa Hom
"This is my kind of place, Dad," said my eldest daughter, a person of precise and impeccable taste when it comes to a certain kind of updated, modestly refined French dining experience. I think it was breakfast time at Marie-Aude Rose's new downtown café, La Mercerie, although it could have been lunch or dinner, because after our first visit together, the card-carrying Francophile in the Platt family kept agitating to return again and again. There were fat croissants on the table, which Rose and her staff bake fresh each morning, and baguettes split down the middle, served with butter flown in from Brittany, and pots of jam. There were crispy-edged buckwheat crêpes arranged around fried eggs and slices of country ham, and when we asked for a slice of breakfast brioche, it arrived dusted with sugar and set in a bowl of cool, vanilla-speckled crème anglaise.
La Mercerie sits at the southern end of Mercer Street in a large, airy blue-and-gray-painted room, half of which is given over to a display of the assorted wares and knickknacks of an upscale store called Roman and Williams Guild. As with Jean-Georges Vongerichten's exercises in department-store dining at ABC Carpet & Home further uptown, the cups and bowls off which you eat are available for purchase, and it's even possible to order a bouquet of fresh flowers during your meal and pick it up when you walk out the door. And also as at Jean-Georges's restaurants, Rose's menu here is designed with utility in mind, beginning with a simple breakfast service at 9 a.m. It switches over to a one-page café menu at noon, which runs through dinnertime and is notable not so much for fireworks and originality as for that classically French combination of first-class ingredients and technique and a kind of elevated, homespun care.

Our brioche breakfast dish was the sort of thing you'd imagine enjoying out on the porch of an auberge somewhere in the summery French countryside, or as the guest of an accomplished home cook, and so were the oeufs à la coque (boiled eggs), each one carefully topped and set in its brightly colored egg holder, with the buttered toast soldiers stacked below. The chef grew up in Paris, where she made a name for herself in a variety of the city's elite kitchens and met her husband, Daniel Rose of Le Coucou. She has a fondness for that comforting old home-cooked Breton delicacy the crêpe, which the kitchen produces all day long, for every portion of the meal. You can supplement the aforementioned eggs-and-ham breakfast crêpe, beginning at noon, with a second savory option stuffed with creamed chicken, carrots, and plenty of tarragon, followed by a delicious, artfully folded version of the classic crêpe au sucre for dessert.
Not surprisingly, the simple lunchtime cheese omelet at La Mercerie has a seamlessly smooth, Parisian-style consistency to it (it's scattered with buttery croutons for good measure), although you can also get your eggs prepared en cocotte with a slice of toasted mushroom brioche, or hard-boiled and piled in the traditional way with spoonfuls of fresh-made mayonnaise on top. The niçoise salad here is constructed with actual pieces of tuna instead of the oily canned variety, and the eggs, tuna, and lettuce are also available in mini-sandwich pan bagnat form, just like in some of the finer cafés along the Côte d'Azur. There are oysters also, and house-smoked salmon (arranged on a little pedestal, with crème fraîche and blinis), but if you're in the mood for real opulence, I recommend the white asparagus, which the kitchen dresses with a warm brown-butter vinaigrette and buries in slivers of toasted almond.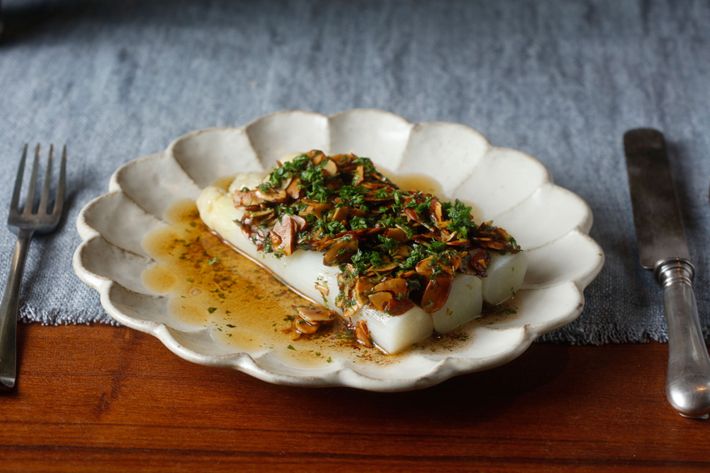 On one of my very early visits to Chef Rose's café, I enjoyed one of the best New York versions of steak tartare I've ever had (yes, there were gaufrette potatoes and frizzled onions), although it's since sadly disappeared from the menu. Beef lovers can comfort themselves with a decorous, appropriately wine-saturated plating of boeuf bourguignon, however, and a piece of filet so soft that my daughter thought she might actually be able to eat it with her spoon. Our steak was served with a pod of cheese-filled pommes dauphine shaped like little clouds (the potatoes are mashed, then fried) and poured with a buttery cream sauce touched with cognac, Worcestershire, and shallots. The other entrée-size dishes are brightened with their own carefully calibrated reductions, in particular the salmon, which rests in a dark pool of sauce meurette made like in Burgundy, with the gently simmered essence of mushrooms, bacon, and more red wine.
Even the best bistros and brasseries around town tend to be filtered through a particular New York sensibility, but at certain times of the day, when the light comes through the tall windows and the long, powder-blue banquettes are filled with sophisticated diners sipping Champagne cocktails with shopping bags piled up around their feet, La Mercerie can actually feel a little like France. There are tasteful, golf-ball-size profiteroles for dessert, and pastries carefully stuck with rows of market fruit (baby strawberries now). On a last, lunchtime visit with my daughter, our waiter, who was from Picardy, recommended the crêpe with sugar, which comes folded in a triangle, like a carefully arranged napkin, and that old café standby crème caramel. My daughter took one bite of the cool, custardy crème caramel, then another. "We have to go back to Paris soon, Dad," she said as she put down her spoon.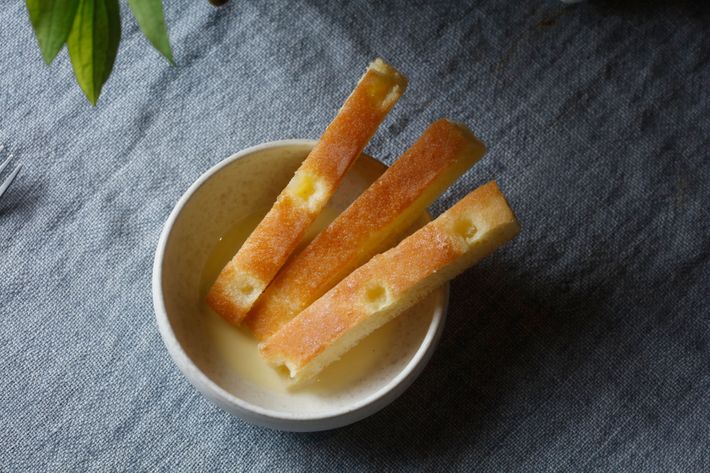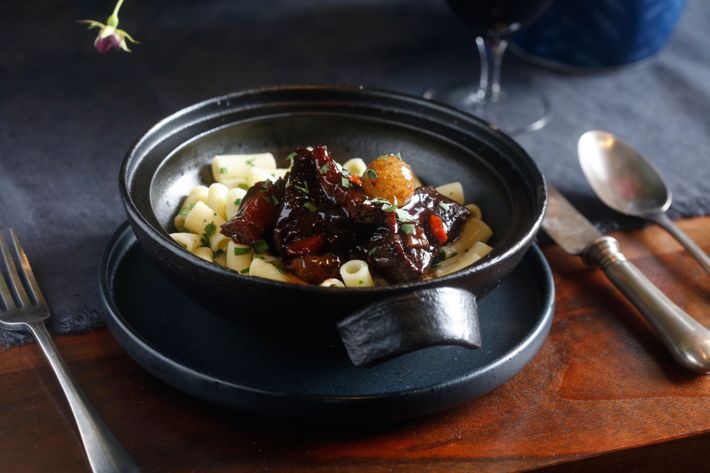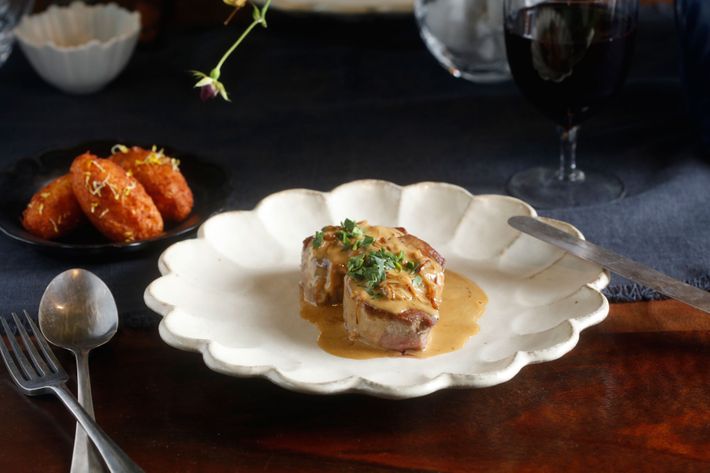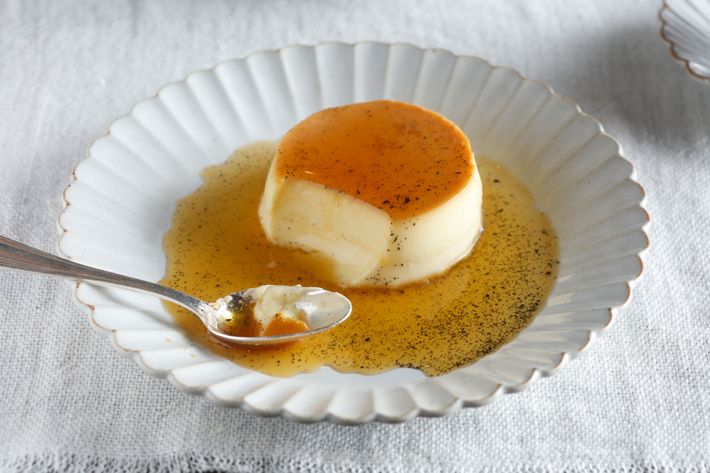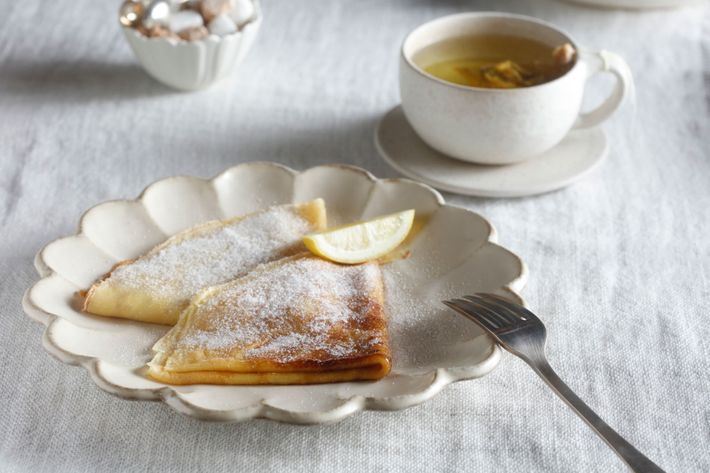 La Mercerie
53 Howard St., at Mercer St.; 212-852-9097; lamerceriecafe.com
Open: Breakfast, lunch, and dinner daily.
Prices: Appetizers, $9 to $32; entrées, $28 to $37.
Ideal Meal: Anything to do with eggs or crêpes, filet with pommes dauphine, boeuf bourguignon or salmon with sauce meurette, crème caramel.
Note: There is no sit-down bar, but the house cocktails we sampled — a Kir royale, an impeccably dry martini with a twist — were first-rate.
Scratchpad: One star for the uncanny French-café verisimilitude and another for the food and technique.
*This article appears in the June 25, 2018, issue of New York Magazine. Subscribe Now!