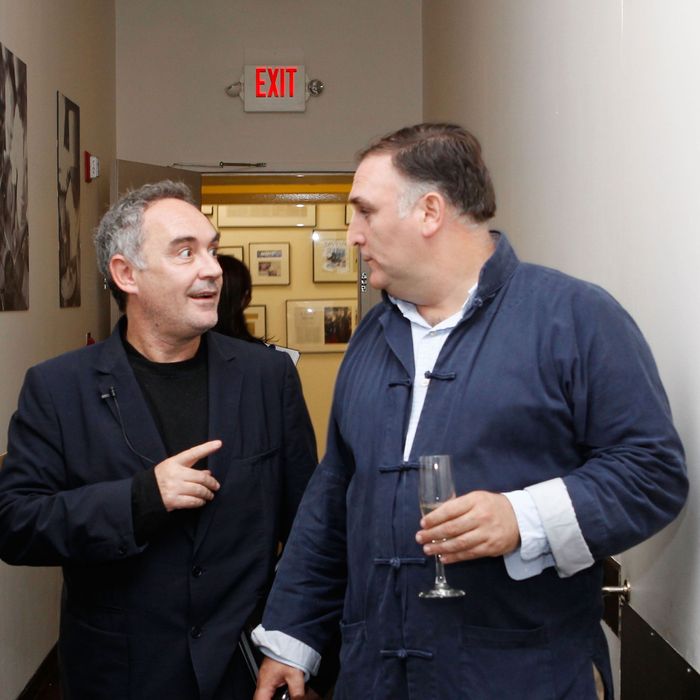 Ferran Adrià and José Andrés.
Photo: Mark Von Holden/Getty Images
Now for more details on José Andrés and the brothers Adrià's giant, forthcoming New York food hall: The fine-dining trio will open Mercado Little Spain in the spring of 2019, marking each of their debuts in the New York food world. Located at 10 Hudson Yards under the High Line, it will be an all-day market that's dedicated to all things Spain and takes inspiration from the country's markets.
Andrés and Ferran and Albert Adrià are going big for their New York debut: Mercado will be a 35,000-square-foot indoor and outdoor space, with three full-service restaurants, bars, stalls selling tapas and pintxos from jamón to bocadillos, and retail kiosks for Spanish-made products. It's another high-profile destination meant to lure people to the developer-created neighborhood that is Hudson Yards, home to Delicious Hospitality's Legacy Records and future restaurants from Thomas Keller, David Chang, Michael Lomonaco, and more.
It's been a notable year for Andrés, though not because of any restaurants he's opened. For his work feeding the people of Puerto Rico after Hurricane Maria and other places affected by natural disasters, like Haiti, Time named him one of its 100 most influential people and the James Beard Foundation honored him as its humanitarian of the year.