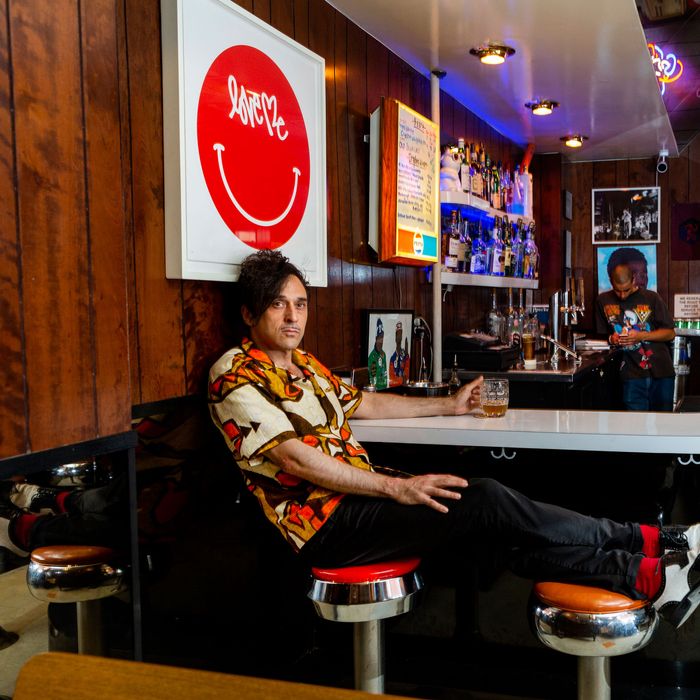 At Scarr's Pizza, one of Jonathan Toubin's favorite places for slices.
Photo: Mark Abramson
Jonathan Toubin is a quintessential New Yorker. A DJ, record producer, writer, and musician, he made his mark on the city's nightlife with New York Night Train, his triple threat most known for a party where he primarily spins old rock, soul, and R&B. (It's been continuous since 2006, save for a period after a 2011 accident that nearly ended his career.) Described as "the stuff of sheer legend," it's a pulsating, gesticulating party that feels like the New York you once imagined. It also launched the relentlessly energetic audiophile into another stratosphere as a man of records. And like any good New Yorker, Toubin eats omnivorously and well. This week, he got in both hot pot and dry pot, visited a couple of his downtown favorites in Decibel and Kossar's, ate pancakes in Pittsburgh, and sneaked in his favorite pizza while DJing. Read all about it in this week's Grub Street Diet.
Thursday, June 21
Woke up and met my real-estate agent on a hot early afternoon. Grabbed a quick piña-colada smoothie from Jupioca. I'm between places and just back from tour, so I'm moving around a lot and don't have a kitchen. After, I went to Mixtape. It's pretty much the only proper coffee spot right on Myrtle-Wyckoff that isn't Starbucks, just a window in the shadow of the overpass. They have interesting people working there, and also dispense top-notch bagels. I got a black iced coffee. I don't really drink coffee with milk. When I was a young man, Black Flag had a song about black coffee, and I thought it was the way you're supposed to do it. I've had it with milk and it's fine; I just got accustomed to this.
Also had a snack of a bodega banana and coconut water. I have such bad brand loyalty that I don't even remember the name of this crap. On a hot day, coconut anything seems like such a good idea. When I got into the city, I had another black iced coffee at the La Colombe on Vandam Street.
Dinner was at MáLà Project in the East Village. Sichuan food is my favorite cuisine and I'm so excited about the perfusion of places that don't mind turning on the má and the lá to my preferred level. This is one of my favorites and has been a go-to for about a year. I always get the dry pot, the main event, but there are a whole lot of other exciting appetizers on the menu. Like the savory custard, who would've thought?
I got the málà peanuts (I don't know what they do to these, but I'm addicted) and a spicy dry pot with quail egg, rice cake, bok choy, tofu skin, collard greens, lotus root, sweet potato, and wood ear mushroom. Lately, I've been trying not to eat as much meat.
Afterward, I drank nigori sake at Decibel. It's been one of my favorite NYC spots since the '90s, and a place where I always feel completely at home, and I pray stays with us. I go there every couple of months. If I'm in the neighborhood, I always pop in. How many places like it are there in New York? It's very real; the people there are great.
Friday, June 22
Had a bialy with butter at Kossar's. I would often house-sit near Kossar's in the early aughts. This 1933 original (recently modernized) still heroically remains and churns out what still may be the best bialy you'll get your hands on.
It's funny, my grandmother was Jewish and from Bialystok. But I'm from Texas, so I never had a bialy until I was an adult. I guess it's nostalgic for me in terms of being here 20 years, and I'm kind of nostalgic for things from the '90s and my 20s. I guess if you look at the places I go to, there's a lot of nostalgia. I mean, I'm an oldies DJ. There's a lot of nostalgia for what I call "the Museum of Manhattan." I think a lot was lost in post-9/11, gentrified New York. There's a lot of nostalgia for the pre-21st-century Lower East Side. I don't even know if the Lower East Side that a lot of people miss even existed.
Anyway, I also went to Little Canal for a black iced coffee.
I've DJed every Friday for over ten years at Home Sweet Home, and Spicy Village has been my favorite spot to grab a quick pregame. I'm always running late and they're super fast and on point and one of my favorite restaurants. Over the last few years, their excellence was discovered and their universe flipped. They've justly become so famous that I have to push through a big line of diners around the block waiting to be seated or to get take out.
I had the spicy and elegant cucumber salad and the spicy vegetable hui mei with extra chili oil on the side! These exciting noodles lift my mood, remind me that life can have a whole lotta flavor, and get me prepared to play two-minute records for five-and-a-half hours without complaining.
Saturday, June 23
Breakfast was coffee and a roll with two eggs and tomato at Classic Coffee Shop, one of the last of the Lower East Side's no-frills, small diners. I feel so comfortable here and can't believe a place this cool continues to operate in this day and age. It's one of those places that if you need something quick and are eating alone, it feels real.
I do a Soul Clap and Dance-Off party out of town roughly three Saturdays a month, so most of my Saturday afternoons are spent at airports and airplanes. I tend to eat a lot of meals at the Delta Sky Club and on planes, but this time I wasn't as hungry as usual. That sounds boring, but it's kind of nice to have a glass of wine or a snack. It's like this. Beer can be heavy, liquor can be too exciting for the daytime, but a little glass of red wine can be comforting. Speaking of which, I had an apple, cucumber water, and a glass of red wine in the Sky Club. On the plane, I had almonds and another glass of red wine.
Landed in Pittsburgh, where I do a party twice a year at Spirit. Pittsburgh native (and my friend) Thomas Barr, who worked at Roberta's, found an old Spirit Lodge in the cool Lawrenceville enclave and opened a pizzeria-nightclub. Pittsburgh is one of my favorite cities, and Spirit is one of my favorite U.S. venues, so I always look forward to this stop, not only for the party but for the food.
Thomas set me up. I got the upside-down grandma-ish slice with housemade mozzarella and super-spicy Fresno peppers; the arancini with Parmesan, earthy gluten-free bread crumbs, and a bright tomato sauce; and the vegan Caesar salad with bitter escarole, blanched asparagus, gluten-free bread crumbs, and their magic dressing. He also gave me a Full Pint Brewing Company Social, a grapefruit session IPA. I'd never had a sour beer, but it kind of worked out for me and went really well with the food. But, man, those rice balls were crazy good. Again, when there's a place you love, a person you love, and they make something you love, that's an amazing mix. It's real. It's not just food. It's one of those things where food becomes culture.
Sunday, June 24
I usually go to the Spirit brunch, but instead I went to P&G Pamela's Diner. It's a Pittsburgh institution famous for its crêpe-style pancakes! You hear about it from every Pittsburgh person. There are a few now. I got those pancakes and coffee, black.
While there's plenty of variety on the menu, these thin blankets are light and crispy on the corners, soft in the middle, and make you want to overeat. Like Primanti Brothers' famous French-fry sandwiches, they're distinctly Pittsburgh, a valuable natural resource, and different than any pancake I've ever encountered.
It's sort of a local treasure. Like in New York we have our sacred things. The way I'm saying it is, I was in New Orleans recently and took my dad to get a muffuletta. I was telling him, "There's probably not going to be a better muffuletta." All these highfalutin muffuletta have come along and all the knowledge people have shared, the first one is probably still going to be the best one, or as good as any you've had. I feel like these pancakes are the same. It's about being at a place, having it at the place. The people that you're around, the culture of the people.
I'm really interested in just looking around. I think one thing I don't like these days is how people keep adulating food, so that half the places with really good food are unenjoyable, uncultured places. I'll stand by that. Every time someone wants to take me to eat something good, even if it's really amazing, I'm usually in some ultramodern place with bad acoustics, techno in the background, and a bunch of people looking uncomfortable with themselves. Almost as if eating the good food is their identity. There's no warmth and there's not a culture of eating and being there. When you go to a diner, like Pamela's, that's been there forever, you feel way more than that you're just consuming this really great pancake. You're being a part of Pittsburgh culture, you know?
My 4 p.m. flight was delayed until 8 p.m., so I was super late for my party atop Our Wicked Lady's rooftop. They pushed the band, the effervescent Champagne Superchillin', back a bit and one of the owners, the fabulous Keith Hamilton, turned his 45s until I arrived late.
I was tired and grumpy and hadn't had a chance to eat since breakfast, but there was just enough time for me to order my favorite slice in NYC before they closed up shop: the grandma pie from Williamsburg Pizza. I devoured it tactlessly behind the DJ booth while I worked. It's one of the great things about being in New York: Pizza saves the day.
I sometimes think I might like square slices more. Obviously, it depends. If it's one of those really fat ones from L&B Spumoni Gardens, or the doughy Chicago ones, I don't know that I do. But those grandma ones — compact, not too fat — I do think the square shape is more enjoyable for me. Also, I had an Old Blue Last Lager and then many tequila shots, probably my favorite beverage when I work.
I don't know if it was the pizza or the music or my good friend Wayne behind the bar or the amazing post-Pride crowd, but the whole experience breathed new optimism and life into this disgruntled traveler, and the boat rocked 'til after closing time. Another life-affirming night.
Monday, June 25
My friend and colleague Jasper McGandy had his first day off in weeks. So he of course woke up and went right to a business meeting with me. He and his wife, Brit, wanted to have it at a Mexican joint, Las Margaritas, near their house in Ridgewood. I had huevos a la Mexicana and guacamole. The eggs were solid.
I didn't plan on drinking, but didn't want to be the odd man out, so joined them for a tasty breakfast margarita on the rocks, and then the meeting got way off point. It lasted all day through a variety of locations: Queens Tavern, where I had a pint of Hofbräu München beer, and Cozy Corner Tavern, where I drank a pint of unmemorable beer. Those were very old-man-y bars. Not many people in them.
Dinner was at Union Pool, had a quesadilla with extra-spicy salsa, and Espolòn on the rocks. It's been a neighborhood go-to for me since the early aughts, but since they moved the amazing El Diablo Taco Truck into the back, it's also been a dinner destination for this hungry Texas expat. I have to admit, it's really hard to find the kind of tacos and quesadillas I really like.
A lot of people take Union Pool for granted. I've really liked everyone who's worked it and owned it. They started out as a certain kind of place and probably never had to do anything else to keep money coming in. But instead they kept making improvements. Got a venue, worked on making the courtyard more hospitable, moved that taco truck in there. When I lived around the corner, I'd just go for dinner because it was the best tacos around. I always feel like I'm coming home when I go there.
Tuesday, June 26
This was a big workday for me. I was able to hit my old hood, the East Village, for an afternoon breakfast at two of my favorite places. I've been going to Mudspot since they were a truck in Astor Place; I got a black iced coffee there. And, like Mission Chinese Food or Kiki's, Superiority Burger is one of the few hyped restaurants where I'm a huge believer. Honestly man, the straight veggie burger is great. I wasn't in the mood for a big meal, I was just having my breakfast.
Former hard-core drummer and pastry chef Brooks Headley isn't only a culinary hero, but a personal hero. I believe in everything he stands for, how he runs his business, and most importantly, his food! The man, his storefront, and his food are making the world a better place! What a ballsy guy. He had a really nice pastry-chef position and didn't feel comfortable with the culture. He's a beautiful man.
He really made the East Village over there feel so much more alive to me again. He sometimes brings out crazy stuff when you're there. Try this, try this. His commitment to quality and loving to feed people — it makes a really good experience. You feel it on the block. People sitting there, eating by the trees.
I had plans for dinner, but had so much work that I didn't get done until 11 p.m. I was in Chinatown, and one of the only good options that late is hot pot. I have three Chinatown hot-pot spots that I frequent; one of them is 99 Favor Taste. (I love Wo Hop to death, and it's one of the most unique New York places, but having bad cholesterol, I can't be eating a bunch of lo mein and pork fried rice.)
I like that you can make your own dipping sauce, which I've gotten a little better at over time. This time, I added a little bit of shacha, sesame, this tahini sort of thing, chili oil, some chili paste, garlic, cilantro, green onions, vinegar, and soy. I like that it's customizable; if you like something, you can get more of it. I like that you can get a whole lot of vegetables without them being fried or overcooked.
The timing, too, I really enjoy. It's a lot like music in that music is basically just time and notes. Cooking is sort of the same. You have to organize how long these go in and then that one goes in — you know, a lotus root takes a little longer. Certain noodles you can just blanch. You can keep throwing things in and taking them out. Like a DJ set. I can measure a night by how many records I've played.