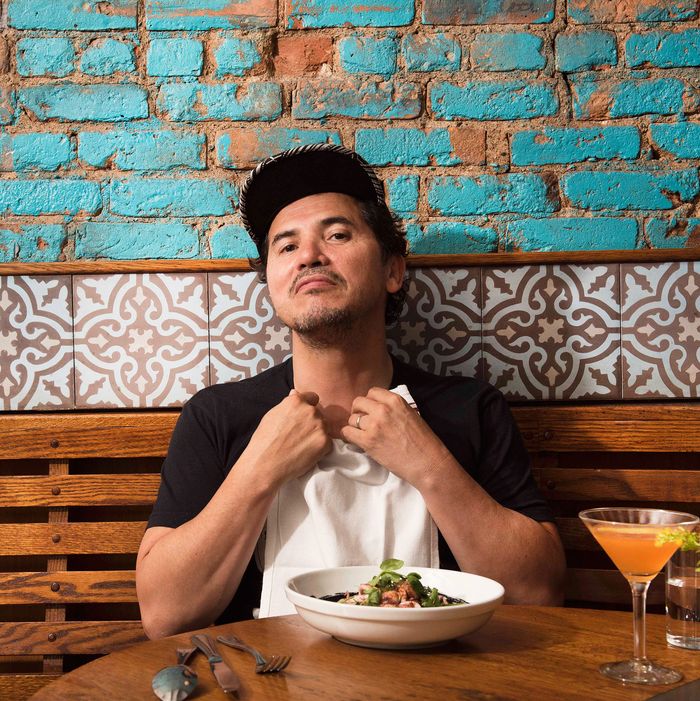 Leguizamo, ready for lunch at Tertulia.
Photo: Liz Clayman
This Sunday, John Leguizamo will be honored with a Special Tony Award for the contribution of diverse stories to Broadway through his body of work, especially his recent one-man show Latin History for Morons. This is in addition to a nomination for Best Play, but Leguizamo isn't holding his breath for that one: "I've been nominated lots of times, but never took home an award. This award is guaranteed to me. And I may be able to get another one! But probably not." (But add that Tony to the Emmy he's already won, and hey, he's halfway to the coveted EGOT.) Regardless of how the ceremony turns out, the multi-hyphenate star of stage and screen spent the week drinking mezcal and chowing down on rotisserie chicken in New York (the best he's ever had), then feasted on someone else's dime in Miami, all while working on no fewer than three new projects. Read all about it in this week's Grub Diet.
Thursday, May 31
My mom brings over all these fresh fruits. It's always tropical fruits that my kids and I like. She brings papaya — she knows when it's perfectly ripe — and last night she brought over pineapples. So in the morning, I had two of those pineapple slices.
Growing up, even though we are an immigrant Latin family, my mom was very upwardly mobile — going to college, keeping down a job, and being a single mom to two boys. So meals became a lot of frozen vegetables, and you know, those canned fruit-concentrate juices. It wasn't easy; she did the best she could. She tried to cook fresh vegetables whenever she could, but that was it. She'd even do paella out of a Goya box.
But when I went to Colombia when I was 8 or 9, that was incredible. It was organic before it was organic — everything was fresh. Milk right out of a cow. All kinds of fruits and vegetables. We'd go to the market with my grandmother and pick out stuff. I was like, "Wow." At first I didn't like it. I was so used to canned food and Chef Boyardee, so much sodium and stuff. But then, all of a sudden, coming back to America, it was rough not to have fresh fruits and all the variety.
At 9 a.m., I went to the gym and met my trainer, Luis Cornier, who is the bomb. I've been with him for four years. He keeps me young and trim and athletic, so I can dance and throw myself around on the stage. (I make it look easy, but it ain't.) Then breakfast at O Cafe, a Brazilian joint, for their vegetarian frittata and a small whole-milk cappuccino with two sugars. I couldn't resist their pan de queso. It's the food of my people, a Colombian-Brazilian-Venezuelan bread that's warm and fresh and made with cheese and yucca flour.
The day was spent rehearsing. We're going to film the Netflix version of Latin History for Morons, so I had to learn it all over again. I had to relearn how to write on a chalkboard and talk and learn how to draw the map of South America. I have such new respect for all of my analog teachers who used to write on the board and lecture, and people would throw erasers at you. They did all of that multitasking.
I deserved a good lunch after all of that work, so I went to Baby Brasa, this Peruvian spot, for their special chicken fried rice with tons of scallions and hominy and cilantro. You know Peruvians make the best rotisserie chicken in the world. They take that same chicken and they put it in the rice. Oh my god, it was incredible.
That evening was my daughter's last piano recital. She's going to Northwestern next year. She did her Debussy piece and then the whole family went back to Baby Brasa (she chose). They had a live jazz band, really fun, and I had their flounder ceviche, which was amazing, and the papa à la Huancaína. They have these interesting peppers, and one of them is this yellow smoky one that they put Parmesan cheese on. Woooo! It was good.
I had a pisco sour, and we had a quarter rotisserie chicken. I was like, Yeah, this is my spot — because I like me some dark meat, especially when they do it right. (When they do it wrong, it becomes an anatomy class with the sinewy muscles and the tendons.) This was some of the best rotisserie I've ever had in my life. And then they had some sauces with it. A garlic sauce, a white one, and a rocoto — I think that's what they call it. It's like habanero, almost.
Friday, June 1
The last two pineapple slices, with some homemade filter coffee. Whole milk and brown sugar, that was it. Then to the gym.
Back in the day, I was a vegetarian, mostly just because I was broke, and it sounded sexier to girls to say I was a vegetarian than to say I was broke. That way I didn't have to order the $30 steak. And they, out of being thoughtful, wouldn't order the steak either. It was a great scam. Today, I'm not vegetarian, but I try to stay away from the red meats. I have a hard time with lechón or chicharrón de pollo, that hacked fried chicken on the bone. My cholesterol went up and I'm trying to get it back down. Well, I had it down, then the play stressed me out, so I was eating really badly. So now that I'm not stressed, I've gotten control over my eating habits.
At O Cafe, I had a small cappuccino, coconut-chia pudding, and a pan de queso. The coconut-chia pudding is incredible. They put little cocoa nibs and some toasted seeds on top of it. I don't know, it's the bomb.
Lunch was with my daughter at a Chinese restaurant, Auntie Guan's Kitchen 108 on 14th Street. I had their chili salad, which comes with a lot of greens. Really tasty, really flavorful. Big. Then we had the shrimp and chive dumplings and twice-cooked pork. I don't think it was Auntie, maybe it was another aunt, but someone was in the front hand-making the dumplings and all of that stuff. I think there are a few aunts. I've always liked that spot. It's quiet, you don't have to wait in line or anything, and the food is all fresh.
I'm currently filming this movie called Night Clerk, so I spent some time with my acting coach, and then dinner at Tertulia, which is usually my lunch spot. I started with a mezcal cocktail. I love mezcal: It's smooth and smoky and fucks you up faster than tequila. When I go to Tertulia, I like to start with a cocktail because it's such a nice, chill atmosphere and they always have some chill music, like some great hip-hop or Latin music or something really cool and funky, but low and mellow. Not overpowering, so you can have a conversation. And I can just be with my thoughts. I had the pulpo à la brasa. Everything they do there is really healthy and fresh and organic. The chef, Seamus Mullen, really believes in food and the health of food and using olive oil. He felt like the philosophy saved his life.
Saturday, June 2
We have a little getaway place in upstate New York, so I took a trip up to write and to just get away from everything.
Breakfast was at the Alternative Baker, which is in Rosendale. He's got a lot of personality, this guy. He bakes all of his bread, serves, and does his own thing. He's got great coffee that you serve yourself on the honor system, and for breakfast I had this amazing sourdough baguette with scrambled eggs, Swiss cheese, and a mustard sauce. That's my breakfast spot.
I wrote and ran lines, and then for lunch I went to Mole Mole in Kingston. Kingston's like the Brooklyn of upstate New York now. It's like craft beers, craft wines, and all these cool, hip restaurants are popping up everywhere. So I went to Mole Mole, which is a Mexican restaurant right on the revitalized waterfront, and had their tortilla soup, which is almost like Mexico City good. Plus guacamole and chips, a side of rice and black beans, and a margarita.
Going out in nature helps my soul. We have a little bit of property and a lake, and I just sit out there. The other day, I saw this weird log near the front and I went to look at it. I go, I don't remember that log. Where did it come from? It was a Bambi. It was a baby deer lying on the ground playing dead, until I got really close. Then it just shot up and ran away!
We have a woodchuck that is destroying my cabin. We have a swan on the lake. And I love watching birds. I used to have birdseed out, but I guess we were away for too long and a bear came and knocked the whole metal pole and bent it, and the bird feeder was mangled and destroyed, and I was like, Oh, snap. Bears love birdseed.
For dinner, I went to a Jamaican spot in New Paltz. I had the curried goat, a little Red Stripe beer (one and done), and beans and rice and cabbage. I think they're just called "Jamaican spot."
Sunday, June 3
When I'm upstate, I wake up a little later, around 8. I try to get to Alternative Baker by 9 for my two coffees and an egg sandwich. The weather was beautiful, but when you're in the country it doesn't matter, all the weather's beautiful.
Lunch was Rosendale Cafe, that's usually my favorite spot. It's like a hippie granola and veggie kind of spot. There are lots of vegetarian dishes, like tempeh Reuben and a brown-rice burger. I had this spinach-cheese quesadilla with salsa, and a cup of coffee.
Then I went to dinner in the old part of Kingston. You know, Kingston was the first capital of New York State. So you can see all of the old mansions and the money that was there before it moved to Albany. It's really cool. There are some amazing old Victorian homes that are stunning. There's some great architecture there, and a lot of it, too. The history is stunning. Dinner was at Boitson's, right there in uptown Kingston, and I had the mint vodka drink, whatever it was called. One and done. And fried chicken, only legs. It looked like a murder scene. They should add some yellow tape or something because it looked really weird. The legs were all sticking up! They came with mashed potatoes and asparagus.
I drove back to New York that evening for the game. My wife and I went to Murray's Cheese and got some incredible cheeses — I don't know the names, but some raw cows'-milk cheeses, and all kinds of baguettes and Chimay beers. Then my friends came over and we watched the game. Yay! Golden State.
Monday, June 4
I flew out to Miami and went straight to the Nobu Eden Roc hotel for lunch because I was starving. I had a meeting in one of their restaurants with some investors and producers of a project. We had hummus with lots of crudités, a slice of cauliflower wheat pizza, and some build-your-own fish tacos. Plus lots of Fiji water, a coffee, and an iced tea.
I'm directing a movie in October and I'm doing some research. It's a true story of a teacher in a ghetto school, Jackson High School in Miami. He took these kids who were troubled but really smart, and he turned them into state chess champions. A couple of his students became United States champions, against all odds — no money, no computers. This teacher's incredible; he's such a beautiful spirit. I met the kids, the 1998 champs, and spent time with them. They joined us for dinner at the Forge steakhouse. This was like a $5,000 dinner, with the investors, producers, all the kids — I mean, they're like 38 now; they're not kids anymore — and the teacher. Luckily, I didn't pay for it. I had red wine with a wedge salad, some oysters and giant prawns, and a soy Chilean sea bass for the main. Then soufflé.
Dinner lasted until midnight.
Tuesday, June 5
Breakfast again at Nobu Eden Roc with Mario Martinez, the teacher I'm playing, who came up with the concept. He created this program, then he went to all of the high schools in the area, then he went statewide and taught them how to create this program and how to teach the kids. He's incredible. So I had breakfast with him, and it was this amazing breakfast. I'd never had quinoa oatmeal. It was so good, with coconut milk and berries. It was sweet, but not too sweet; very coconutty, but not too fatty. Plus a cup of coffee.
Lunch was with Emilio Estefan at his new restaurant, which is kind of like a Nuevo Latino thing. He's so dope. He might be working on the movie with us, so that's really exciting. All of the producers were there and some of the investors. The lechón was calling my name, but I had to resist it, so I had the red-snapper ceviche, arroz con morros, and maduros.
I spent the day scouting locations and flew back at midnight. Two spoons of raw almond butter and some maple syrup, and that was dinner.