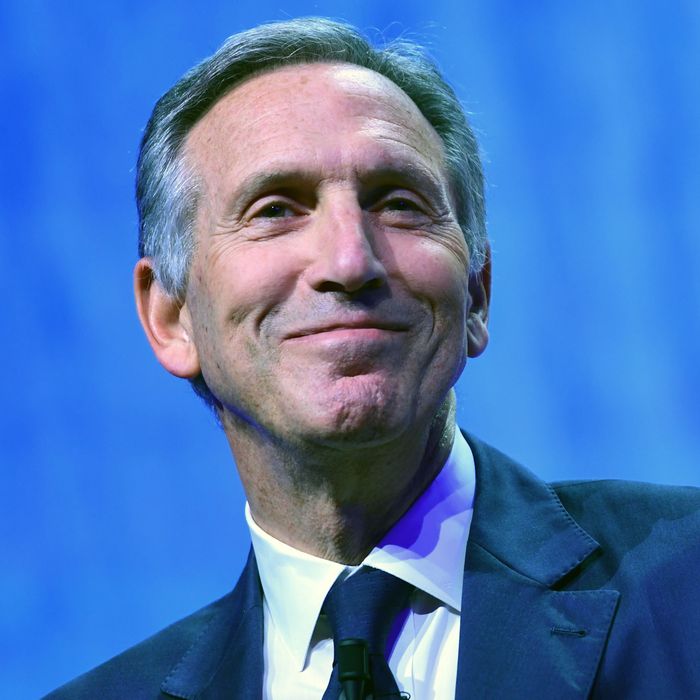 Howard Schultz.
Photo: Miguel Medina/AFP/Getty Images
It's been a big day for Starbucks: First, they rolled out some bright-pink strawberry drink. Then, the coffee chain also disclosed news that plans for founder Howard Schultz's departure from the company will go into effect at the end of June.
Almost immediately, speculation began that the 64-year-old entrepreneur would run as a Democratic Party candidate in 2020, likely in a presidential bid. That's because, in an interview with the Times, Schultz played coy, and didn't exactly rule it out: "I intend to think about a range of options, and that could include public service. But I'm a long way from making any decisions about the future," he said.
In 2016, Howard Schultz transitioned from his role as CEO to his recent position of executive chairman. He was also rumored to be Hillary Clinton's choice for U.S. secretary of Labor during her 2016 campaign. After Donald Trump's inauguration, Schultz emerged as a vocal opponent of the president's immigration policies, and denounced Trump's tactic of creating "episodic chaos every single day." Today, the executive ended his open letter to partners with a diametrically opposite message citing the chain's responsibility for compassion, along with the sign-off, "onward with love."