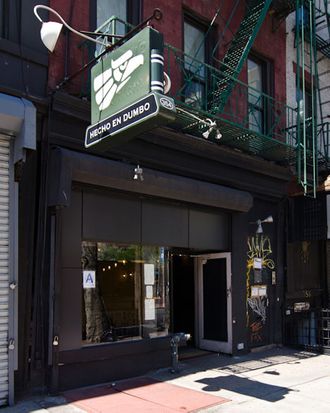 Hecho en Dumbo closes this Saturday.
Photo: Dave Ratzlow
The modern Mexican restaurant Hecho en Dumbo, which is actually on the Bowery, will close this Saturday after 11 years in business — eight of which were spent in Manhattan, after relocating from Brooklyn. The owners announced the news in a note posted to the restaurant's website and in an email to fans. Over the years, chef Danny Mena served dishes like pumpkin-seed enchiladas, black bean and cheese memelas, and yellowfin-tuna al pastor tacos. Fans of Mena's cooking can still go to Bushwick's La Lonchería, the Mexico City–inspired sandwich specialist.
Hecho en Dumbo is the latest in a rash of places to close on what might best be termed the Bowery Death Stretch, the length running from East 4th Street down to Delancey, where a string of small, interesting restaurants have shuttered. Over the last two years, bold-name operations like Cherche Midi, Rebelle, and DBGB have all been forced to call it quits, while behemoth clubstaurants like Vandal soldier on for the B&T crowd.