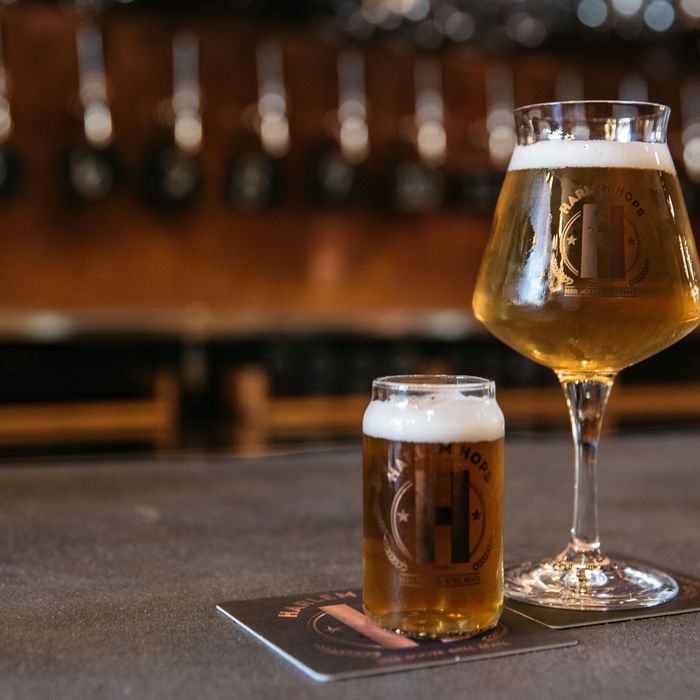 Beers are available in five- and ten-ounce pours.
Photo: Scott Heins
There's no doubt that New York City is in the midst of a beer renaissance. Industrial swaths of Brooklyn and Queens once dominated by whatever the city's version of a tumbleweed is have been transformed into boozy playgrounds where the city's craft-beer lovers can imbibe to their hearts' content. But somehow, all of that missed Harlem.
Or at least that was the case until a few weeks ago. Earlier this month, Kevin Bradford, Kim Harris, and Stacey Lee, three black entrepreneurs, opened the doors of Harlem Hops, and Harlemites can now boast that they have a real-deal craft-beer bar on their hands. Located on Adam Clayton Powell Jr. Boulevard between 133rd and 134th, the bar stands out in a neighborhood dominated by hair and nail salons, bodegas, brownstones, and a mixture of local restaurants and fast-food joints.
Inside, the design — and the goal — is simple: Serve locally brewed craft beers in a welcoming environment. That means a nice, long bar that sits just below the word Harlem, emblazoned in lights, plenty of ledges for resting a beer when the bar inevitably reaches standing-room-only capacity, and in the back, larger tables where groups can gather. Beyond that, there's an intimate backyard with barrel-tables and a graffitied wall that reads "Harlem Hops" in orange and green spray paint.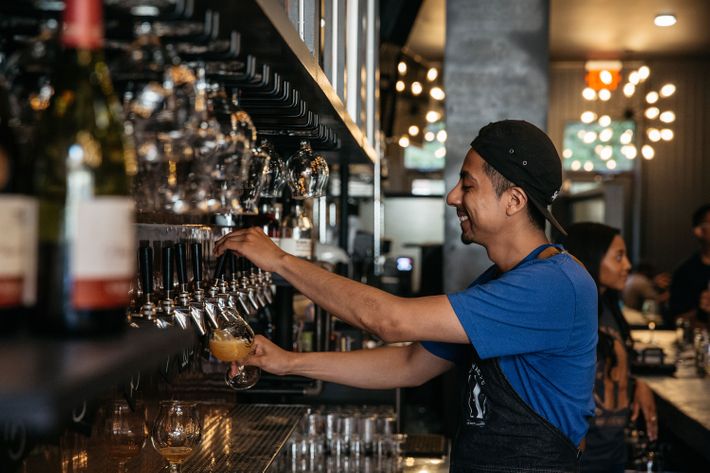 Then, of course, there's the beer. Before opening, Bradford, a math teacher and beer connoisseur, and Harris, the bar's general manager, went on a self-directed tour of local breweries that took them to Brooklyn, Queens, and the Hudson Valley, where they met with 80 percent of the brewers whose beers currently flow through the 16 taps at Harlem Hops. Though Bradford is personally obsessed with New England IPAs, the beer style de jour, he's made sure to cover the gamut of beers currently on offer, from salty goses and Mexican-style lagers to hop-forward IPAs and easy-drinking pilsners. His personal preferences aside, it's all about keeping the bar's kegs in constant rotation.
"We met the owners, met the brewers, sampled their product, took notes, and when our chance came to open, we said, 'Okay, Other Half, Island Creek, Industrial Arts, and all these guys,'" says Bradford. "Most of the brewers on tap right now are local. They're in a 50- or 70-mile radius of where we are right now, so that freshness is in the product rather than shipping something from California or Washington."
So, Harlem Hops has the nearby craft-beer nerds covered. But Bradford, Harris, and Lee also want to make sure they're reaching out to the black and brown people in the neighborhood, who until now may only have been exposed to imported European beers like Heineken and Stella Artois, or even worse, the dreaded 40 ounce.
"It's very important that we do realize that 40 ounces, things like that, were brought to our communities to have a negative impact on us," says Harris. "So, craft beer, I feel like it's a healthier version of alcohol. It has natural ingredients; there's not a lot of additives. It's an all-natural process. It's something different."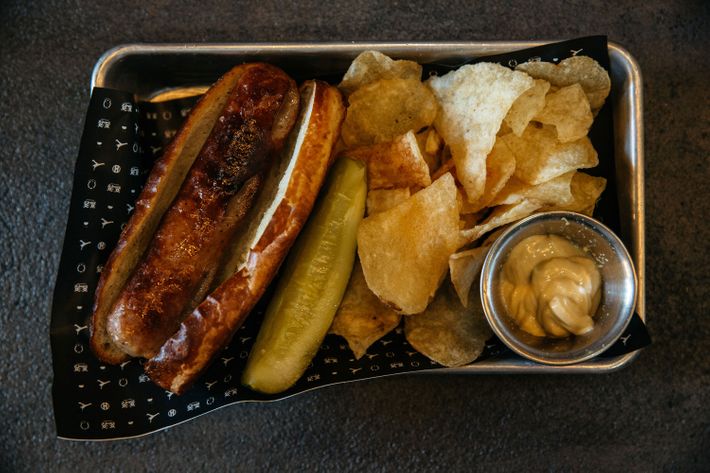 And it looks like Harlem is ready for something different. On opening day, a line formed down the block within an hour of the bar's 4 p.m. opening and remained until midnight. Harris was especially proud to see that, like the owners, many of the people eager to get in were young graduates of HBCUs, or historically black colleges and universities.
A few weeks later, on an early Tuesday evening, the majority of the clientele are black and brown people looking to wind down after a long day and grab a quick bite from the menu, which features a variety of piping-hot sausages, from Wisconsin amber beer to vegan bratwurst, as well as empanada-style Guma spicy pies in flavors like chipotle chicken and habanero beef. The patrons may look different, but like at any craft-beer bar, the atmosphere is warm and friendly.
"We want to be a staple in Harlem," says Lee. "We really want our bar to be like Cheers, like everybody knows your name. And I feel like there already is that Cheers effect because we have people coming in every day that are the same people, the same faces, since the first day that we opened."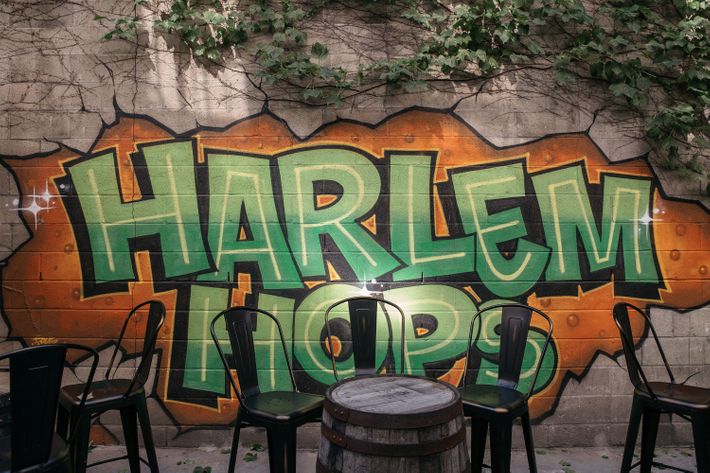 A year from now, the trio wants the bar to be what it already is — a gathering place for great beer and good food — that runs a little smoother, keeps customer service at a premium, and regularly hosts events focused on educating Harlemites, whether they're of drinking age or not.
"It's more than just about the bar for us," says Lee, mentioning that by next year they want to establish a Harlem Hops scholarship for a graduating high-school senior. "We want our young people to see that we are black people that own a business in Harlem. And we want to be a reflection to them of what they can do."