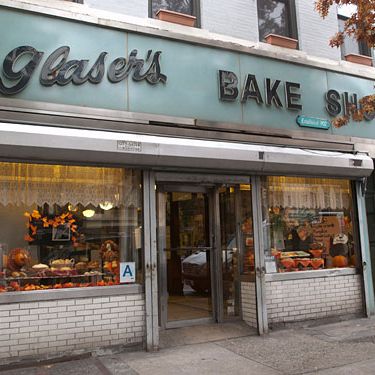 Glaser's Bake Shop.
Photo: Jed Egan
Once a New York City restaurant or shop reaches a certain age — say 50-plus years old — it seems like it'll be around forever. After all, it's weathered all the seasons of the city, both good and bad. But if the closing of Carnegie Deli taught us anything, it's that you should never say never.
The latest addition to a long list of lamented closings is Glaser's Bake Shop, the 116-year-old Yorkville bakery beloved for its nostalgic treats, especially its iconic black-and-white cookie. The closing isn't exactly news — it was announced back in early March by the Glaser family — but it was the dead of winter, and July 1 seemed far off back then. Now, it's just around the corner, and this Sunday, at 3 p.m. (or until they're sold out), Glaser's Bake Shop will close for the last time.
As always, New Yorkers have waited until the last minute to pay their respects. According to Gothamist (and social media), lines are now forming around the block starting at 7 a.m. to cop one of the 1,650 frosted black-and-white cookies the bakery is making each day.
Glaser's black-and-whites stand out for a number of reasons: First, the recipe has real pedigree, considering it was locked down when the shop opened back in 1902. And secondly, Glaser's actually manages to make good ones because, as anyone who's been in New York long enough knows, there are a lot of pale and poor imitations of black-and-white cookies out there, from the sweaty ones at your friendly neighborhood bodega to the fondant-covered monstrosities on sale in delis across the city. Good, cheap black-and-white cookies are becoming rarer and rarer.
Here's how William Grimes put it back in 1998, "Today's black-and-white cannot compare with the black-and-whites of yesteryear, of course, just as no mayor will ever be as good as La Guardia and no team as beloved as the Dodgers. It is now the stuff of legend, even though a truly impartial adult judge might say that, as cookies go, the black-and-white is nothing special. That argument does not get very far in New York."
Whatever the case may be, run, don't walk, to get one of the last good ones at Glaser's.