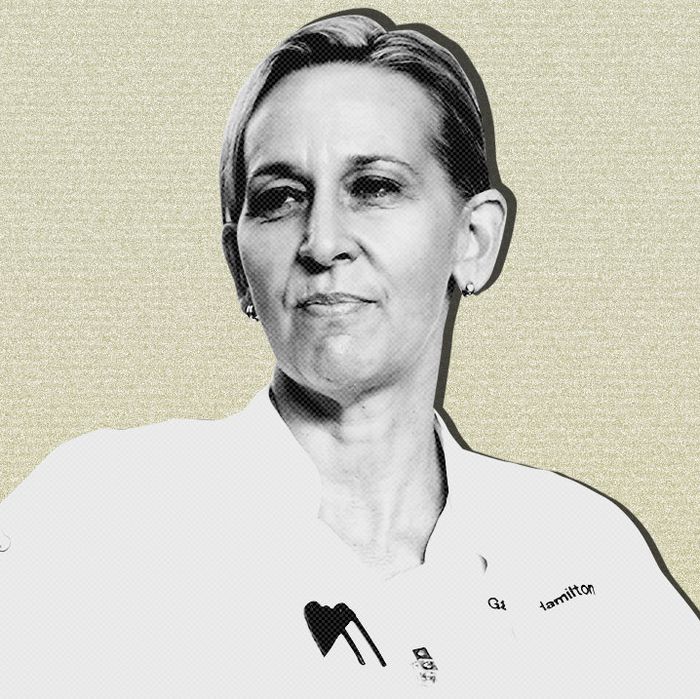 Gabrielle Hamilton.
Photo: Joe Schildhorn/BFA/REX/Shutterstock
For 19 years, chef Gabrielle Hamilton has run just one restaurant, Prune in the East Village. So it was shocking, for a number of reasons, when she announced yesterday that she and her wife, Ashley Merriman, would finally spearhead a second restaurant — the Spotted Pig, an establishment mired in controversy and operated by one of the city's most prominently accused sexual predators.
Food-world observers and industry workers alike feel betrayed by Hamilton's decision to join forces with Ken Friedman, a move she insensitively, and bizarrely, compared to chef José Andrés's aid efforts in hurricane-stricken Puerto Rico. ("You have two highly qualified and capable women going into the ground zero of the man-made disaster to start to help out," Hamilton said.) But last night at Prune, diners seemed blissfully unaware of the food-world turmoil that Hamilton's statement had caused just a few hours earlier, talking instead about more pedestrian topics: Trump, work, whether the Twin Peaks reboot was any good.
The Prune staff, however, was all too aware of the controversy, and seemed ready to toe the company line. A hostess demurred when asked about the news, saying she'd heard no complaints from guests or co-workers today before rushing back upstairs. One waitress was more explicit in her support of Hamilton. "It's complicated because she's queer and a woman," she said. "But she has good intentions and she's a great boss. I wanted to work here because of Gabrielle." She paused, and then added, again, "She has good intentions."
But good intentions won't erase the stain of Friedman's actions, or his continued involvement with the restaurant. In an interview with Eater, Hamilton's wife and fellow chef Ashley Merriman explained that the two have been friends with Friedman for years, and that through this partnership, they hope to provide a blueprint for post-#MeToo. "I guess there's a big question missing for me in this #MeToo movement," Merriman said. "What does the possibility of redemption look like? Is it possible? I don't know the answer to that, and I don't think anyone does."
If Hamilton and Merriman had bought the restaurant outright, this discussion wouldn't be necessary. But the decision to lend their names and reputation to a man who has shown little to no remorse — beyond the perfunctory apology he released when the accusations first went public — and who maintains financial control of a restaurant where he has been accused of sexually assaulting and harassing dozens of women feels inexcusable. It seems, at best, opportunistic, to step in as Friedman's savior so soon after Bloomfield's self-admitted failure to act. Even now, Friedman's own continued silence as Hamilton weathers the blowback of this decision speaks volumes.
Hamilton and Merriman have indicated that the deal is not finalized, but the damage to their reputations has been done. It's clear that no amount of rebranding, or time, will erase the legacy of the restaurant's so-called "rape room." Yes, we want to support the restaurant employees who are blameless, and who deserve to keep their jobs, but the restaurant itself is unfixable.
Many have called for the restaurant to simply close, and ultimately, that outcome is up to diners who choose, or do not choose, to spend their money there. At Prune last night, it became clear that many of those diners just don't keep track of the day-to-day goings-on of the restaurant world. As early evening turned into night, people ate and drank and caroused just as they have for the last 19 years, seemingly oblivious that the circumstances of their dinner had actually changed quite dramatically, in a way from where there might be no coming back.