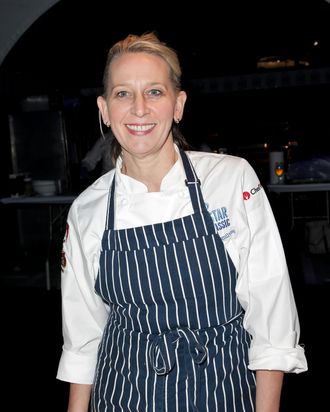 Hamilton.
Photo: Tibrina Hobson/WireImage
Earlier today, Gabrielle Hamilton, the acclaimed chef and owner of Prune in the East Village, announced that she is headed across town to become the chef at the Spotted Pig. She will, she told the Times, run the restaurant with her wife, Ashley Merriman, and the restaurant's co-founder, Ken Friedman, who has been accused by multiple women of sexual assault.
Reaction to the news was swift, and many people in the restaurant industry voiced their displeasure on social media. Grub Street reached out to Hamilton about the move, and in response she sent a detailed email, writing that she and Merriman are "excited and deeply invested in being at the leading edge of the much needed paradigm shift in the industry." She reiterated her feeling that she and Merriman are "two highly qualified and capable women going into the ground zero of the man-made disaster to start to help out," and continued with what you can read below. (The punctuation and grammar have been preserved from Hamilton's original email.)
there is a population of women who have been craving a more nuanced conversation regarding the #MeToo movement. a population of women (and men) who have been having their conversations sotto voce, privately, and frankly, super jumpy. it would be better for everyone if we could get that out in the open and start that rolling, too.

the metaphor of divorce has been used a lot lately regarding ken and april and we can follow that metaphor for a single beat further and say we are going to be the second marriage. as everyone knows, it is a bittersweet truth–everyone is a better spouse their second time around.   

that said,

i've been running prune for 19 years, with ashley for the past 3. i have 4 james beard awards. ashley ran the waverley inn for 4 years, was the chef of butter before that–about the biggest celebrity hangs in nyc as one can imagine. in some ways we've been throwing the same parties that ken's been throwing: booze, drugs, celebrities, money, after hours super fun shit, sexual innuendo, jokes, carmaraderie, fraternity, etc.  

but we didn't sexually harass our waitresses, and we didn't blacklist employees who betrayed us, and we weren't abusive to our kitchen crews, and we didn't manage our restaurants through fear or intimidation and we didn't pretend that the left hand didn't know what the right hand was up to.  

we can tell you assuredly and confidently that we are not coming to partner with ken to be his "fence". we are not about to sell on the street some shitty knock off handbag of "redemption" and " i'm a new clean man with a wife and child and i don't do any drugs or any drinking and it was all a misunderstanding and april is the real bad wolf and mario is the bigger badder wolf" crock of shit.

we see ourselves helping the spotted pig, and helping the industry at large, and helping april and helping our long time friend ken, and helping ourselves. 

we feel exceptionally poised to be the leading edge of the paradigm shift, to make the spotted pig the best it has ever been, to protect, honor and respect april's magnificent work, and to be one of the luckier things that ever happened to ken friedman, to be women in business of increasing power and to get paid for our impeccable work.