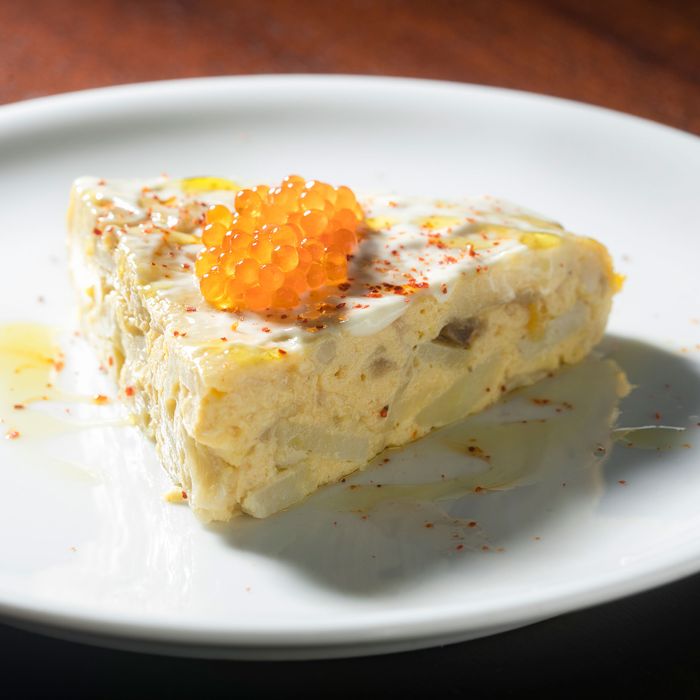 Spanish tortilla with trout roe.
Photo: Melissa Horn/New York Magazine
A well-roasted chicken is the dish grizzled dining veterans often cite as the sign of a truly professional kitchen, but at Riad Nasr and Lee Hanson's new Tribeca bistro, Frenchette, it's that more elemental poultry product, the egg, that announces the arrival of an excellent new restaurant in town. Potatoes figure prominently in any tortilla española, but the little wedge of eggy goodness that appeared early in our meal was cool (instead of too hot or too cold) and loosely textured (instead of too hard or too soft) and dressed on top with garlic aïoli and a spoonful of smoked trout roe. It was followed shortly by more eggs, this time scrambled to buttery smoothness in the traditional brouillade style, and crowned with escargot sautéed in garlic butter, a concept that apparently isn't common in France but which I heartily endorse, especially with a few chunks of bread to mop your plate.
Nasr and Hanson are old hands at this earthy, deceptively intricate brand of French cooking, of course, having run the kitchens at the two most famous restaurants in Keith McNally's brasserie empire, Balthazar and Minetta Tavern, before decamping a few years back. Frenchette represents their long-awaited return to the city's dining scene, and although the sleek, wood-trimmed space halfway down West Broadway has a polished, no-expense-spared sheen to it, you can feel the absence of McNally's famous theatrical touch. The lighting could be mellower and a little less flat; except for a mirror or two, the wall décor is "cafeteria style," as someone at my table described it, and the low ceilings and abundance of hard, woody surfaces make it feel, on a crowded evening (which is every evening), like you're dining inside a specially constructed noise box.

But this is a chefs' operation, not a crowd-pleasing, front-of-the-house one, and the menu at Frenchette is filled with carefully rendered dishes drawn from the old French canon, which a practical, bottom-line restaurateur might consider too quirky, expensive, or laborious for a more standard brasserie. The brouillade requires 15 minutes of diligent and careful egg stirring every time it's ordered, for instance, and the delicious, silky broth in my bowl of crème-fraîche-laced potato-and-watercress soup tasted like it had been fussed over in some provincial Haute Barnyard kitchen for at least a week. The same was true of the deeply satisfying, coral-colored soupe de poisson I enjoyed one evening with a little platoon of crunchy, cherry-size pig's-feet croquettes, along with ribbons of veal tongue arranged, like some rusticated Norman version of vitello tonnato, over silvery squares of fresh-grilled mackerel.
The menu at Frenchette was slightly different each time I visited, as the kitchen tinkers and adjusts to whatever is brought in from the market that day, and Nasr and Hanson have a knack for adding unexpected little flourishes to dishes you've seen a thousand times before. The fatty, pleasingly loose wheel of cotechino sausage I ordered one evening was set over the usual mound of vinegary lentils but garnished, for good measure, with a ring of baby-turnip tops. You can get a bowl of pasta at this French bistro, but it's made with whole wheat and tossed with shingles of bottarga, lemon zest, and a twist of Espelette pepper. My neighbor's roasted quail was served with butter-soaked morels and a thin buckwheat galette, and when I inspected my plump, beautifully glazed helping of veal sweetbreads, I was surprised to find bits of crayfish specked on the plate among the spring peas and gravy.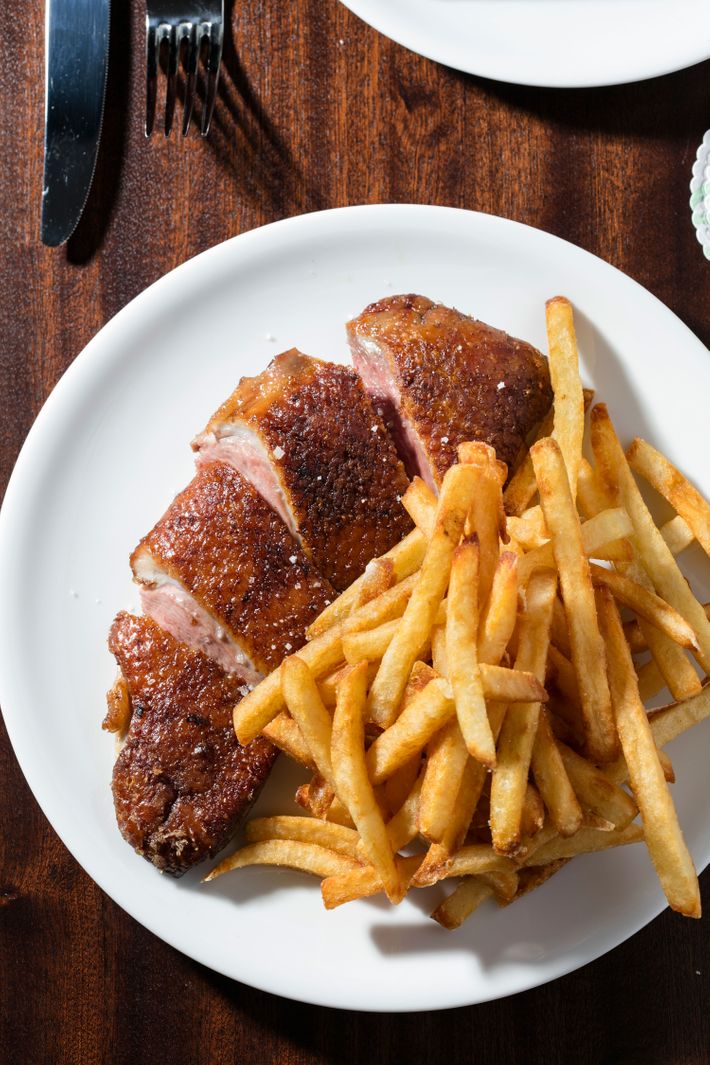 There are two variations of that comforting old warhorse steak-frites available at Frenchette — a thin bavette, dripped with anchovy butter, and, for non-beefeaters, a pan-seared duck breast cut in decorous slices and served with a generous handful of golden frites. If you call for the homard à la broche, you'll find that your very large, very fresh Maine lobster has been broiled to a perfect tenderness on the rotisserie, split in half, and poured with a rich, lemon-colored beurre fondue tinged with curry powder. The lamb stew I tasted was ordinary, but the roast chicken, when it finally arrives, is a thing of beauty (the whole bird is sectioned and set over
a drippings-soaked layer of toasted bread), and so is the delicately funky, well-charred, dry-aged côte de boeuf for two, which is roughly three-quarters the cost of the one Nasr and Hanson made famous at Minetta Tavern ($112 vs. $152).
There's a level of detail in the chef-forward cooking at Frenchette that you don't always see on the faux-brasserie circuit around town. The country chicken comes with extra gravy drippings and a little pot of gourmet-quality pommes purée on the side; the au gratin dish was roast celtuce stems dotted with bits of bone marrow on my visits, instead of the usual potatoes; and before it's cut from the bone, the côte de boeuf is presented to the table dressed with a great scoop of maître d'hôtel butter made with fresh herbs, chopped garlic, and Bordier butter from Brittany. The familiar French desserts are created with a similar kind of focus and care, but if you call for just one, make it the tarte Tatin, which consists of a mass of soft, caramel-brown apples fitted together, as if by magic, into a seamless whole and presented with a towering cloud of freshly whipped cream in a frosty silver bowl.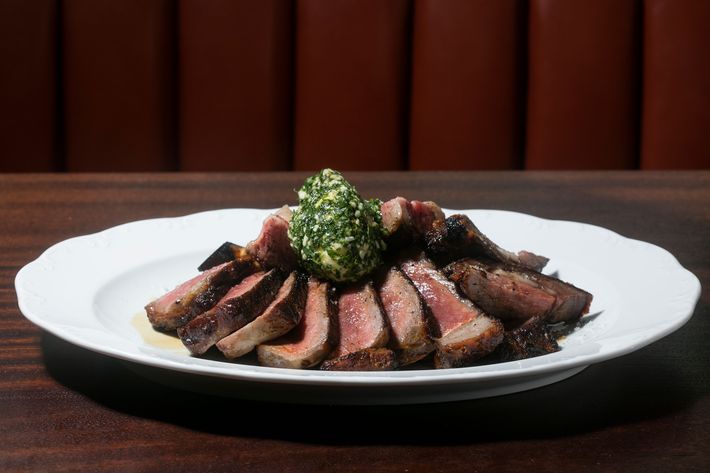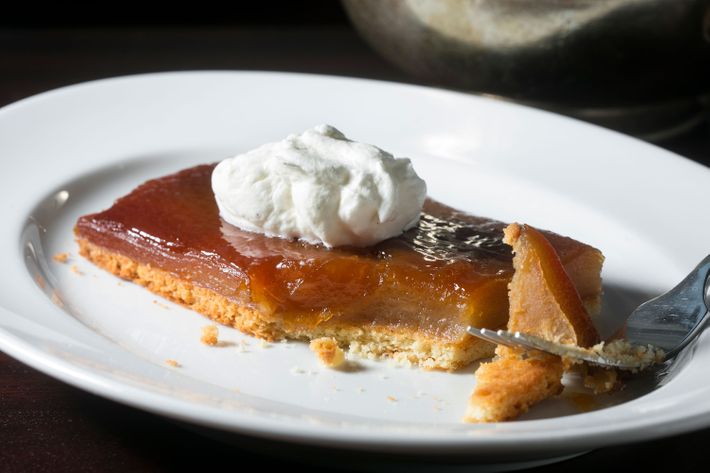 Frenchette
241 W. Broadway, nr. N. Moore St.; 212-334-3883; frenchettenyc.com
Open: Dinner nightly.
Prices: Appetizers, $8 to $24; entrées, $25 to $112 for côte de boeuf for two.
Ideal Meal: Tortilla española, brouillade and/or soupe de poisson, roast chicken, duck-frites and/or côte de boeuf, apple tart.
Note: Traditional oenophiles, beware: The over-300-bottle list has been put together by that great Pied Piper of the natural-wine movement, Jorge Riera, formerly of Contra and Wildair.
Scratchpad: One hearty star for the eggs, one for the chicken, and another for everything else on the menu at this fine new addition to the city's dining scene.
*This article appears in the June 11, 2018, issue of New York Magazine. Subscribe Now!