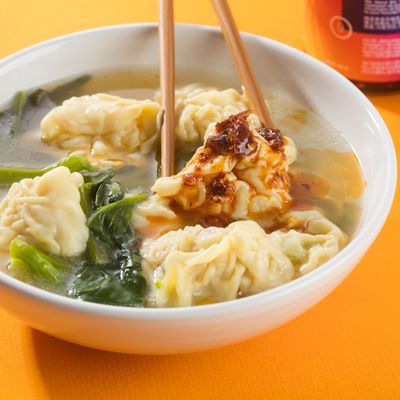 Use it on whatever you're eating.
Photo: Melissa Hom
Fly by Jing's Sichuan Chili Crisp does not taste like your run-of-the-mill chili sauce, the stuff you may have sitting in your kitchen right now. Its fragrancy lingers, a seductive mingling of fried chilies, the illusive tribute pepper, mushrooms, sesame oil, and more. Its flavor will keep you occupied long after your mouth stops burning. Produced in Chengdu, the capital of Sichuan, and debuted in China last year, it's coming Stateside and will first be available through a Kickstarter preorder that launched today.
"Even with us, we use these mass-produced products where you don't really know where they're coming from," says Richard Ho, the owner of New York's popular Taiwanese beef-soup shop Ho Foods. "I think the thing you're going to see with young Asian and Asian-American chefs is that we're going to go back and make better versions of these things ourselves."
That's more or less the idea behind the Sichuan Chili Crisp, which is like a souped-up version of the sometimes obsessed over Lao Gan Ma. It's a product that its creator and Fly by Jing founder Jenny Gao compares her own to and grew up eating. It's not a hot sauce that's only about heat, much less the dull, aggressive heat of your budget chili oil. The heat is calibrated but strong, and you'll consider whether you should just use the whole jar as a sauce. But it has a robustness that's a little floral, very aromatic, and laden with savoriness. Dig into your jar with a spoon and you'll turn up more crunchy flakes of chili, along with mushroom, the ground-up spices, fermented soybean, and other ingredients. It can be used like a spread, perfect for smearing on tortillas (for a quick snack) or on your bing.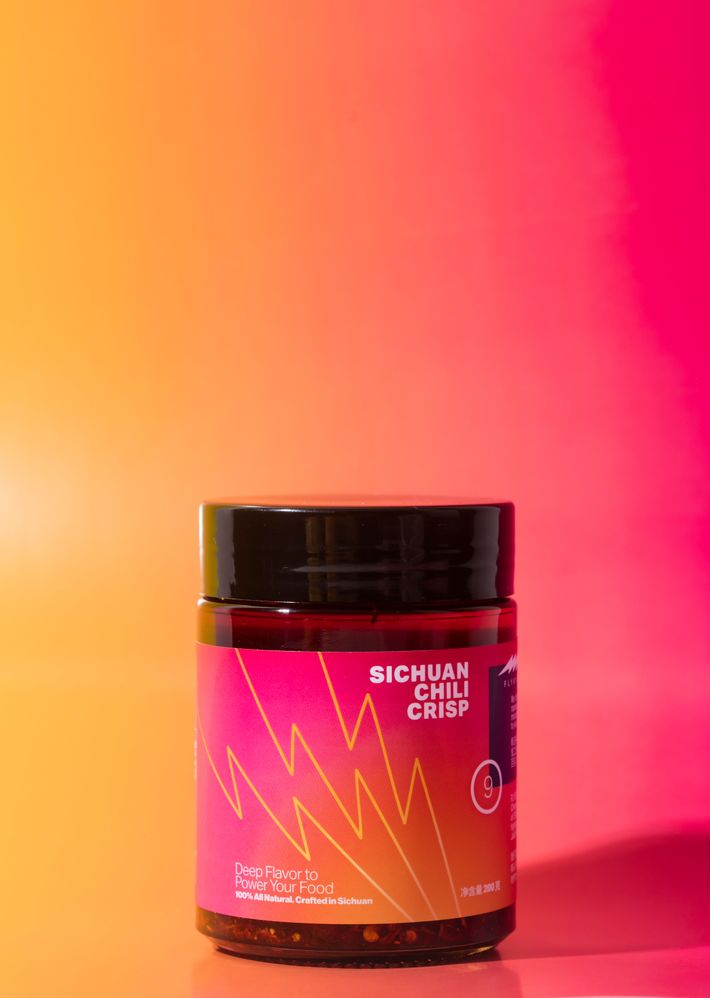 Sichuanese cooks approach chilies the same way that Mexican cooks do, mixing them not just for spice but for different flavors and fragrances. Gao was meticulous in finding her ingredients: researching the cultivation and use of chilies in Sichuan, eventually visiting wholesale markets, and going to the farmers themselves. Her er jing tiao chilies come from the southern province of Guizhou, where she says the climate is ideal for growing them, and she's using the crème de la crème of Sichuan peppercorn: tribute pepper, called such because it was once given to the emperor as tribute. "You don't even put it in your mouth; you literally grab some of it in your hand and smell your hand, and it's so, so strong that it comes through to the other side of your hand," she says.
Gao is a Chinese-food-world figure based in Shanghai, born in Chengdu, and raised in Canada. She's become an ambassador of sorts for Chinese cuisines since moving to Shanghai in 2012, both through her blog Jing Theory, other writing, and appearances on the BBC's Exploring China, Parts Unknown, and Huang's World. She was once in the fast-casual bao business in Shanghai, before disagreements with her partner caused her to leave. After, while figuring out what to do next, she spent time in Chengdu, where she staged with the famous Sichuan chef Yu Bo. That experience led her to launch Fly by Jing, a pop-up turned private kitchen and supper club.
"I started doing kind of Sichuan street food: very old, flavorful flavors inspired by a type of restaurant in Sichuan called 'fly' restaurants. These are sort of my first food memories," says Gao, who served both traditional dishes and original ones like mala mole and lazi made with cod tongues. The sauces came out of those meals, and like them are rooted in the flavors of traditional, hole-in-the-wall "fly" restaurants. "One of the things I was trying to dispel with doing this is that Sichuan cuisine is just mala."
If all goes according to plan, the Sichuan Chili Crisp will only be the beginning. In China, Gao sells other sauces, and her store lists her Zhong Dumpling Sauce, MaLa Spice Mix, and XO Sauce as planned products. Down the line, she also plans to launch a line of Chinese tonics and broths founded on the Chinese approach to nutrition. What she wants is to bring the flavors of Sichuan from Sichuan to the West. Not just the spicy numbing of mala, its most famous in the West, but the cuisine's whole, varied, voluminous canvas of flavors — all for your kitchen. But, first, she wants to burn your tongue with a better chili sauce.