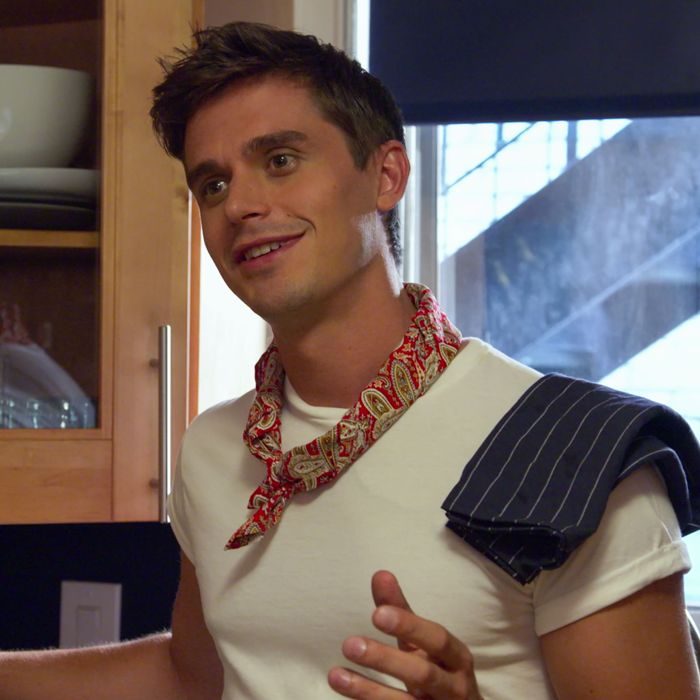 Greek yogurt, anyone?
Photo: Courtesy of Netfilx
Can Antoni Porowski actually cook? That is arguably the biggest question hanging over the new season of Queer Eye, which debuts today on Netflix. Yes, the show's (supposed) food-and-wine expert is writing a cookbook, and yes, Antoni's starring role on the show was co-signed by none other than Ted Allen himself. But the reboot's first season also saw Antoni preparing "dishes" like guacamole (with yogurt!), grilled cheese, and grapefruit salad.
Antoni's defense: It's his job to teach the show's subjects recipes they can cook. (Fair, but it's still yogurt guacamole.) People were suspicious of Antoni's true abilities; Queer Eye's PR machine worked overtime to convince people of Antoni's culinary know-how; and going into season two, many members of the public remain justifiably dubious.
So, this is Antoni's chance to quiet the doubters once and for all. Does he? To find out, Grub watched every episode solely to analyze Antoni's supposed cooking cred. Here's how it breaks down:
(Needless to say, spoilers abound for the new season of Queer Eye.)
Episode 1: Tammye
The setup: Tammye is a teacher, mother, wife, and devoted member of her local church; she needs help building a local community center.
Antoni makes: Nothing!
Tammye just happens to be making a batch of fried green tomatoes when the Fab Five arrive, which leads Antoni to immediately conclude that she knows exactly what she's doing. And so: Antoni's job in this episode is to learn, not to teach! Specifically, he's taught how to make macaroni salad and Mama's Banana Pudding, which Tammye will serve at the opening of her new community center. Antoni has no idea how they'll feed 200 people with so little macaroni salad. Tammye does the assuring here, mysteriously telling Antoni, "Ooh, you'll see, baby!" Then she gets whisked away for her makeover and Antoni says he can now make Tammye's mayo-drenched macaroni salad all by himself. Don't be surprised if he snuck in a little Greek yogurt.
Episode 2: William
The setup: William is a scruffy 30-something living with his girlfriend whose life has plateaued. He needs help getting back his momentum.
Antoni makes: Roasted cauliflower and green-goddess dressing.
William is a vegetarian who's recently fallen into the habit of making cheesy wraps for all meals. "There's more to life than a wrap," Antoni astutely points out. So, he gets to work helping William put together a picnic that will include Cabot cheese from Vermont, and also cauliflower because William's girlfriend loves cauliflower. Antoni's solution is to teach Billy how to prep and roast a cauliflower and make an accompanying "mean, wicked, tangy" green-goddess sauce with parsley, cilantro, green onion, avocado, olive oil, and jalapeño. But in a twist, Antoni subs Greek yogurt for mayo. When William deems this green goddess sauce to be "vegetable candy," Antoni is over the moon. and encourages William to put everything in Chinese takeout containers because it's "just something a little more original and creative than your classic Tupperware." Ultimately, William's girlfriend is impressed.
Episode 3: Leo
The setup: Leo is almost 40. He's a husband, father of two, and a bartender. He's also a Mexican immigrant.
Antoni makes: Pasta with amatriciana sauce.
Leo's favorite cuisine is Italian, and Antoni is sure Leo can learn to make fresh pasta. Antoni-can't-really-cook conspiracy theorists will note that fresh pasta is also what Antoni made for his big Times cooking profile, so maybe this is the only thing he can cook? Anyway, he takes Leo to a restaurant called Sotto Sotto, where they make pasta using a hand crank and create a beautiful, simple meal with fresh vegetables. At home, after teaching him to make an amatriciana sauce, Antoni gifts Leo a pasta-making machine of his very own. Sweet! Alas, it doesn't go as planned. When Leo tries to use the machine, the pasta is terrible, so he ends up using some dried spaghetti. "I'm horrified," Antoni cries. At least the sauce worked out.
Episode 4: Jason
The setup: Jason is an old hippie and longtime attendee of Burning Man who eats very simply, but also loves Indian food.
Antoni makes: Peanuts masala.
Antoni's first order of business is taking Jason to a restaurant called Chai Pani, where they consume the entire menu. So, now Antoni's gonna take Jason home and teach him to make tikka masala or saag paneer, right? Wrong. Antoni instead teaches Jason how to make his friend Reema's peanuts masala: Roasted peanuts with red onion, cilantro, cayenne, and lime juice. Now, Jason can impress his peanut butter–loving Burning Man friends with something much more exotic: wet peanuts that you eat by hand! So, it's like trail mix, but worse?
Episode 5: Skyler
The setup: Skyler is a 30-year-old man who eats pretty well and loves sushi.
Antoni makes: Poke.
Full disclosure: I've tried making sushi at home and it's super difficult. No matter how well you do, it won't be any better than what you get at the bodega. So, thank you, Antoni, for sparing Skylar that heartbreak and teaching him, instead, how to use frozen tuna to make two different kinds of poke: A spicy version with mayo, sree-rach-a (Antoni's pronunciation), serrano peppers, black sesame seeds, and sesame oil; and "sweet and tangy" poke with ponzu, white sesame seeds, and truffle oil. And don't forget the sushi-rice crackers that Skylar can now make in his Brand! New! Air fryer! Skyler's into it! "Love it, very tasty," he says. And honestly, yes. We're here for it, too. This is better than roasted peanuts!
Episode 6: Ari
The setup: Ari is a recent college grad who found out he didn't actually graduate. He's been in a downward spiral ever since.
Antoni makes: Tahdig, a traditional Persian dish featuring crispy rice, potatoes, and saffron.
Ari is Iranian and he loved tahdig growing up. Antoni's take on the dish is pretty simple, but he does know the proper way to bloom saffron (you use water to extract its flavor; you use oil for other spices). What's more, Antoni has now armed Ari with a soul-warming dish from his childhood that he can serve to his mother as he tells her the bad news. There should be an entire website dedicated to food you make for someone when you also have to tell them something horrible. ("I wrecked your car, but enjoy this cake!")
Episode 7: Sean
The setup: Sean is a homeschooled kid who's about to start college and is afraid he won't fit in.
Antoni makes: A French omelette.
Sean has no idea how to cook real food and he's on the precipice of moving into his own place. If ever there were a time for Antoni to whip out his arsenal of grilled-cheese advice, this would be it. Instead, he teaches Sean to make a classic rolled omelette with chives. Antoni's recipes rarely rise above the level of Culinary School 101, and this is no exception, but French omelettes are impressive for a reason — easy to learn, impossible to master — so this is probably a worthwhile skill for Sean to possess.
Episode 8: Ted
The setup: Ted is the 34-year-old mayor of a small town in Georgia who's been in politics since he was 17. He's hosting a dinner for diplomats from the Philippines and Sierra Leone, but his longtime girlfriend says he has no idea how to cook.
Antoni makes: A peach-and-tomato salad.
Antoni and Ted head to a famed Atlanta restaurant Bacchanalia, but it's just so Ted can learn how to set a table for a dinner party. For the actual dinner, Ted's girlfriend will grill some salmon while Ted's on appetizer duty: A summer salad of grilled peaches and heirloom tomatoes with basil and parmesan. Similar to season one, Antoni suggests using an indoor, infrared grill for the dinner. Don't people have, like, yards and real grills in Georgia? Antoni's biggest crime, though, might be his use of Chinese-born donut peaches rather than Georgia peaches. When the big night arrives, the diplomats ostensibly like the salad, though they probably won't be writing home about it anytime soon.
The final verdict: Unfortunately, this season will probably do nothing to resolve the debate surrounding Antoni's cooking skills. He does push his students a little harder (i.e., fresh pasta and Iranian comfort food), but still nothing revolutionary.