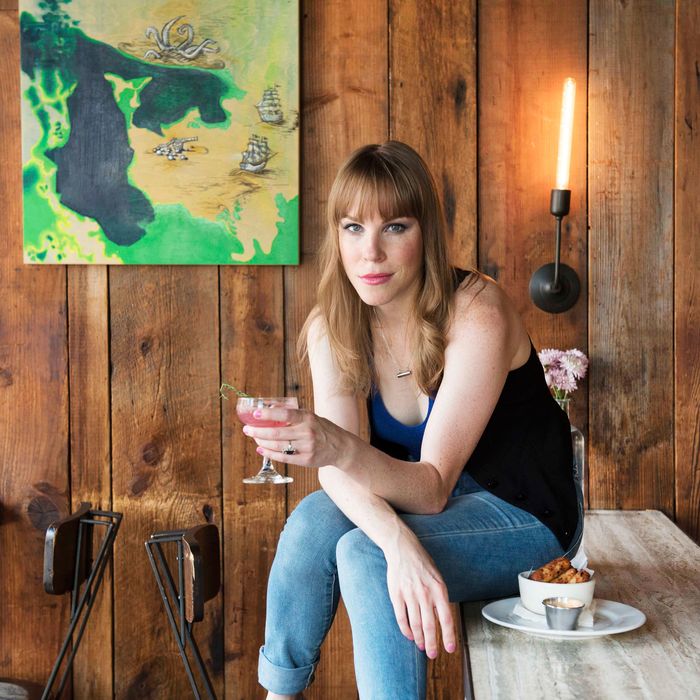 "Went to the Castello Plan for their tots. They're really a mix between a tater tot and mozzarella stick … They're insane."
Photo: Liz Clayman
Emma Myles is best known for her role as Leanne Taylor on Orange is the New Black, but her career started with the playwright Eve Ensler, and her first professional gig was on (dun dun) SVU, a show with which she remains, to say the least, obsessed. In fact, she's charmingly, intensely passionate about lots of things like, oh, what she eats and drinks, with particular attention paid to steaks, anything bubbly, chipotle Cholula, and fried onions. This week, Myles went all in on a beach salad, discovered fiddlehead ferns ("I didn't know we were eating ferns, but I'm into it,"), and, of course, watched SVU before and after Saturday brunch. Read all about it in this week's Grub Street Diet.
Thursday, June 14
BEACH DAY. I've just recently started going. My friend has a car now and I live out in Ditmas Park, so Riis Park is pretty close. I don't want to go in the ocean in Coney Island because that's terrifying. I'm super, super fair-skinned. I've had a lot of bad experiences with being out in the sun and I'm allergic to sunscreen, but this year, I was like, "Fuck it, I'm going to the beach — I haven't been in the ocean in 20 years."
We tend to bring snacks because when I was a kid you couldn't buy things at the beach. Also I was a Girl Scout, so I always plan ahead. Our friends were behind schedule, so I had a little extra time and made a big-ass salad to take for lunch. I was like, "You know what, I've got some arugula that has two days left before it turns. I'm going to make the biggest, most delicious salad ever." And it was. It also had blue cheese, olives, avocado, grape tomatoes, homemade Balsamic dressing, and marinated tofu. I bought that at the Flatbush Co-Op.
My friend also brought a bunch of grapes, cherries, and delicious fruit but it was so windy there that sand got all over the grapes and other fruit. So we couldn't touch that. The beach salad, however, was intact in Tupperware. I worked so hard! I split it into four containers and only two of us ate it so I was like, "Fuck you guys. Just go get drunk, whatever."
Also, probably, like, four of those Babe Bubbles which is sparkling rosé … in a can. I'm obsessed with those things. They're very tasty. They're not too sweet, they've got a nice amount of bubbles. They're pretty incognito. No one can really tell that you're drinking alcohol on the beach. It just looks like a sports drink or something. If you can put it in a can that looks like a LaCroix no one will ever question you. They'll just be like, "What's that new flavor?" We got away with it, it was fine.
I got back to the neighborhood around 7 p.m. and went to the Farm on Adderley. Had a big-ass steak. It was delicious. It had, like, ferns? These baby ferns that were rolled, that's a new thing for me. I didn't know we were eating ferns, but I'm into it. Ferns and nettles, and I was like, What's a nettle? Something delicious in my mouth is what a nettle is.
I have steak at least once a week. That's my dining out. My fiancé is a pescatarian and I don't like making two meals, so I don't tend to make steak at home. When we dine out I go straight for the steak. Then I live my life.
It's really because I love meat. I've always loved meat. I used to make bacon sandwiches after church as a child and they consisted of white bread with the corners cut off of it and a quarter-pound of bacon.
After dinner, we went to the Castello Plan and I drank prosecco for the rest of the night. I would say Castello is definitely my number one in the neighborhood, just because they have all these small plates and you can do any variety of them. I eat, but I eat kind of like a bird. I like to have lots of options. Small things of different things. So, it's nice to have that kind of variety.
Friday, June 15
Darcey, my fiancé, left for Montreal. Me, I skipped breakfast and slept hella late. Then: coffee, coffee, coffee. I'm really gross. I used to use my French Press, but I've gotten very lazy as of — okay, I've been doing this for three years. I make instant coffee and I'm fine with it. It's good, organic, co-op instant coffee. But it's instant coffee. After that, I went for a run.
I had leftover beach salad — you snooze, you loose! — and three peach-pear LaCroixs. Peach-pear, there's something about it. A lot of people don't like it, which I don't understand. You know how when you make an Old Fashioned and you're supposed to add a splash of seltzer? I use a splash of peach-pear and it kind of elevates the drink to this whole new level. I'm sure aficionados of the Old Fashioned would say it's blasphemy. I don't care!
Made impromptu dinner plans with friends in the neighborhood. We went to Ox Cart Tavern. It's the first restaurant I found when I moved here six years ago. I know a bunch of people that work there, I'm there pretty consistently, and they have pretty good cocktails.
I get the Brussels sprouts every time I go. They're so tasty. If you haven't had them before I can't even describe how good they are. I swear to God they deep-fry them. They're not battered but there's something about them that turns them into this crispy, crunchy situation. They're so perfect.
Also, the pork shoulder. That was the first time I had it, I usually get steak, but I had that the day before, so I tried something different. It was one of the best things I've had there. They serve it with mashed potatoes and mushroom gravy. It's so tender you can eat it with a spoon. I'm definitely going back for it.
Saturday, June 16
I had brunch plans to go to Cowgirl in the West Village with a friend who was in town, but they got canceled so I was like, "Fuck it, I'm just watching SVU for the rest of my life." It worked out. I wasn't mad about it. It's the best way to spend Saturday. Almost every Saturday it's the first thing I do. I watch it when I'm having my coffee. My text tone is the dun dun.
But I was craving the bacon from Cowgirl. I dream about that bacon. I don't really know exactly what they do it, it's some kind of weird, magical spell. It's the best bacon I've had in my life. It's not even bacon, it's bacon jerky.
Since the plans got canceled 15 minutes before I supposed to leave my house, I was already dressed and ready to go. So I texted my buddy Aden who lives in the neighborhood, "You hungry?" We went to Ox Cart Tavern for the second time in two days.
Started with a Bloody Mary. It's basically a liquid breakfast. Brunch was two scrambled eggs, home fries, bacon, and sausage. Sometimes you can't choose. Sometimes the place you go to has good bacon and sausage. Sometimes it's one or the other. Here, both are good. I paid for it because I had the meat sweats for the rest of the day, and I may have had a mild heart attack.
Usually after the Bloody Mary I'll switch to Prosecco. But I saw they had Cucumber Margarita. I'm like, "I'm not driving," as I hobbled back to my house. I think I watched SVU for 12 more hours. Dun dun. My life is really simple.
I still had the meat sweats when dinner rolled around, so I had cereal. You know what they have now? Peanut-butter-and-chocolate Cheerios. That's one of my favorite sweet combinations. Chocolate-peanut-butter ice cream from Baskin-Robbins is my favorite ice cream of all time. The Cheerios are not what you want it to be. But it's fine. I wanted it to be more peanut butter-y, but I also probably ruined my taste buds with all the meat in the morning.
Had some midnight cheese: Prairie Breeze cheddar. Cheese snack, yeah. That's pretty normal. If I'm still awake and I'm just hanging out or watching TV, not going to bed for a while but still feeling like I need to nosh on something, I definitely have a cheese snack. The Prairie Breeze has those crunchy cheese crystals. It's very satisfying. That's my go-to cheese snack for now.
Sunday, June 17
Had my morning coffee, then went for a run. I made what is currently my go-to breakfast most mornings, and by "morning" I mean 1 p.m. because I don't usually eat until after I've exercised and showered.
It's a sweet-potato hash. I chop the sweet potato, fry it up, and once it's browned on all sides and kind of crunchy I'll put in prosciutto and fry that up. I'll put that in a bowl to the side, and scramble two eggs separately with feta and chives from my roof. I put the eggs on the hash and then put a bunch of chipotle Cholula on it. Usually there's half an avocado involved but I didn't have any this time.
I like regular Cholula but I'm not the kind of person who puts it on everything. The chipotle flavor, though: I put that on everything. I'd put it on ice cream, probably. I put it on pizza, macaroni and cheese, pasta. It's probably wrong but I love it and don't want to be right. Later on, I had a predinner snack of garlic almonds from the co-op.
Dinner was a caprese salad on top of baby kale. A lot of times my meals are determined by what I have purchased. Like if I have something leftover, I'll put a meal together. Otherwise it'll go bad and it's a waste. I had tomatoes and mozzarella I had to use, and my baby kale was probably going down in a couple days. Also had some avocado, pine nuts, and fried onions with it.
I've become obsessed with frying onions and putting them on things. It's so good. All you have to do is put a little butter in the pan, put your onions in, shake some garlic salt on them, and once they start to caramelize, oh man. Do people not know about this? Because no one I know fries onions and puts them on things. In fact, people I know get a little stuffy about onions. I'm like, "What's your problem?" Onions are amazing. I like them with a little char. A little crunchy situation. Perfect food. Thank you, planet Earth.
Monday, June 18
Had my coffee and ran. Drank a mimosa while cooking breakfast, 'cause why the fuck not? We always have prosecco in my house and if my fiancé hasn't had all the orange juice, I have it, too.
Breakfast was avocado toast and an asparagus, onion, and feta scramble. The way I'm making my eggs right now is as if I was making a quiche. For some weird reason I'm just really into quiche flavors for my scrambled eggs. Every time I make an asparagus, onion, and feta quiche I'm just like, oh damn, that'd be a really good scramble. And I was right. I was right all along.
Went to the Castello Plan for their tots. They're really a mix between a tater tot and mozzarella stick and there are chives inside. Then they have this chipotle-mayo dipping sauce. They're insane. I'm a potato person. I am. I love all kinds of potatoes. I'm really good at cooking them. I don't know where this gift came from. Mom, do you have any insight? It came in later in life.
Dinner was basically a repeat of the previous night's caprese salad, plus asparagus. Had a glass of red wine while watching The Bachelorette. I think at least three of the guys are good people. I can't decide who my favorite is right now.
I don't know what the wine was. My fiancé signed up for this wine-club thing. That's what we've been drinking and that's cool. They send a bunch of different kinds from different countries. But my go to is the J. Lohr Cabernet. It's very, very tasty. I'm from California, so I'm all about a California wine.
Had fig snacks instead of cheese snack. Just dried figs from the co-op. It's good for your digestion, I guess I will say, and I think we all know what that means.
Tuesday, June 19
Switched things up: coffee, ran, and organized the house. Breakfast was eggs with asparagus, onions, cherry tomatoes, parmesan cheese, avocado, and, obviously, chipotle Cholula. I cooked all the vegetables then added the eggs last. I was very satisfied with my breakfast.
Two LaCroixs. One peach-pear, one cran-raspberry.
I dealt with airline shenanigans all day because my mom was flying into town and everything kept getting pushed back. Ate almonds before it was time to leave, then I didn't eat for a million years while I waited for my mom's plane to land.
I should've been hangry but I wasn't. I was in such a good mood because I was so excited she was coming. I was … hungpy. Hungry but happy. I think I do get hangry but I recognize when it's happening. I have emotional tools to calm myself down so I don't turn into the Hulk. If I can plan, I'll stick a granola bar in my bag or bring almonds or trail mix, you know, bird feed.
When we got back to the hood I had pulled-pork tacos from the taco truck, Tacos El Pollo, parked in front of the library. It just showed up one day. Also, had another cucumber margarita from Ox Cart Tavern. It was all worth it.