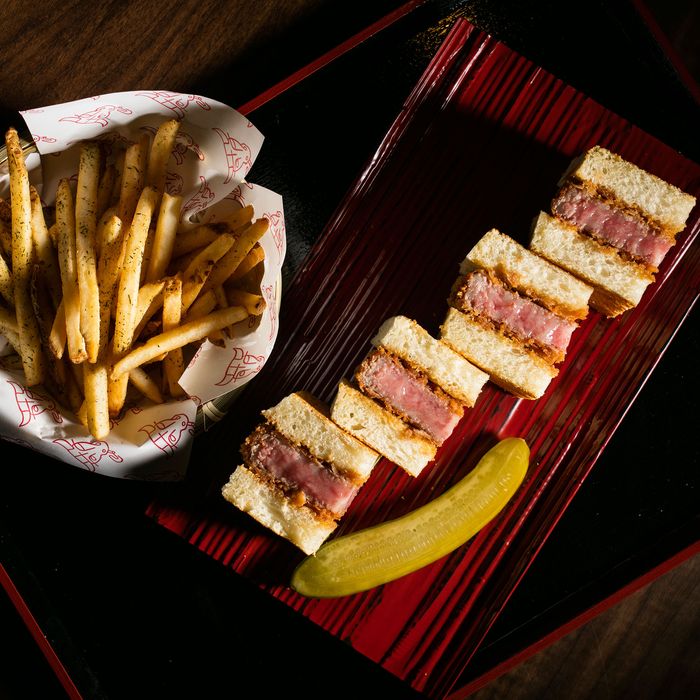 The cheapest sandwich is $28.
Photo: Melissa Hom
This week, New Yorkers were gifted a new stunt dish to pontificate over, rant about, and for a select few masters of the universe, maybe even eat. On Wednesday, a Financial District cubbyhole of a sandwich shop called Don Wagyu opened, asking potential customers: Would you spend $185 on a sandwich? Or are you somewhere between "what" and deeply offended by the very idea? The shop serves Tokyo's very high-end katsu "sando," and its lighthouse for local Wall Street whales is its $185 sandwich, luxury Instagram bait and an exercise in conspicuous consumption taken to absurd new heights, one that's particularly vertiginous in our current moment of plutocrats and kleptocrats.
"I suppose you'd have to call this the irrational, rational extension of the original Changian pork bun. It's morphed and mutated over the decades, through various stages, from coolness to hipness, to the point of post, post, post-ironic parody, where people are willing to fork over $180 for a bite — and of course, a goddamn picture — of something like this," says New York critic Adam Platt, whom Grub dragged from his lair, more or less at gunpoint, down to Wall Street in order to try a couple sandwiches.
Don Wagyu is owned by Derek Feldman of Uchu, where the chef Samuel Clonts serves a grilled wagyu katsu sando as part of his very expensive omakase. The executive chef here is Corwin Kave, whom food geeks will remember from Fatty Crab. The menu's three options are the $28 Washugyu, as entry level as an East Village studio apartment; the A5 Miyazaki Wagyu for $85; and the $185 A5 Ozaki, the trophy-wich. It's made with supremely high-end Japanese beef, press materials state, which is to say it's not available anywhere else in the United States. All three are served on thick, toasted white bread, the fried steak coated lightly in panko and painted with katsu sauce. Each comes with a half-pickle and slender fries dressed with nori flakes; they'll serve about 200 sandwiches a day.
A rep says it looks like the liquor license was approved, so expect prestige Japanese whiskeys, sake, and beer soon. During our visit, options were bottled still or sparkling water and a long-necked glass-bottle Coke. You will not be offered tap water. The small space looks like a high-end barber shop or cigar boutique, with six counter seats and ample view of the small kitchen's fastidious cooks. The soundtrack is heavy on rap from the likes of Ja Rule. The seats were mostly occupied by who you might expect. One pair left behind bread on their plates, throwing money away into the beef-tallow fire. Some passersby went in only to skedaddle, presumably after reading the prices. Just outside, a steady line built up for the Sunrise Grill food truck. One woman peered through the window before joining friends in line, looking gleeful with her choice.
"I have to say, it's actually sort of a canny idea, like opening a caviar bar in the Financial District of downtown Moscow. The katsu sandwich is a lovely thing, both aesthetically and from a taste standpoint if it's executed properly, and with Instagram, and the general food-world mania for all things Tokyo, I'm surprised that it hasn't made it here sooner," says Platt, a known steak connoisseur and fan of many things Japanese cuisine. "I mean, look at it, all laid out on a red lacquer plate, like some kind of madcap, Rothko food sculpture. I'm happy to take a bite or two, especially since it's company cash we're burning."
But is there a discernible taste difference that comes with the $160 spread between the least and most expensive options? And if so, how could spending that much money on a sandwich ever be satisfying?
For journalism's sake, Platt and I ordered both the $28 and $185 sandwiches. Both sandwiches are presented on trays with the fries in a little bamboo woven bowl. The bread is soft within, not too thick, and well-toasted; the meat is tender and sizzled in a light, not-too-oily katsu crust. Its tea-sandwich size gives it, the critic says, "a kind of elegant, dainty, user-friendly aspect." There is no edible gold leaf.
Presumably because of its inherently less marbling, the less expensive option's beef is notably ruddier and meatier-looking, more like the classic, vaguely bloody New York porterhouse of old steak joints around town. You feel, at first, like you've spent over $30, with tax and tip, on a gently fried steak sandwich. Then you hate yourself for liking it. The "budget" option is, frankly, the better option, and tastes like a proper steak sandwich. It has a fuller flavor: intense beefiness, tender, with a nice "minerality" (yes, Platt actually used that word). "I'll give it 5 stars, maybe 45 stars," says Platt, as he commences to pop a second sando square into his large mouth. It's absurdly expensive, but there's precedent. "The question is, was that katsu sandwich as good as one of the comparably priced, $28 cheffed-up burgers around town? And I would say, maybe it is."
As for the $185 trophy-wich? It was soft and fat and weirdly dull for something so exorbitantly expensive. The meat has a blandly tender, overwhelming fatty quality, which doesn't really taste like steak at all. It's as if you're eating foie gras on bread, only without any of the foie gras flavor.
"It reminds me more of the fattiest kind of the fatty otoro tuna belly, but only the taste has been cooked out of it, so you're left with that vaguely unsettling tuna-belly slick down the back of your mouth," Platt says, as he wipes his jowls primly with a monogrammed paper napkin. "I don't need that during lunchtime." Later, he added, "I'm walking around, it's almost ten minutes later, and I don't have this happy, Oh, I've just devoured a delicious steak sandwich sensation. All I've still got is this grease slick."
The tuna-belly-like slick isn't the only aftertaste.
"Oh, and by the way, I'm out 180 bucks," huffs Platt. "It just violates the whole idea of a sandwich, which is one of the most efficient, inexpensive, reliably delicious methods of food consumption ever invented. It also violates the idea of A5 Wagyu, which I'm not opposed to, in general, especially if I'm not paying for it, and should be consumed in its own special way."
Platt rambled on while we walked back to the office, growing more exasperated and a little philosophical as we made our way through the lunchtime hoardes. He remarked that the katsu craze feels inevitable, thanks to the internet, and, well, look at us, we paid for it. "One thing it should not be used for, I think we can now agree, is as a kind of bait for catching all the Wall Street dudes, so they can all fill up their sorry little Instagram feeds," he said. "It's really sort of an abomination."