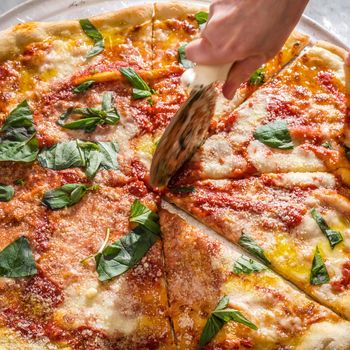 Slicing the pie at the new Di Fara.
Photo: Noah Fecks
These are boom times for pizza lovers in New York, and perhaps no development is more earth-shaking than the expansion of Dom DeMarco's Di Fara, arguably the most famous pizzeria in the entire city. While the original location wears its 54 years proudly (and is defined by its own set of quirky house traditions), the new Di Fara is tucked inside North 3rd Street Market, a pristine food hall in Williamsburg. But the two settings are more similar than they might seem at first, and the (round, cheese) pizzas at each location are, if not identical, still surprisingly difficult to tell apart.
Last Thursday, I started in Midwood, at the source, which, given the recent expansion, Scott Wiener of Scott's Pizza Tours now terms "Di Fara Prime." DeMarco, the venerated octogenarian owner who famously controls all the parameters of the pizza, was at the oven as usual. The backs of his hands were characteristically flecked with "00" flour, and there was a patch of duct tape wrapped around one of the oven's handles. Customers stared in awe at Dom and also that oven, which is now so ancient that it seems improbable that actual pizza will emerge from it. Whenever a blistered pie does come out, though, it's magical.
Anyone who has been to the original Di Fara knows that the cash-only pizzas are finished in ceremonious fashion, though things have changed over the years: DeMarco has a helper who now snips the whole-stalk basil on the fresh-baked pies and roughly throws a handful of cheese across their surfaces. There's no post-oven drizzle of oil from a pitcher, which for a time was part of DeMarco's elaborate pre- and post-bake ritual. The crust still has a bronzed veneer, though, and a nicely bitter undercurrent of olive oil suffused the slightly juicy crushed tomato sauce as it mixed with the cooling, molten cheese. In short, the large cheese pizza was, undeniably, a Di Fara pizza.
A few days later, at the North 3rd Street Market, it was immediately clear that the proudly crusty appearance of the original has been evoked with a surprising degree of charm. There's white marble, a nod to Dom's work bench, and an imposing, impossibly ancient-looking oven, along with hand-painted signage that beautifully echoes the original. Crucial differences include a ceiling speaker that pipes the best of Patti Smith and George Michael directly into any waiting customer's brain, and loudly, plus a positively 21st-century tablet-based register that takes credit cards. Merch is available; Notable Figures of Pizza are paying visits. Bizarro Di Fara manages to be both instantly familiar and a little unsettling.
Margaret Mieles, one of DeMarco's daughters who's long been a fixture of the Avenue J location, answered questions patiently — "Yes, for more than 50 years"; "Yes, well, he's 81, and no one can be in two places" — and with heart, while a team of workers doled out slices. The wait at Di Fara 2.0 was shorter, and the cashless checkout faster. And the pizza at least looked like it came straight from Midwood.
Both had tangy, almost fermented tomato working counter to the melted cheese. Both had a bitter undercurrent from the basil and olive oil, with an almost floral heat from the optional peppers. The crust on both pizzas was cooked a little longer than one might expect, too — a Di Fara hallmark.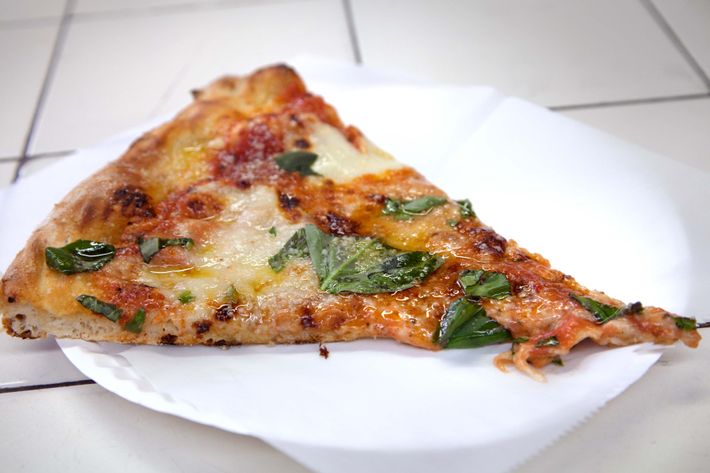 In truth, there is no standard Di Fara pie. For as famous as DeMarco's pizzas are, consistency is not among their considerable virtues. Over the years, the recipe hasn't necessarily changed outright, but it has drifted a bit. If ingredients themselves and the ratios have changed, the overall effect, alchemically, is the same. It's been like this for 12 years, the length of time I've been a regular. Others who have been going longer note something of the same.
"Dom seems to have been making subtle tweaks over the years that are overshadowed by the myth at this point," says Adam Kuban, the noted pizza scholar and proprietor of Margot's. "Granted, he's always done variations, within a certain script — I've seen him use different cheese blends, sometimes dropping the fresh mozz one visit, and using it the next."
Longtime customers have noted fresh cows'-milk mozzarella in and out of rotation with the firmer, low-moisture variety. Grana Padano, once a fixture of Di Fara, stopped making appearances after the countertop-mounted rotary grater broke. Parmigiano and Pecorino replaced it for a while. There was even a short-lived era where the crusts were enigmatically burnt, seemingly by design, and that's where things turn philosophical. "Dom's pizza is a flowing river in that the only thing you can really count on is perpetual change," says Scott Wiener, "and that's part of what's interesting about it. He hasn't stuck to the same method for 50 years."
This, according to Wiener, is the shop's true legacy: "When people go there just for one moment of eating that slice, and immediately judge whether or not all the people who praised it were wrong, those people are completely missing the point," he explains. "Di Fara is not a pizza; it's the realization of a classic slice shop that never sold out."
Eating at the new Di Fara reminded me of watching the newest Star Wars movies and thinking about how they compare to the original trilogy. Someone is bound to make a fuss about a cherished product that's been "ruined" by updates, but the universe that the entities inhabit is ultimately the same. The setup is welcoming and familiar, the ingredients are instantly recognizable. And, probably most important, the new versions retain enough of the original DNA to keep fans happy.