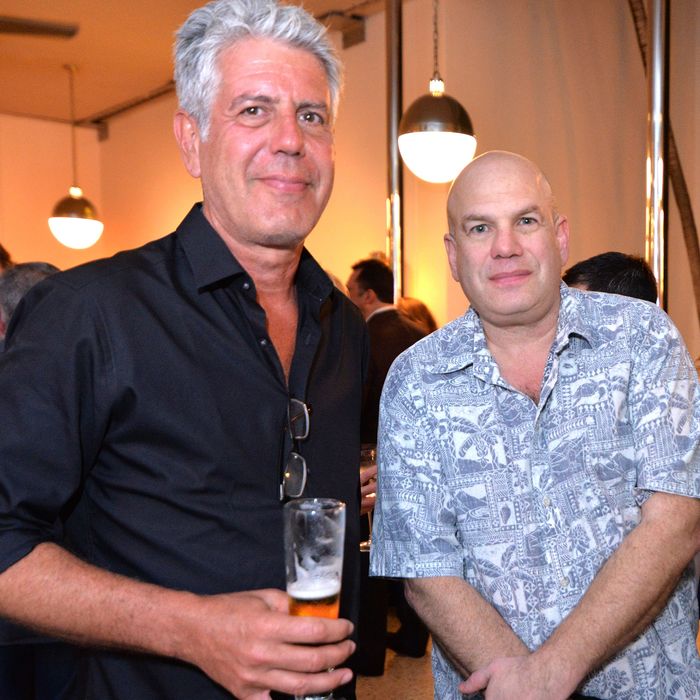 Bourdain and Simon in 2014.
Photo: Dylan Rives/Getty Images
In a poignant remembrance posted on his personal site, David Simon, the writer and creator of The Wire, recalls the instant affinity he felt for Anthony Bourdain while watching a No Reservations marathon one otherwise uneventful Labor Day weekend. Soon enough, Simon and spouse Laura Lippman, the novelist who last week penned her own account of Bourdain, concocted an elaborate plan to bring Bourdain into the fold of Treme, his HBO show centered in post-Katrina New Orleans. The ruse was about soliciting ideas for the chef character Janette Desautel, but Simon really didn't need notes. "No, I just wanted a bromance," he writes.
Simon writes, like others have, that Anthony Bourdain was a fierce autodidact whose restless gravitation toward the margins of food culture was unfailingly special; for a Baltimore episode, for example, Bourdain sidestepped clichéd crab cakes and oysters and focused on pit beef and lake trout instead. Simon writes that Bourdain's "almost unlimited capacity for empathy," was his profound, if lesser-known, strength, and that those two qualities combined in service of their exhilarating, enduring, and funny friendship. (Bourdain once even lured Simon from Baltimore to a CNN taping in New York with a single Cronut as enticement. It didn't end well.)
"He knew everything," Simon writes, turning his attention to Bourdain's ability to voraciously consume all sorts of non-food texts. He writes:
I don't mean he knew everything about food or cuisine or travel or even world culture. I mean that for having come up in kitchens, without the formality of any higher education, Tony Bourdain was simply a brilliant autodidact. He read voraciously and widely. He read things that were relevant to his work and he read things because he simply wanted to know everything a man could possibly know about a given subject. I don't mean he read the canon for literature and enough non-fiction to be current or relevant at parties, I mean he read the obscure, often turgid stuff that academics wade into when they want to know the last fucking detail about something. As he was about so many things, he was obsessive about what could be learned and known.
To that end, Bourdain was even involved with long-developing plans for a TV project, to be helmed by Ed Burns and Simon, that would tackle the origin story of the CIA after World War II. Initially, Burns wasn't convinced, but Simon, who knew better, recalls:
I could only giggle and look forward to a green light on the series and several years of Ed Burns and Tony Bourdain yelling at each other across a Baltimore writing room over the nature and purpose of pork itself, never mind the Bay of Pigs.
The post ends with an encounter from December of 2017, which includes a visit to Desmond's and a perfunctory good-bye hug in the street, which Simon writes "seemed a ridiculous gesture with Bourdain, whose height made you feel as though you were embracing a cathedral." Read the entire post here.