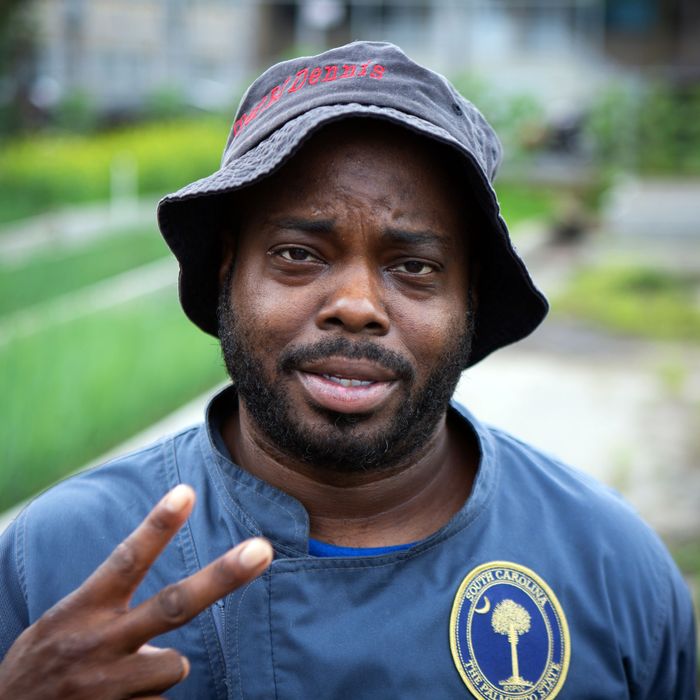 Benjamin Dennis picks produce in a Brooklyn community garden.
Photo: Clay Williams
Not much upsets Chef Benjamin "B.J." Dennis, but any mention of black-eyed peas strikes a particular nerve.
Back home, Dennis has access to more than 20 varieties of field peas, including several rare heirloom types, yet dried black-eyed peas are the only ones he sees on the menus of most southern restaurants. "It's probably one of the worst-flavored peas," he said, shaking his head. "I can't stand it."
The pointed anti-pea commentary was unleashed last week while the 39-year-old Charleston-born chef, donning one of his trademark bucket hats, led a demo of Gullah Geechee food with participants of Brownsville Culinary Community Center's teaching program. Noma co-founder Claus Meyer is responsible for opening the innovative Brooklyn space. Nicole A. Taylor, a writer and the center's director of special projects, booked Dennis as part of a larger and ongoing real-time conversation about black food culture. (For the first event of the series, the center hosted Michael Twitty, a southern cook and James Beard Award–winning writer.)
Gullah Geechee cuisine is a distinct and regional subset of Low Country cuisine, championed by figures like the late and illustrious Vertamae Smart-Grosvenor. Dennis is a de facto ambassador of its legacy. Since none of the center's young cooks knew much about the cuisine until last Thursday, he was patient, even after one participant burned a first batch of corn fritters.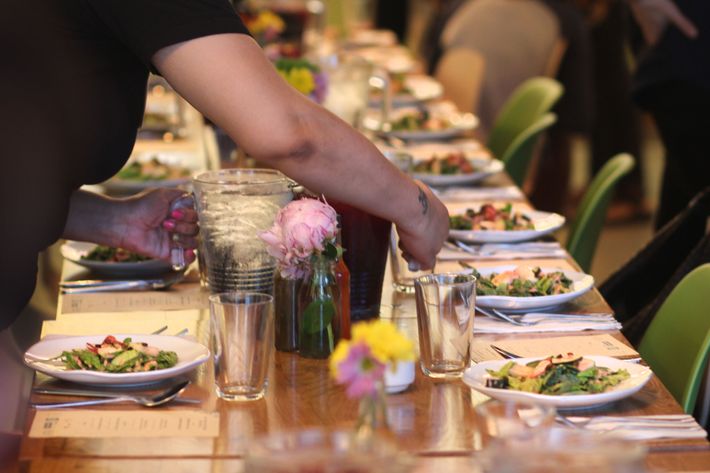 "African-American cuisine is very diverse, from the West Coast to the East to down South," he said, taking a break from the pot of okra and tomatoes bubbling on a back burner. "Even in South Carolina, the food is regional. How we eat on the coast is different than how people eat upstate."
In terms of a broader mission, Dennis wants to dispel the narratives that paint southern food with wide strokes. For his one-night engagement in New York, the chef built a menu around the foods he would be cooking in Charleston right now. "In a couple weeks, you'll start to see sweet potatoes come up back home," he said. "You'll taste the flavors I grew up eating and seeing and smelling, and picking out of the ground myself."
For a main dish, Dennis and the cooks prepared red rice with okra stew and fish in a style that echoed the composition and flavor profile of thiéboudienne, the iconic national dish of Senegal. Today, the Gullah Geechee people live in farming and fishing communities spanning the Sea Islands, and the coast between North Carolina and Florida. They've preserved the language, art, and cooking techniques that their ancestors brought to America as slaves — nearly everything Dennis cooks, in fact, is inspired by the cuisine of West Africa, where his culture originated. And while Gullah ways may not be readily apparent to the public eye, Dennis says they aren't anywhere close to dying out.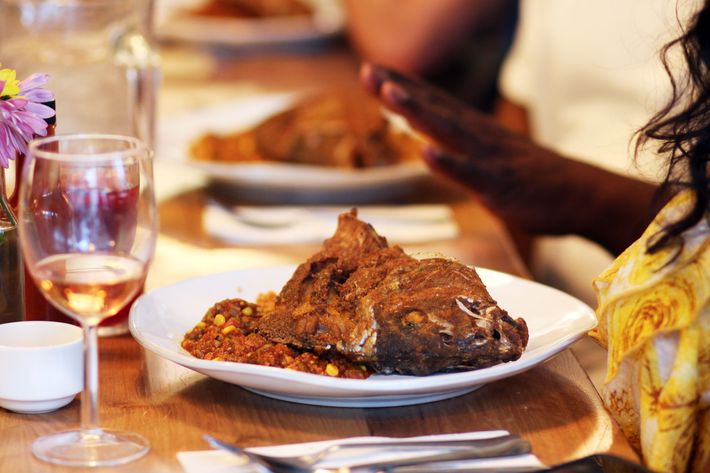 "Charleston is one of the few cities that I know of that people love to eat at restaurants that cook the food they can get at their house," he said. In recent years, however, as Charleston has seen an influx of tourists and new residents from New York and other northern states, Dennis has noticed Gullah Geechee staples vanishing from restaurant menus. So he decided to make them himself.
Normally, Dennis works as a personal chef and caterer, but lately he's been traveling across the country, sharing his food at events, parties, and pop-up dinners like the one in Brownsville. Initially, he didn't intend to take his show on the road, he just wanted to reinforce the tradition of Gullah Geechee cuisine in his backyard. "We were losing representation in the restaurants at home, in our own culture," he said. "Then it just started to spread like wildfire."
He spent years traveling — from St. Thomas to Trinidad — poring over written records to find clues as to what his Gullah ancestors grew and ate. "There were a lot of missing pieces and a lot of ingredients that used to be prevalent that aren't anymore," Dennis says. "Like the benne seed, which was pounded out and put into soups and stews, that was something that was lost generations ago." Now, Dennis pounds the heirloom sesame seeds to a pulp and uses them to flavor and thicken his own stews. The increased interest in heritage ingredients has prompted a farm-level response from producers like Anson Mills. But, if Dennis can't find the ingredients he's looking for in markets or from speciality mills, he asks his neighbors for seeds from their gardens.
Before dinner, Dennis and the students visited a community garden where they picked vegetables for the meal. He was able to buy everything else he needed at a nearby West Indian grocery store. Other ingredients, like a bag of Carolina Gold Rice that Dennis sourced from a trusted Charleston grower, were stashed in his carry-on luggage. An heirloom barley flour was used to coat fish heads bound for the fryer, and a sweet heirloom corn flour was mixed into a light batter for the fritters. "No one in the country has used it yet," said Dennis.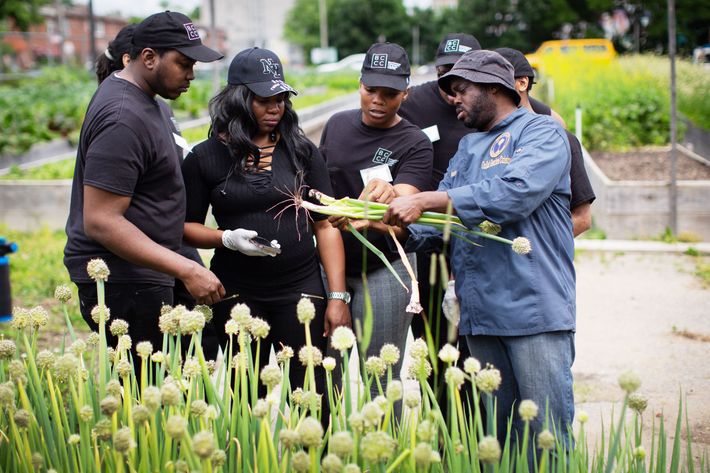 As fried porgy, okra stew, and red rice were plated, Dennis made his way to the front of the room to speak. "Back home, it's about culture, about roots, not forgetting where you're from," he said. "Tonight is about culture."
Soon after, plates were cleared and replaced with dense slices of sweet potato–pineapple cake. In Charleston, Dennis said, his family was getting ready to dig up the sweet potatoes they planted on their land. He might not make it home for the harvest, but in his cake, Dennis presented his own solution. "The culture will always be here," he said. "It's something that's in the heart."