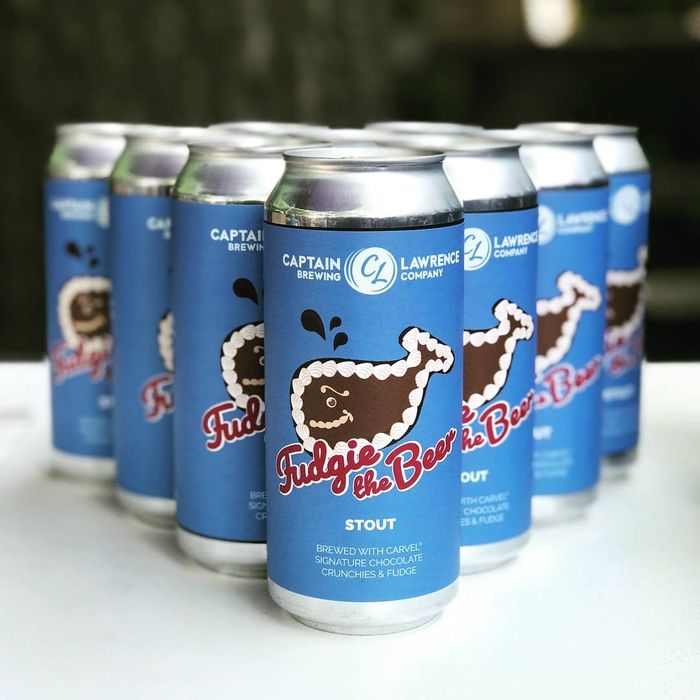 Giving dad "two of his favorite things."
Fudgie the Whale — the Carvel ice-cream cake that is beloved by 5-year-olds and their 40-something dads alike — has undergone an "adult" transformation. The item Carvel has spent the past four decades marketing with the cheesy slogan "For a whale of a dad" is now available, for a couple of weeks anyway, in beer form to celebrate Father's Day.
It's a stout brewed with "hints of Carvel chocolate, inspired by the Fudgie the Whale cake," and called what else but Fudgie the Beer. (Five-year-olds can go cry into their milk, we guess.) Thankfully, Carvel left brewing to the pros: It provided all of the Fudgie dessert parts, but actual beer-making was outsourced to Westchester's Captain Lawrence.
The Elmsford brewery is also the only place where you can buy four-packs. They're $18 apiece, and people who make the pilgrimage can get themselves a special "Fudgie's Father's Day Float" for $8, too — it's whale cake blended with Captain Lawrence's signature stout, topped with whipped cream and Carvel's Chocolate Crunchies.