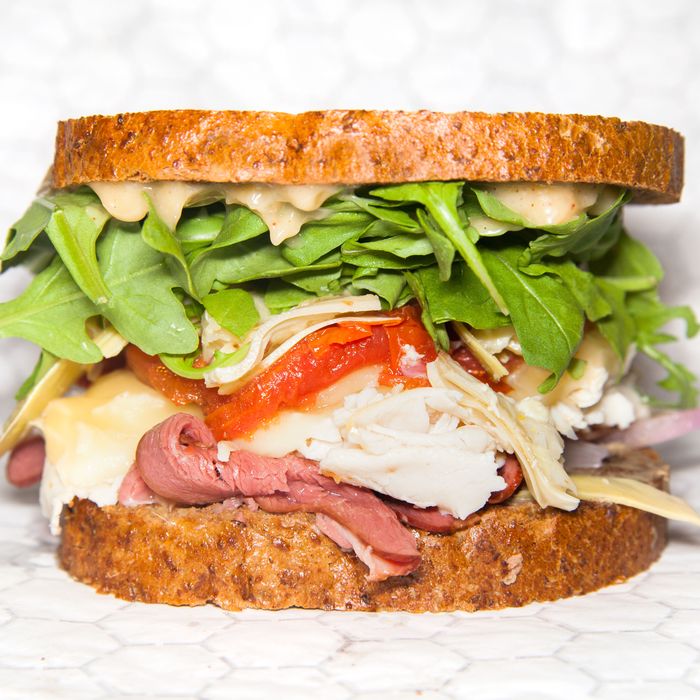 The BYGGYBYRD, described by our critics as a "turducken in sandwich form," lives on.
Photo: Konstantin Sergeyev
An unidentified patron of sandwich excellence has swooped in to keep the maverick creations of Dewey Dufresne in circulation at BYGGYZ. The shop won't cease operations next week, as announced earlier, and instead will adopt a Spartan schedule until Dufresne determines his next move.
Starting next week, the shop will close on weekdays and will reopen, 12 to 8 p.m. on Saturdays and Sundays only, beginning July 7. "We plan to treat the actual restaurant like a brick-and-mortar pop-up," Rachael Carron, the shop's manager and partner, says. (BYGGYZ plans to serve its hot pastrami sandwich at Smorgasburg East River Park on Saturdays, per usual.)
Dufresne, who is Wylie Dufresne's dad, debuted BYGGYZ on the Lower East Side last fall after six years of planning. Our own Underground Gourmet praised its layered breakfast sandwich as an "egg-on-a-roll upgrade that will appeal to the modernist without alienating the classicist," while dubbing another "freaking delicious."
Carron says the restaurant is still in search of investors, and that plans for the immediate future include offering sandwiches on lavash, gluten-free bread, and in a breadless bowl format.