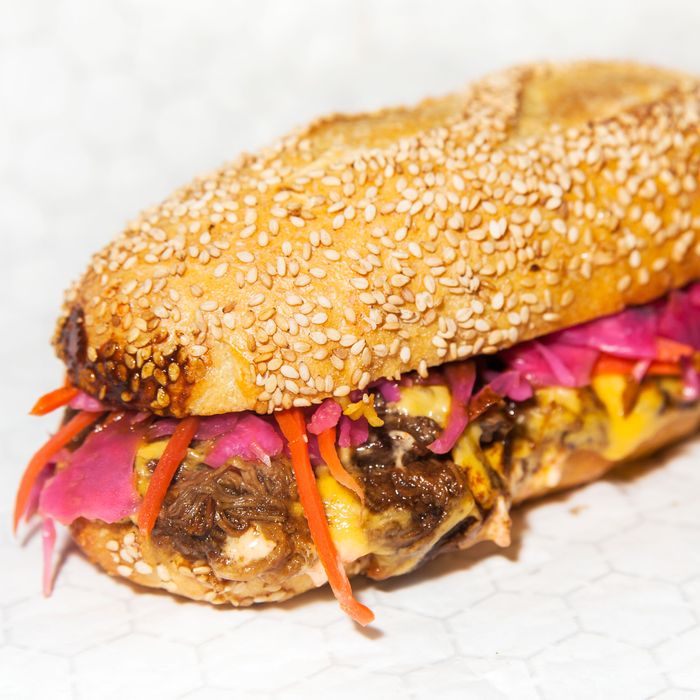 Until we see you again, BYGGYZ Beef.
Photo: Konstantin Sergeyev
After six years of preproduction and ten months of business, the briefly lived but acclaimed Lower East Side sandwich shop BYGGYZ will bow out July 1. For now, fans of the sometimes offbeat and always brazen creations of Dewey Dufresne can take solace in the news that BYGGYZ will soldier on Smorgasburg East River Park on Saturdays, as well as join the lineup soon at Smorgasburg in Prospect Park.
Before channeling his culinary wizardry to the small retail space on Clinton Street — a move that echoed his son Wylie's own migration downtown, 15 years earlier — Dewey Dufresne established himself as a sandwich maverick in Rhode Island, at a crusty spot called Joe's Old Abandoned Grocery Store. Here in New York, the Underground Gourmet duly admired his breakfast spectacular of poached eggs with avocado and kimchee-infused American-cheese spread, and generally flipped out over the Karrottom, a subverted riff on the greatest entry in the Great American Sandwich Playbook, the PB&J. (It entails Fontina, pepitas, pickles, harissa mayo, and more.)
At both Smorgasburg locations, the focus is the Benny, a pastrami number not available at BYGGYZ. It's made with thick slices of the smoked meat, plus pickled vegetables, mango mustard, and more of that kimchee-cheese spread, all on grilled cornmeal focaccia. The sandwich project is in search of investors for expansion for its next phase, a rep says, and will use the market as a testing ground for new drinks and sandwiches, with wraps and gluten-free options in the pipeline.