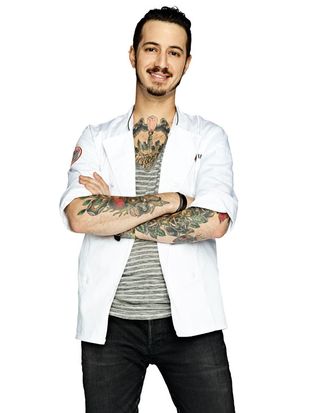 Adam Harvey.
Photo: Bravo
Sometimes you have to do a little evil for the greater good. Just look at Brooklyn chef Adam Harvey, who was reportedly arrested for poisoning his Windsor Terrace neighbor's 60-year-old tree, which prevented sunlight from reaching his solar panels. It is, in other words, a true-crime story for the modern age.
Harvey is the co-owner and chef of Gowanus's Bar Salumi, formerly known as A&E Supply Co. The Brooklyn District Attorney's Office says that he was arrested in May, after he was spotted by neighbors on April 30 executing his nefarious arborcide. That day, neighbors took cell-phone photos (some of them published in the article) and video footage of Harvey in the act of the crime. One video reportedly shows him using a hand drill to make holes in the tree, and he's also seen with a jug that prosecutors reportedly believe contained Roundup. He was also seen sneaking into his own backyard. Police were called, but neighbors tell the Daily News that Harvey disappeared when they arrived. After the police left, the chef returned, and the police were called again. But he slipped through their fingers one more time.
He was nevertheless arraigned on May 15 on the misdemeanor charges of criminal mischief and criminal trespass. Now, he is also not allowed to go near the tree's owner due to an order of protection issued by the judge. Harvey has apparently had a vendetta against the tree since buying his $1.5 million home last summer. He told neighbors that the tree created too much shade and blocked his solar panels. He also told the owner that her tree was dead and that he could help her cut it down. The owner disputed this with letters that included expert confirmation from an arborist. Unhappy with her answer, on April 6 Harvey reportedly sent a crew in to cut off major limbs and was sent a cease-and-desist letter soon after.
Reports indicate that the tree, which is over 60 years old, now is struggling to survive. Half of its leaves have wilted, and an arborist told its owner that it's a matter of seeing whether or not it can survive. Neighbors are, understandably, furious, with one person telling the Daily News that Harvey has "outraged everyone in a half-mile radius," and that the tree is an important part of the community. Meanwhile, Harvey is due in court on Friday.