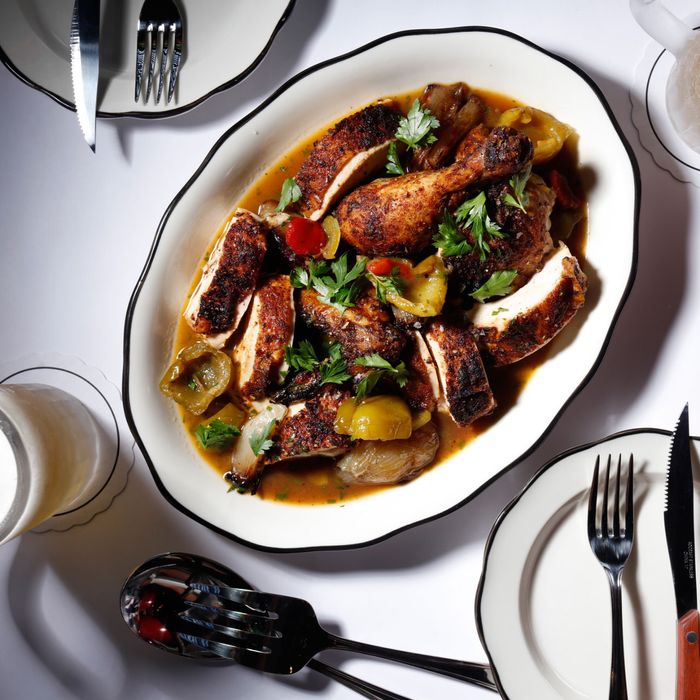 Bernie's vinegar chicken. That's Budweiser in the frosty mug.
Photo: Melissa Hom
Grandparents will no doubt love Bernie's, which opened last night in Greenpoint. That's not a knock, it's by design. At the restaurant, owners Zach Frankel, Taylor McEwan, and chef Ashley Berman have committed to an unironic and decidedly retro approach to wedge salads, crab cakes, and once-plentiful standards like chicken paillard. And as far as grandparents are concerned, the place is, in fact, named for Frankel and Berman's grandfathers.
The team also runs nearby Frankel's Delicatessen & Appetizing, which, when it opened in 2016, seemed to have originated with the owners' reflexive response to pangs of nostalgia for places like Murray's Sturgeon Shop and 1970s-era Zabar's. Frankel's has arguably gone its own original but reverent direction since, snagging Absolute Best Deli honors from critics around these parts. (See also: hot dog, egg sandwich, and Reuben.)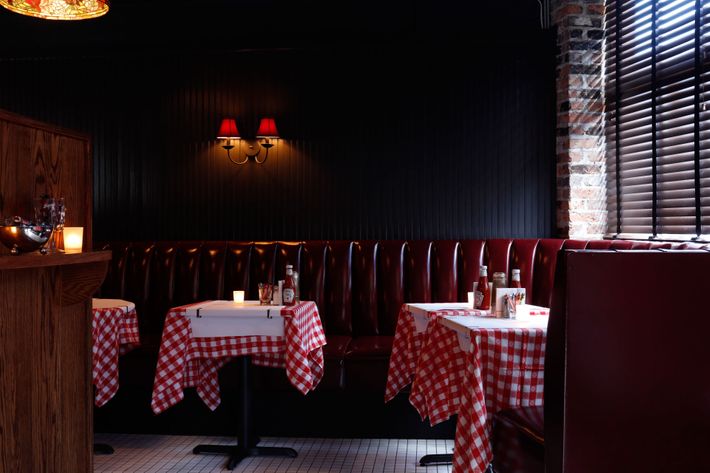 The new restaurant is in the hallowed old Park Luncheonette space, which began in 1931 as a Depression-era mom-and-pop sandwich counter. The quirky, pizza-forward reboot in the space shuttered last year, and most of the interior fixtures left the building around the same time. Starting nearly from scratch, the team salvaged a few marble countertops. McEwan and Frankel tracked down vintage Tiffany-style lights and commissioned the new pleated, oxblood seating. The new tablecloths are red-checked and covered with butcher paper, and there are crayons on the tables.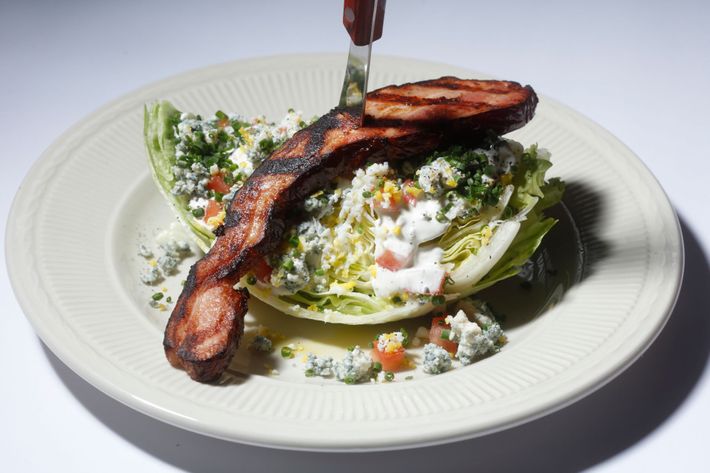 "The idea was to take places like Fanelli's Cafe, Ear Inn, and Milady's where the vibe is awesome, but you're not necessarily going to get your pants knocked off by the food," says Frankel. "Maybe people will be super-familiar with the menu items, but we're hoping they'll be blown away by Ashley's takes on these things."
For inspiration, Berman says she looked to North Jersey spots like Charlie Brown's Steakhouse and the Iron Horse in Westwood, places famed for stuffed cheeseburgers, crocks of French onion soup, and caddies of coleslaw dropped right on the tables. Her vinegar chicken takes a cue from the famed Chicken Savoy, found at Belleville's Belmont Tavern. Berman's take maxes out the crispy-skin quotient, and there's plenty of rendered schmaltz and sherry vinegar in the pan sauce she finishes with Cognac and veal stock on the fly.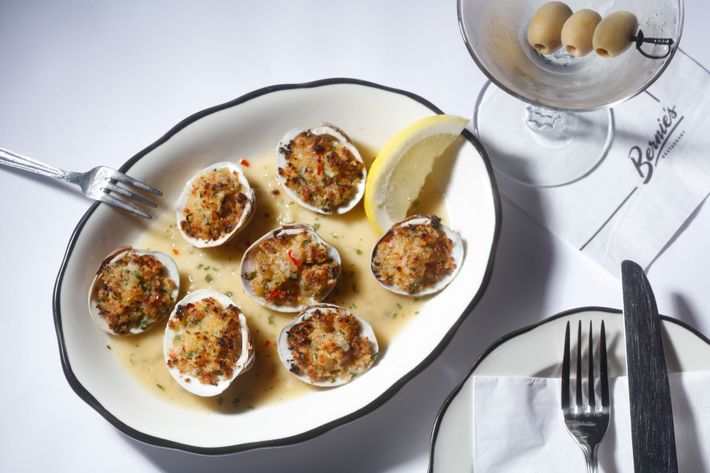 Littlenecks are shucked and broiled to order in garlic butter, with finely chopped Fresno chile, and parsley. The baked clams are served in a "pool of sauce" on the plate, which is meant to be mopped with bread. For dessert, there's a brownie sundae, and a grasshopper version with bright-green ice cream and the kind of waferlike crumbs diners may recognize from their appearance throughout the Carvel pantheon. Berman loves lemon icebox pie, so she's making that, too.
There are 50 seats in all, with 10 seats at the bar — "I hope this is a place where people eat at the bar," says Frankel — and a couple of extra spots for those who want to stand with a Budweiser and eat a marinated and grilled steak, with a side of wispy onion rings and homemade steak sauce.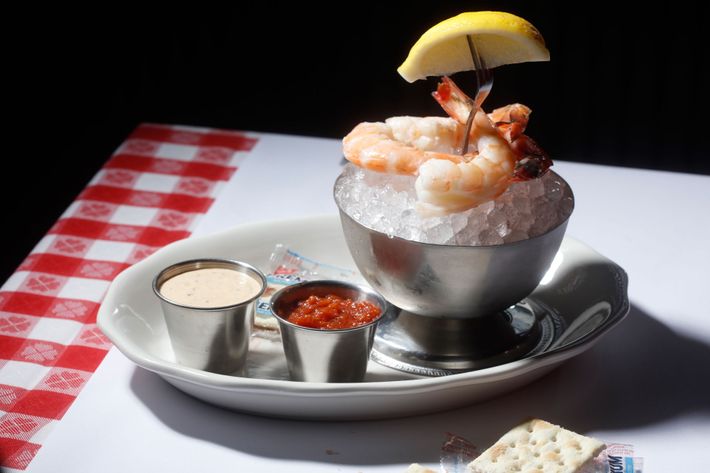 Frankel and McEwan are also pouring unfussy house red and white, a Côtes-du-Rhône and (natural) Muscadet, respectively, for $9 a glass. In terms of liquor, there are no drinks named after 16th-century Dutch colonial landmarks, Prohibition baddies, or Greenpoint streets. Staff at Bernie's will fix textbook Martinis or Old Fashioneds for guests, but otherwise there's no cocktail menu.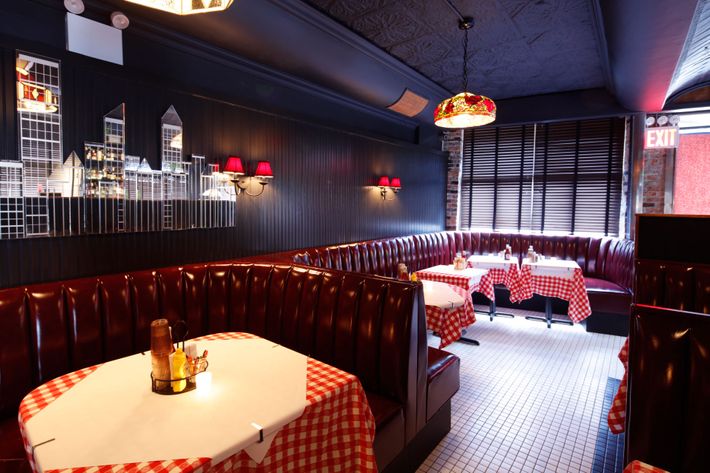 The team also invested in a frosty mug chiller to make sure cold beer was truly cold. "We want to put some joy and fun back into eating out," says Frankel. "Even if they're walking in for the first time, we want people to feel like they've been here before. We don't want people to feel like they have to ask a million questions."
Bernie's, 332 Driggs Ave. at Lorimer St., Greenpoint; 347-529-6400