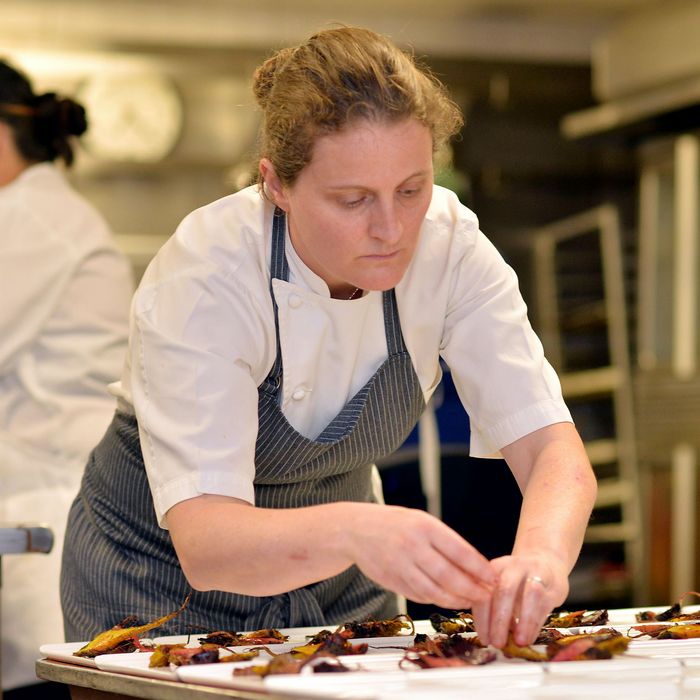 Inside the Spotted Pig.
Photo: Dylan Rives/Getty Images
April Bloomfield is no longer involved with the Spotted Pig, the restaurant where she made her name and reputation, spawned a legion of imitators, and later became associated with the sexual harassment and abuse of its co-owner Ken Friedman and investor Mario Batali. Bloomfield has left White Gold, as well, and she and Friedman are no longer associated with Salvation Taco. In a statement shared by a representative, Bloomfield announced the end of her partnership with Friedman. She will hold on to the Breslin and the John Dory Oyster Bar, which she's "re-concepting," as well as the Hearth & Hound in Los Angeles and Tosca Café in San Francisco.
Friedman was accused by ten women of groping, daily unwelcome sexual advances, bullying, and more in a New York Times report published in December. Employees also reportedly nicknamed its private third-floor dining room the "rape room." Last month, 60 Minutes aired more accusations against Friedman; it also shared allegations that chef Mario Batali drugged and raped a woman at the Spotted Pig. Bloomfield said then, in a statement, that she was "in the final stages of severing" her partnership with him. Employees have criticized how she handled Friedman's behavior, with one saying her response was "Get used to it. Or go work for someone else."
The full statement reads:
Today, I am announcing the end of my partnership with Ken Friedman. There is much hard work ahead, and it begins with taking full leadership of The Hearth & Hound in Los Angeles and Tosca Café in San Francisco. In New York, I remain chef at The Breslin and will begin work on re-concepting The John Dory Oyster Bar. My complete focus now is on the welfare of and opportunity for my staff and building a company I can be proud of. This has been a painful time for many people, my past and present staff especially, and I will have more to say at some point in the near future. For now, I look forward to forging ahead.