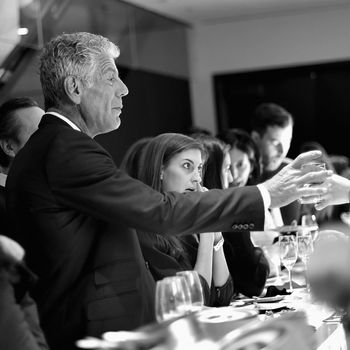 A man of the people.
Photo: Mike Coppola/Getty Images
Among Anthony Bourdain's many virtues, his empathy and generosity truly stood out. These qualities were obvious in the way he portrayed marginalized, misunderstood people and cultures. (His Parts Unknown episode on Israel and Palestine, in particular, has been singled out.) It was empathy that drove Bourdain to feature overlooked, undervalued people in his work — as Pete Wells recently pointed out, "While other restaurant writers had helped build the cult of the creative, artistic chef, Mr. Bourdain made folk heroes out of the dishwasher and the line cook" — and it was empathy that drove Bourdain to help emerging, overlooked talent whose careers he knew he could boost, through his professional platforms and personal relationships. While it's not like he was the only star to help up-and-comers, his unique mix of discerning taste and unselfish nature made a Bourdain boost particularly noteworthy.
"Without Anthony, I very much doubt if Takashi restaurant would still be around today," says Saheem Ali, the owner of the offal-centric West Village restaurant that he opened with the late chef Takashi Inoue when both were first-time restaurateurs. "People still come in and order exactly what he ate on that episode of The Layover," Ali adds. "In life and death, we are indebted to Anthony, and honor both his and Takashi's spirits by maintaining the legacy of the restaurant they created and elevated."
It's a common thread among people who interacted with Bourdain: He took an unusual level of interest in the success of people he wanted to see succeed, and he was also frequently touched in his interactions with ordinary people. (It's worth noting that studies have suggested that empathy can lead to burnout, and psychiatrists have also suggested for years that high levels of empathy can lead to depression.) For the last 16 years, Bourdain had traveled the world, often going to troubled regions, like the Ozarks, and meeting people whose countries were shaped by war (Vietnam) or who lived amid conflict (the Congo, Lebanon.)
Being featured on a popular show is great news for any business owner, but for many places, being a part of Bourdain's shows — No Reservations, Parts Unknown, or The Layover — is woven into their very being in a way that feels uniquely deep. Take Flushing's Xi'an Famous Foods, a restaurant that has become an icon of immigrant success in contemporary New York. When it was featured on a Queens episode of No Reservations in 2007, it was a single stall in Flushing's Golden Mall. It was popular in the neighborhood and among food geeks — Bourdain went there with Joe DiStefano, "the man who ate Queens" — but the show gave it the assist to become the legitimately famous chain it is today. In response to Bourdain's death, Xi'an announced that it would donate 100 percent of its net sales on Friday to the National Suicide Prevention Lifeline and raised $73,509.76 for the organization.
Over email, Oakland chef Preeti Mistry wrote, "I only met Tony once, though that one meeting did have a large impact on my life." (He featured her now-closed restaurant Juhu Beach Club on Parts Unknown.) In a private Facebook post, she wrote, "Tony very quickly disarmed me by being a person full of curiosity, respect and genuine appreciation of good unpretentious food."
A documentary that he executive-produced, Jeremiah Tower: The Last Magnificent, was largely motivated by his feeling that a legendary chef hadn't been given his due. "I think initially this was an agenda-driven project," he told me in 2016. And Bourdain took particular interest in writers. He was an investor in the travel website Roads & Kingdoms, and Peter Meehan told Oakland writer John Birdsall that "Lucky Peach would not exist without Tony Bourdain" both "spiritually" and "fiscally." Through his imprint Anthony Bourdain Books, he published books like Hawker Fare that Birdsall co-authored with Oakland chef and refugee James Syhabout; Grand Forks by Marilyn Hagerty, who achieved viral notoriety for her earnest Olive Garden review; the memoir Pain Don't Hurt from kickboxer Mark Miller; and The Prophets of Smoked Meat by Daniel Vaughn, a blogger when the deal was inked. "Again and again," Birdsall says, "Bourdain used his fame and his power to amplify the small voices in which he heard the echo of a shared humanity."
Bourdain was also a mentor to Baohaus chef turned writer and Vice host Eddie Huang, who was once featured on an episode of The Layover. Bourdain once described himself as "heartbroken" that he wasn't publishing Huang's book Fresh Off the Boat, talking up his razor-sharp wit and insight. (Perhaps he saw a peer: Bourdain had the sharpest knives around, and finally a match in his ability to insult.) Huang affectionately referred to Bourdain as Uncle Tony and wrote, after his death, that he framed his own show against Bourdain's. "In my heart I'd like to remember and honor him by continuing to fight for the things he believed in," Huang told me in an email. "Dude was a fighter first and foremost."
Bourdain's shine was shared with everyone, genuinely. Entire episodes of No Reservations were built around Bourdain going to places with his colleagues. He went to Maine with his cameraman Zach Zamboni; ate Korean food in New Jersey and went to South Korea with then–production manager Nari Kye; and Bourdain traveled to Mexico with the late chef Carlos Llaguno Garcia, who at the time worked at Les Halles. When Bourdain met up with Garcia in Mexico City, he called the show "the Carlos episode."
After arriving in Puebla, the pair went to Garcia's childhood home for a family feast. Garcia introduced Bourdain to his mother, "who I love so much," and Bourdain just smiled. There was mole poblano, tamales, the antojito called tlacoyos, rice with pork fat and turkey gizzards, and "refried beans like you've never had." Throughout it all, Bourdain was enthusiastic, but he let Garcia talk about the food, and what makes a good mole poblano. Eventually, it was time to end the episode, and Bourdain's narration hit a characteristically appreciative note: "To see where he's come from, to understand how he got there, for that I'm grateful."