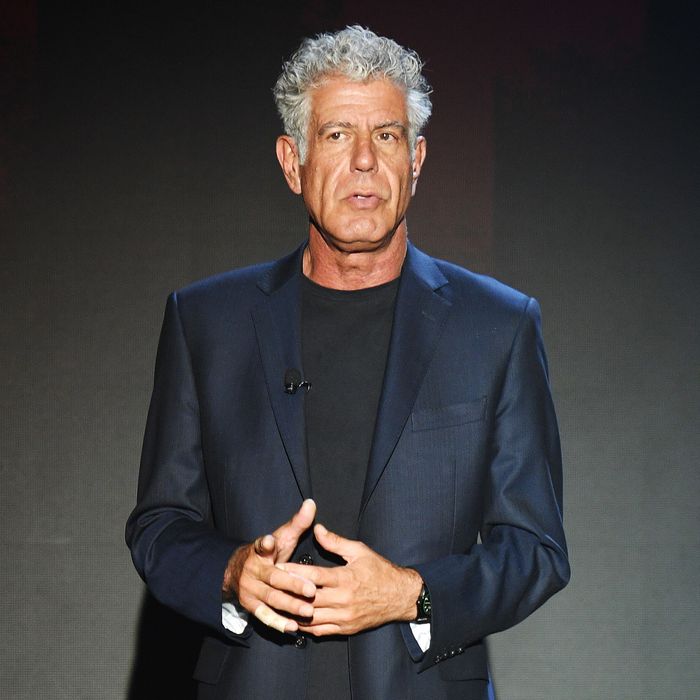 Bourdain was 61.
Photo: Dimitrios Kambouris/Getty Images
CNN reports that Anthony Bourdain was found dead early Friday morning. According to the New York Times, the cause of death was suicide by hanging. The Parts Unknown host, former chef, and outsize media personality had been in Strasbourg, France, working on an upcoming episode of his show when his friend and frequent co-traveler chef Eric Ripert found him in his hotel room. Ripert told the Times today, "I wish him peace. My love and prayers are with his family, friends and loved ones."
CNN, which had aired Parts Unknown since 2013, released a statement along with news of Bourdain's death:
It is with extraordinary sadness we can confirm the death of our friend and colleague, Anthony Bourdain. His love of great adventure, new friends, fine food and drink and the remarkable stories of the world made him a unique storyteller. His talents never ceased to amaze us and we will miss him very much. Our thoughts and prayers are with his daughter and family at this incredibly difficult time.
The news comes as a shock to the cooks, writers, and fans who had come to see Bourdain as a totem of truth-telling. Since publishing Kitchen Confidential in 2000, Bourdain rose to become the leading voice in the food and restaurant world, continuing to write while hosting a series of award-winning TV shows, and building his own publishing imprint at Ecco. His body of work was characterized as much by its aim to celebrate the lesser-known corners of the food world as it was by Bourdain's dedication to nuance, austere beauty, and honesty. As a 2017 New Yorker profile put it, "He makes a fetish of authenticity, and disdains many conventions of food and travel programming."
Kitchen Confidential, in many ways, spawned an entirely new genre of food writing, one that reveled in the back-breaking conditions, excruciating hours, and hard-partying lifestyle of cooks. Bourdain was often compared to rock stars, and he wore the "bad boy" moniker proudly. In recent years, however, Bourdain had begun to call out "institutionalized Meathead Culture in the restaurant business," and became one of the most vocal allies of the #MeToo movement.
In October, Bourdain reflected on his career in a characteristically frank interview with Slate:
I had to ask myself, particularly given some things that I'm hearing, and the people I'm hearing them about: Why was I not the sort of person, or why was I not seen as the sort of person, that these women could feel comfortable confiding in? I see this as a personal failing.

[…]

I accepted when [Kitchen Confdiential] came out, that I was the bad boy. There I was in the leather jacket and the cigarette and I also happily played that role or went along with it. Shit was good. People said a lot of silly things about me. People actually used the word macho around me. And this was such a mortifying accusation that I didn't even understand it.
In the U.S., the National Suicide Prevention Lifeline is 1-800-273-8255.