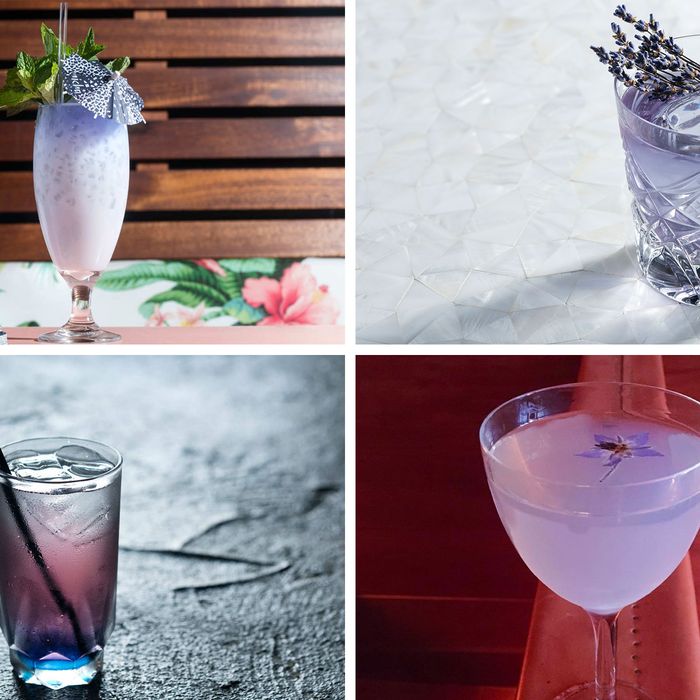 Why so purple?
Photo: Melissa Hom/freshkillsbar/Instagram
Purple: the color of tasty candies and soda, delicious grapes, good Gatorade, the medicine you hated as a kid, and at least one gone-but-not-forgotten Kool-Aid flavor. But a quick visit to some of the more cutting-edge bars around town reveals that it's suddenly the color of the moment for new cocktails. Maybe it's because melodramatic purple is a "color of the season" front-runner. Or maybe it's just because nobody feels compelled to take a purple cocktail too seriously — which is exactly the point.
These are, after all, strange times for mixed drinks in New York. (Banana, of all things, is a favorite ingredient of bartenders lately.) Purple drinks are loud, fun, and unusual. They are not the studious drinks of faux-speakeasies, and they are boldly outré, especially when they're compared to any drinks in the cocktail canon. The most famous is the faintly purple Aviation, which recently enjoyed a renaissance among cocktail geeks. Not that it has the name recognition of, say, a Mojito. Two leaders of the New York bar world, Chicha Cafetín's Marshall Altier and Llama Inn's Lynnette Marrero, both agree that purple cocktails are a rarity. Altier points to the Royal Daiquiri, made with the Dutch liqueur Parfait Amour, but says "it's kind of nerdy" and obscure.
So why are purple drinks showing up now? Unlike blue curaçao, it's not just about the color and making something look psychedelic. The beginning of our purple era started in 2015, when more bars started using the Southeast Asian ingredient butterfly-pea-flower powder. That year, Mission Chinese Food debuted a trippy, scene-stealing cocktail, Mood Ring, made with that ingredient and served over a light. It's a chameleon of a cocktail that also looks like a light fixture taken from the room of a teenager with too many Grateful Dead posters.
Butterfly-pea flower isn't the only ingredient helping bars go purple. At the recently opened the Polynesian, ube extract makes for a psychedelic Commodore Daiquiri. The Peruvian corn drink chicha morada goes into Llama Inn's La Chunga. It's Kombrewcha Berry Hibiscus in Roberta's frozen Purple Haze, and curaçao and blueberry for the Woodstock's Light My Fire. Earlier this year, Sunday in Brooklyn served the Purple Rain, a bourbon-and-sherry drink made with blackberry and beet juice.
You can also draw on a couple of European boozes hailing from the 18th century, Parfait Amour and crème de violette, to ensure theme-appropriate drinks for Prince parties. Crème de violette goes into Fresh Kills' Blue Lagoon, and at the Bushwick bar and dance club also called Mood Ring, owners Bowen Goh and Vanessa Li mix crème de violette with blue curaçao. The result is less of the super-intense, opaque purple that butterfly-pea powders offer, and more of a gradient.
"The presentation is, I think, just as important as the taste. And it's important for this cocktail specifically, given the name was so specific outside of just being a cocktail," says Goh. (Its name references a ring that changes color based on the temperature of the wearer.) Li adds: "I noticed that when we serve this drink there's a 'wow' reaction because they're not expecting it. It's a very, very vibrant, pretty color."
The thing about purple is that, whatever shade, it's welcomely unexpected. Which adds an element of fun and surprise, unless you overdo and/or TGI Fridays starts serving Punchy Purple–jitos. Altier serves a particularly eye-popping purple cocktail at Chicha. "It was definitely about the unexpectedness," he says. "You see that drink being made and you see it going out, and it's just kind of like the domino effect of What is that? I want to have that!"
His Bluefields Swizzle comes in a tall glass, with a bouquet of mint and a white-and-purple paper umbrella. It's made with rum, lime, banana liqueur, and coconut, plus butterfly-pea powder that's applied like a floater. The result is a mellow purple that fades as you get closer to the bottom of the drink. It's attractive, and when I first drank it, I realized that it looked like no other cocktail I'd had. It looks more like something you'd find at a bubble-tea shop or Indonesian restaurant. Here, a guide to some of the other purple drinks you can drink around town.
Bring Another Smurf
Where: the Aviary
How Much: $22
Served in a glass that looks like it belongs in an alchemist's kitchen, the mezcal, coconut, and finger lime are given a purple crown from butterfly-pea-flower powder.
Blufields Swizzle
Where: Chicha Cafetín
How Much: $12
It's a swizzle straight out of the tropics: Four rums are mixed with banana liqueur, coconut oil, lime, and a floater of butterfly-pea-flower tea meant to call back to the classic Queens Park Sizzle.
Bambino's Vino
Where: Don Angie
How Much: $14
The muted yellow of the vodka and ginger ale makes the float of Lambrusco added to this drink pop even more.
Blue Lagoon
Where: Fresh Kills
How Much: $14
The color of this drink is almost soothing and straight out of Monet's Water Lilies. It's courtesy of the crème de violette, and also made with pastis, white vermouth, gin, and a discarded lemon twist.
La Chunga
Where: Llama Inn
How Much: $15
The rum drink gets its reddish-purple hue from chicha morada, the Peruvian corn drink, and is also made with lime and ginger syrup.
Mercury in Retrograde
Where: Mood Ring
How Much: $11
It's meant to be a sort of riff on the Long Island Iced Tea, and is made with a trio of white spirits in gin, vodka, and tequila. What gives it its gradient color comes from mixing crème de violette with blue curaçao, with an assist from green-tea-infused ginger ale. The bar's owners say they wanted it to look both "fun and brooding," something this shade of purple lends.
Yours
Where: Noda
How Much: $22
The steep price can get you this secret drink: If you choose the "Yours" or bartender's choice and say you like gin and floral drinks, they'll make you this lavender Negroni. It's gin, muddled blue lavender, Suze, and sake, served over Lillet ice cubes and garnished with lavender.
Commodore Daiquiri
Where: The Polynesian
How Much: $15
Given the popularity of ube ice cream, it's surprising that more bartenders haven't used it for its appealing flavor and outrageously, radiantly purple color. At the new tiki bar the Polynesian, ube extract makes for a proper, 21st-century heir to the Royal Daiquiri.
Purple Haze
Where: Roberta's
How Much: $12
The Bushwick restaurant's backyard is a great place to hang out during the summer, and it's even better when you're drinking a frozen drink as fruity as the Purple Haze.
Light My Fire
Where: the Woodstock
How Much: $10 (or $15 or $20 with a higher-end spirit)
This one is a Day-Glo purple. Served in a light bulb over ice lit by a blue light, it's made with tequila, lemon, habanero, blueberry, and curaçao.