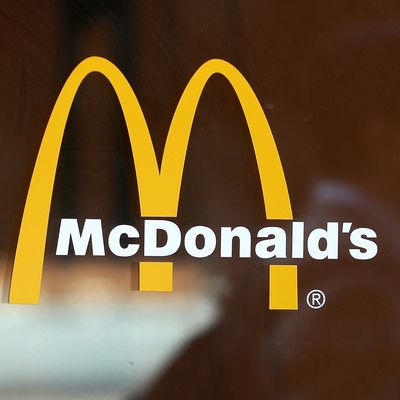 The women ask McDonald's to "guarantee a safer workplace for all its employees."
Photo: Justin Sullivan/Getty Images
McDonald's employees from around the country have filed a new federal complaint with the Equal Employment Opportunity Commission alleging that they were sexually harassed on the job. Among their charges are that they were groped, propositioned for sex, made to listen to male supervisors' "lurid fantasies," and even assaulted in the bathroom.
The charges come from ten women at stores in nine different cities: L.A., Chicago, Miami, Detroit, Kansas City, New Orleans, Durham, Orlando, and St. Louis. They say when they tried reporting the incidents in their workplaces, the complaints were ignored, mocked, or even punished. On at least one occasion, it reportedly led to a worker's firing. In a press release, two advocacy groups say that they're partnering to aid the employees: Fight for $15 (which is organizing the effort) and Time's Up's new Legal Defense Fund (which is covering the legal costs).
According to an AP report, one worker — a 15-year-old — says she complained about a co-worker's repeated use of graphic sexual language, but managers did nothing to stop it. Another claims that she chose not to report a co-worker's attempted assault in the bathroom because bosses had responded to her first complaint, about a different co-worker groping her, by suggesting that she "take it to the 'next level' with him." Other women say managers tried to make them have sex in their cars or engage in group sex with employees. One adds that flirtation was actually "encouraged" at her store, and that when she reported a boss's lewd comments toward her, it got her fired.
The complaints are being officially announced later today — a strategic play, timed so that they'll potentially be on shareholders' minds when McDonald's annual meeting begins this Thursday. Company rep Terri Hickey told the AP in an email that there's "no place for harassment and discrimination of any kind" at the chain, and that they take sexual-harassment allegations "very seriously."
Fight for $15 takes issue with that claim, however, mostly because two years ago it helped a separate group of workers file 15 EEOC complaints that it said amounted to "rampant" sexual harassment in McDonald's workplace. At the time, McDonald's promised to review the allegations and change policies and practices if necessary. Hickey refused to tell the AP whether McDonald's ultimately took any action meant to curb future harassment following that review.
Workers' attorneys say they plan to ask the EEOC to combine this new round of allegations with any charges still pending from 2016. Fight for $15 is also calling on McDonald's to do mandatory companywide training, Starbucks-style, and create a more effective internal complaint system that workers also aren't afraid to use. In the meantime, it says it's launching a hotline that workers at any fast-food chain can use to report harassment.