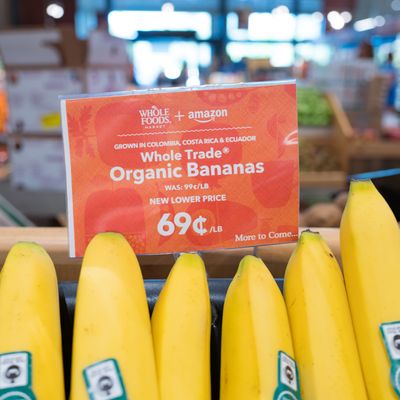 Should apply to hundreds of items at any given time.
Photo: Smith Collection/Gado/Getty Images
Discounts for Amazon's most valuable shoppers are finally hitting their stride at the e-giant's organic-food fulfillment centers, a.k.a. the grocery chain better known as Whole Foods. The discount — which, for now, is 10 percent off store sale items — began two weeks ago in Florida, after months of buzz about it. In a new announcement today, Amazon says that perk is rolling out at 121 stores in an additional 15 states. So, have a Prime account? It'll now get you an extra price cut in Arkansas, California, Colorado, Florida, Idaho, Kansas, Louisiana, Missouri, Nevada, New Mexico, Oklahoma, Texas, and Utah, plus at all nine of the chain's spinoff 365 stores (which adds Ohio, Oregon, and New York, courtesy of Brooklyn's new location).
Besides the 10 percent discount, Prime members can also get "exclusive deep discounts" on a rotating selection of "popular items." For example, this week's set includes six-ounce packs of organic raspberries for $2.50; five bucks off two-pound bags of responsibly farmed shrimp (so $12.99 per bag); a two-for-$5 deal on any Back to Nature cookies and crackers; and a special on antibiotic-free rotisserie chickens — they're $6 each, but apparently only for today, May 30.
Just like before, shoppers can either use Whole Foods' mobile app or give the cashier their Prime-account phone number at checkout to receive the perks. Also, now that the discount zone has grown to include Dallas, Austin, Denver, and Sacramento, the company says that customers in those four cities — which are the ones trialing Prime Now delivery of Whole Foods groceries — can take advantage of the deals as well when they order off of Amazon.
Live in New England, the mid-Atlantic, or the Northwest, and feeling a little left out about now? Amazon adds that both the Whole Foods grocery-delivery program and the Prime-membership discounts will continue expanding to more states this summer.