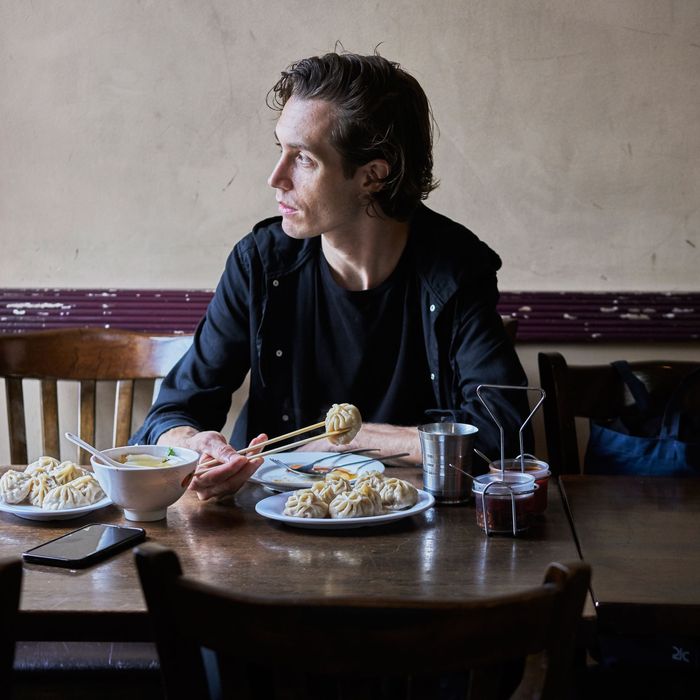 Fredrik Berselius eats dumplings at Phayul in Jackson Heights.
Photo: An Rong Xu
On any given bike path, there are usually two kinds of people: those who ride for pleasure, pushing the pedals at a leisurely pace and taking in their surroundings; and the people who ride full of purpose, in pursuit of greatness. They wear Tron goggles, aerodynamic helmets and gear, and they bike, fast. They yell, "On your left," before zooming past the slowpokes. They have a singular goal, and anything that gets in the way is a distraction. Fredrik Berselius falls into the latter group, both as a cyclist ("It helps me wake up in the morning, it helps me fall asleep," he says), and a chef.
Berselius's ambition first became apparent in 2012 when he and chef Richard Kuo opened Frej, a pop-up restaurant that started selling out dinners within months of its debut. It was reinforced when he opened the first iteration of Aska in the former Frej space, earning two stars from our own Adam Platt and impressing Times critic Pete Wells with dishes like reconstructed herring or a paper-thin scallop chip that "tastes like candy from the ocean." And it was apparent when, after shuttering Aska 1.0, Berselius reopened it in 2016 as a far grander (and, starting at $185 per person, more expensive) endeavor in the shadow of the Williamsburg bridge that earned three stars from the Times, a best restaurant of the year nod from New York, and two Michelin stars.
In New York, where many determined chefs are empire builders and a "grow or die" enthusiasm has taken hold, Berselius's dedication to a single, ever-evolving project remains uniquely impressive. As other chefs hoped to capture some superficial magic by temporarily hopping on the New Nordic bandwagon, the Swedish-born Berselius has never strayed or wavered, building a career, and life, with a kind of highly evolved primal elegance as its foundation. And this month, he has unveiled a new cookbook that helps advance the story of Aska — which means "ash" in Swedish — even further.
But before talking about the book, or the restaurant, or anything else, we must talk about dumplings.
Earlier this week, I met Berselius at a nondescript Tibetan dumpling restaurant in Jackson Heights, where the pop-hits soundtrack and gentle lighting were a far cry from Aska's austere, black dining room. In other words, Berselius looks like he doesn't quite belong here, and not just because he's at least five inches taller than anyone else in the dining room.
But he was the one who chose it, and he's really looking forward to these beef momo dumplings, because his last run-in with momos was in Dharamsala, the city in northern India where the Dalai Lama and many of his Tibetan followers settled. (Berselius's wife, Katrina, is Tibetan and Danish.) "We had been traveling for so long and I was so looking forward to momos," he says. But since locals don't eat beef, he was served mutton momos made with aged lamb that was almost too funky — "The strongest-tasting lamb I've ever had in my life." — which is saying something for a chef whose dish repertoire includes beef aged up to a year and cured pigeon breasts.
In a few days he'll head to Europe to promote his new cookbook, which means he'll have to take many of his own ingredients along for the trip because they've been fermented, aged, and altered in a way that can't be recreated on the fly. Frankly, it sounds exhausting — and surely he can find cured pigeon breast somewhere in Scandinavia, right? — but Berselius doesn't see it that way because, for him, Aska isn't a restaurant, or a job; it's more like a state of being.
He moved from Manhattan to Brooklyn so he can live right next to the restaurant. He drives three hours away to forage ridiculously tiny quantities of wild ingredients that he knows won't be on anyone else's menus. He arrives at the restaurant before his staff, leaves after they do, and currently logs about five or six hours of sleep per night. "At this point, the restaurant is so integrated into everyday life," he says, "I don't go to work and I don't leave work. Instead of trying to separate the two, I just want the restaurant to be a part of my life and I want my life to be a part of the restaurant."
Seeing a flicker of pity on my face, he tells me that he doesn't view it as a negative at all. "I want the restaurant to be an extension of my life." It's the best thing, in fact. It's what's took him from an idyllic childhood in Sweden to a creative and successful existence in New York City, where he's one of the few chefs who cooks truly one-of-a-kind food at a time in the city's restaurant scene when — in the view of one critic — "megabucks design, Instagrammable dishes, predictable menus and a tsunami of hype have muscled out creativity and passion." And the dedication is why he's now been given the chance to write an entire book, on his own terms, about his entire approach to cooking (which, of course, is also his entire approach to life).
Unsurprisingly, he didn't exactly envision the book as the next Joy of Cooking. "I've wanted to write a book for a long time because I wanted to try and sort of capture everything that goes on in your head with the restaurant," he says. "You don't necessarily take the time to sit back and think of why things are the way they are and how they got there, so, I wanted to share this story, talk about upstate New York, talk about nature, and what inspires the restaurant and what drives myself and the team, you know?"
He began work on the book shortly after the first Aska closed, when he didn't technically even have a restaurant to write about. But as the new Aska came together in 2015 and 2016, he began putting pen to paper, working on the restaurant most of the time and writing the book in his down time. Not that he had a lot of down time: The book was supposed to be finished in February 2017, he says with just the slightest hint of embarrassment in his voice, but it wasn't completely done until December.
That said, the book is by no means an exercise in self-congratulation. It's more like a chapter-by-chapter reflection on every element that makes Aska what it is, including its austerity ("I think simplicity and minimalism are what allow my mind to fully take in experiences, to be present, and to enjoy the moment."), its connection to the parts of New York that aren't the city, and, of course, many of the dishes that Berselius has used to surprise and impress customers: lamb heart burnt in bedstraw, a variety of blood-based dishes (blood pancakes, blood truffle and rose hip, pigeon and blood) and, on page 83, a recipe for squab heart that features no fewer than ten squab skulls on a plate.
Like Berselius's cooking, the book is beautiful in its severity and commitment. The chef knows it's also unlikely that you'll whip up one of these recipes for your family on a busy Tuesday night. "The recipes are meant more as an inspiration as to how you can use these techniques and how you can find inspiration in your own cooking," Berselius explains. "And how you can adapt it to other ingredients or other dishes or just a way of thinking about food and cooking in general."
It's inevitable that people will draw a connection to Noma, René Redzepi's own relaunched restaurant in Copenhagen that in many ways served as a precursor to Aska. (Claus Meyer, a co-founder of Noma, is also the primary investor in Aska.) But when I ask Berselius if there are chefs right now that inspire his own cooking, he demurs. "Not so much anymore," he says. "I watch chefs who I respect or admire or who I think share a similar passion for food, I think, in the same way I watch people who share a similar passion for whatever they are doing. But I know not thinking too much of other chefs helped shape our cooking. It helps us do our own thing and stay on our own path." Of course, if you are one of the more leisurely riders who also happens to be on that path, don't be surprised if Berselius politely, but firmly, blows right past you while he pursues his own goal.
"I want to see gastronomy keep moving forward, keep seeing new and exciting restaurants doing new cooking," he says of New York's food scene, which has, according to some industry watchers, fallen into what you might generously call a comfortable groove. Berselius, though, is excited about seeing something different: "I want to see a new generation of chefs really pushing to make their mark because I think we need it."