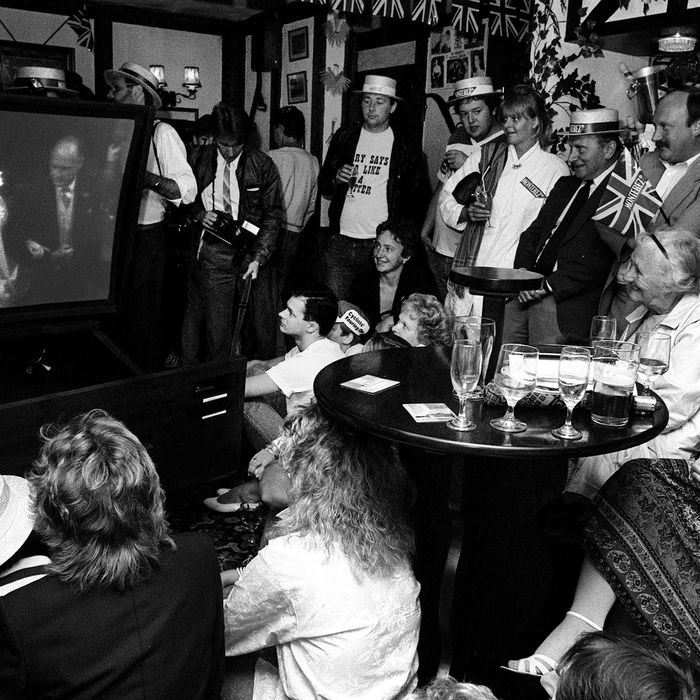 Never a bad reason for beer.
Photo: PA Images via Getty Images
Royal weddings don't happen that often, which is probably a relief for the taxpayers of England. But there is one this Saturday and it peripherally involves us Americans, too. Whether you want to toast Prince Harry and Meghan Markle breaking with convention, fly your Anglophile flag, or just eat some ice cream, here are 14 ways to celebrate, with and without waking up early.
Who? Weekly Royal Wedding Live-Watch
As part of our very own Vulture Festival this weekend Who? Weekly podcast hosts Lindsey Weber and Bobby Finger will provide commentary for the big event at the Freehold in Williamsburg, giving us all the dish on the Kardashian equivalents across the pond. A $20 ticket includes tasty English treats.
The Royal Wedding at Harvey
Harvey at the Williamsburg Hotel is no stranger to high tea: They serve it regularly on weekends. While it's usually available from noon to 6 p.m, this Saturday you can have it — complete with special wedding-inspired treats from the Brooklyn Bread Lab — alongside your viewing of the nuptials, which they'll begin streaming at 8 a.m. For your sartorial needs, the Goorin Brothers will be on hand with a hat pop-up shop.
Royal Wedding at the Chester
You'll need some sustenance to soak up the pomp and circumstance, and the Chester at Gansevoort Meatpacking provides, with a classic English breakfast option (eggs, bacon, sausage, ham, Heinz beans, fried bread, potato, broiled tomato, toast, and jam), cider, and tea (including a special Harney & Sons edition made just for the occasion). That's $29. If you'd like to toast with Markletinis and Prince Cup cocktails (think Pimm's Cup), that's $9 extra.
Royal Wedding at the Living Room at the Standard, High Line and Café Standard, East Village
Early risers can choose either Standard Hotel for their viewing party. The Living Room at the High Line will be serving scones, Champagne, Pimm's Cups, and boozy tea cocktails from 7 to 9 a.m. with their viewing, while the Café at the East Village location will have pastries instead of scones.
Madame Tussauds
Hang out with folks as waxy as some of the British guests at this extravaganza, held by Madame Tussauds in Times Square. Harry and Meghan and all the hoopla will be screened at a party beginning at 6:30 a.m. with brunch, Champagne, and cast members of Say Yes to the Dress. Tickets range from $25 to $45.
The Clocktower
British import the Clocktower will be honoring the royals all day with a traditional British Sunday roast brunch, including beef Wellington, the requisite fish and chips, and Lancaster chicken potpie, with Victoria sponge cake served all day. Stop by any time this month for the Royal Engagement cocktail with carrot, ginger, honey, and Maker's Mark(le). (That's them, not us.)
Make My Cake
Planning your own party? The new Upper West Side location of the Harlem bakery Make My Cake (795 Columbus Avenue) now has cupcakes topped with Union Jack icing. Also works if you're just an Anglophile.
Van Leeuwen and Ample Hills
From now until the end of the summer, Van Leeuwen's serving up a Royal Wedding Cake flavor in stores, inspired by Claire Ptak's creation for the wedding with sweet cream ice cream, swirls of elderflower buttercream frosting, and lemon pound-cake pieces. Over at Ample Hills, they've settled on God Save the Cream, with a lemon-ginger base and Victoria sponge cake made with St. Germain elderflower liqueur and iced with classic buttercream. Get yourself some Harry and Meghan cutouts and call it a day.
Monarch Rooftop Lounge
All weekend, the Monarch Rooftop Lounge will be serving the Something Blue cocktail, we're guessing in honor of all of Harry and Meghan's exes. It features dry vermouth, limoncello, blue lychee caviar, and Prosecco, for $16.
Movie Theaters
You won't have to wake up too early for this encore screening of the nuptials on the big screen. Fathom Events and Britbox have teamed up to show the event commercial-free in theaters in Union Square, Kips Bay, and New Jersey. That begins at 10 a.m.
The Shakespeare and Jones Wood Foundry
The sister restaurants will be hosting similar viewing breakfasts, both $70, starting at 6:30 a.m. on Saturday. Start with a mimosa and sausage roll (which will also be served to the public audience on the grounds of Windsor Castle), and a meal based on the couple's favorite foods: banana bread, roast chicken and waffles, kedgeree, and pancakes. Toast with Chapel Down's Brut, reportedly just like the royals, and finish it off with lemon-elderflower cake, now famously the wedding cake choice of the new couple. Dining-room seats are sold out, but if you hurry, you can still snag a spot at the respective bars.
Dog & Bone
Got a pup with a penchant for dress-up? Escort them to this pet-friendly sidewalk café, which will open up at 6:30 a.m. for wedding viewing, with footage replayed throughout the day. There will be British food and drink specials all day, as well as a special Celebration "99" cones of soft serve with a Cadbury flake and raspberry drizzle. Bonus points if you bring a corgi.
The Shops at Columbus Circle
Infuse your shopping with celebration. From 2 to 5 p.m. Ted Baker at the Shops at Columbus Circle will be having a tea party catered by Bouchon Bakery, complimentary to shoppers with assorted teas, mini-tarts, scones and tea sandwiches. While you're over there, stop by Asiate at the Mandarin Oriental for the Royal Flower, as spin on the French 75 named for Meghan Markle's childhood nickname ($28).