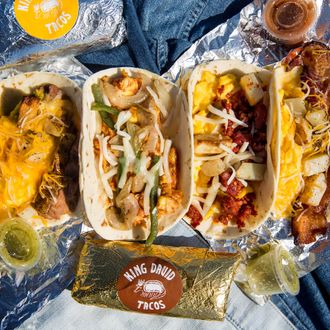 Start off your day at the beach with some Austin-style breakfast tacos.
Photo: Scott Heins
This weekend marks the unofficial start of summer, and with it a whole lot of summertime drinks, dishes, venues, and events. Accordingly, the Grub team has put together a guide of not-to-be-missed summertime food and drink opportunities. Some are notable restaurants and blowout events popping up inside and outside the city that will disappear after Labor Day, while others are culinary moments that you'll want to take advantage of while the sun is shining and the city is thrumming with summertime energy. Either way, here are 21 ideas — both in the city, or a short drive out — to keep you busy at least until July.
Start your day off right with Austin-style breakfast tacos at Rockaway Beach.
In the Rockaways, Tacoway Beach has cornered the market on more standard taco offerings (read fish and papa con chorizo tacos), but this summer they'll enjoy some friendly competition from King David Tacos, the folks behind some very popular Austin-style breakfast taco carts in Prospect Park and Fidi. Starting this weekend, the operation will set up a third cart at Beach 68th Street from 9 a.m. to 1 p.m. on Saturdays, and 10 a.m. to 2 p.m. on Sundays, all summer long. Come for the BPEC (bacon, potato, egg, and cheese), stay for a much-deserved day at the beach.
Drink something vaguely healthy at Roberta's Tiki Bar.
For many a North Brooklynite, afternoons in the backyard of Roberta's spell summer. This year is no exception, and if great pizza and hip vibes aren't enough to get you to drop by, maybe boozy kombucha will do the trick. For summer only, Roberta's will serve the Purple Haze, a lovely (and let's be honest, highly Instagrammable) frozen drink made with Kombrewcha Berry Hibiscus, tequila, fresh pineapple, and lime.
Head to Downtown Brooklyn for primo Bolivian food.
As we approach peak food hall, more and more venues are being forced to up their game. One such example is the Gotham Market Food Hall at Fulton and Ashland in Downtown Brooklyn. Since late last year, the food hall has undergone a massive transformation that includes the opening of the second location of Bolivian Llama Party, the Manhattan-born restaurant from the Oropeza brothers, long-celebrated for its salteñas and cholas. Now, all that is available just around the corner from the Barclays Center.
Grab a cone at Morgenstern's Summer Scoop Stand
As promised in our 2018 Ice Cream Agenda, Nick Morgenstern, the man behind some of the city's most highbrow ice-cream flavors will open a new 2,000-square-foot flagship of his Morgenstern's Finest Ice Cream at the corner of La Guardia and West Houston some time in June. But until then, the Morgenstern's team has announced that they'll be setting up a Summer Scoop Stand at that corner starting on May 25 and slinging ice cream every day, rain or shine. To celebrate, drop by the stand on the 25th for free scoops from 12 p.m. to 1 p.m. And as if it couldn't get any better, Nick will be there handing out balloons.
Check out what chefs do at their summer restaurants.
Even if you don't have a summer house, you should still make a trip out to the eastern tip of Long Island this summer. At the very least, head to Barba Bianca, Peasant chef Frank DeCarlo's Italian restaurant, and The Halyard, which are just a few minutes away from each other on the North Fork. Grub has a lot of love for their seafood-centric menus, which this summer will include dishes like lobster risotto, wine-marinated frogs' legs, clam pasta, mussels in Thai coconut curry, and more. Grab tables via Reserve or Open Table and then hop the next LIRR train to Greenport.
Visit all the new rooftop bars.
New York's rooftop bars are always a draw, and now they might actually be good, too. First, there's Flatiron's Broken Shaker — the NYC outpost of the Miami-born bar that many people consider to be among the best bars in the country — for its eclectic cocktail selection (think bagel-gin fizzes) and Latin-influenced food. Further south, the Arlo Hotel in Soho has totally revamped its rooftop, partnering with Harold Moore of Harold's Meat + Three to create a New American menu, while hiring a bartender from cocktail bar Employees Only to sell a new line of summery $18 drinks. Meanwhile, if you're in Brooklyn, the most buzzed-about new rooftops are that of Elsewhere, a 24,000-square-foot nightclub, art space, and music venue opening in Bushwick on Friday, and on the 23rd Floor of the William Vale, where rooftop bar the Turf Club also opens this Friday. Consider yourself spoiled for choice.
Eat superlative omakase and kaiseki in the Hamptons.
Here's one good reason to brave the Hamptons crowds this summer. Every Friday and Saturday night through July, and every Thursday through Saturday in August, Japanese restaurant Shuko will pop up at the Highway Restaurant & Bar in East Hampton to sling a $150 tasting omakase menu as well as high-end bento boxes with 12 pieces of sushi and two rolls for $180 each. Best way to secure a spot is through Resy, though walk-ins are welcome.
Drink as many frozen and tropical cocktails as humanly possible.
You've got from now until, let's say, early October to really crush the city's ever-growing roster of top-shelf frozen drinks. So get to it. Here are Grub's guides to the best frozen drinks, piña coladas, mai tais, margaritas, "breezy" cocktails, and for good measure, generally elaborate cocktails around the city. Plus, you'll find tons of options at newcomers like Chicha Cafetin, Di An Di, and Peachy's.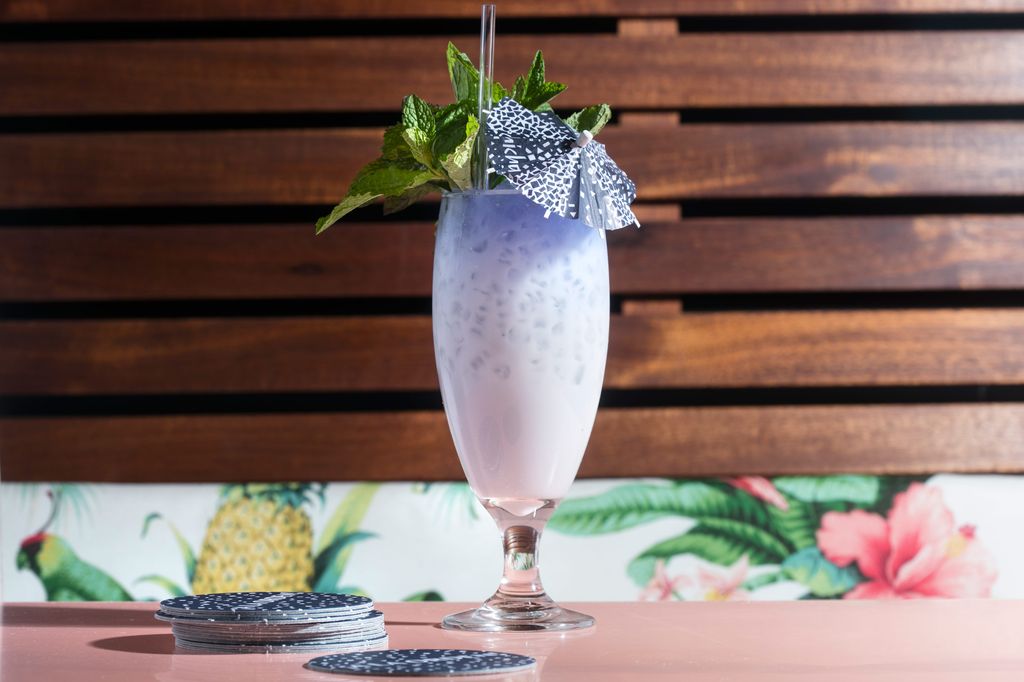 Drink and eat like a Basque for a good cause.
Next month marks ten years since Alex Raij and her husband, Eder Montero, brought Basque cuisine to Chelsea with their beloved restaurant, Txikito. Accordingly, the pair are hosting Txikifest 2018 on Sunday, June 3, an afternoon party to both celebrate their anniversary and Basque food. This year, they've "remixed" the menu, adding whole-hog barbecue alongside chuletas steaks and plenty of Basque wine. But the best part? All the day's profits will be donated to the ACLU. Buy tickets here.
Spend your summer Fridays working in a new all-day café.
All-day cafés aren't just a trend; they're a way of life at this point. One that's piqued Grub's interest is Hesperios, a shop and café with both indoor and outdoor seating at Cleveland Place and Kenmare Street in Nolita. The café features baked goods from Claus Meyer's Meyers Bageri; homemade butter, jams, and honey; and most interestingly, a nonalcoholic beverage menu by former Aska bartender Selma Slabiak. In other words, it's hygge, but for summer.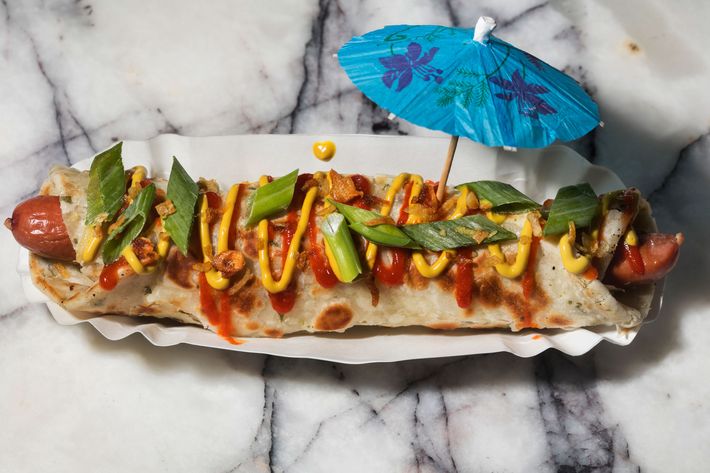 Take a hot-dog tour of New York City.
Nathan's and Coney Island are as much a part of the New York City landscape as Central Park and the Chrysler Building. In fact, hot dogs in general have been making this city tick for more than a century. With that in mind, we suggest trying out all of our favorite hot dogs in the city, including Katz's Deli, Mile End, and PDT. It's as easy as grabbing a willing group of friends and heading out the door.
Visit Greenpoint's newest reborn backyard.
Old-school Greenpointers will remember the late T.B.D. Brooklyn, which was beloved for its gigantic indoor space as well as a lovely backyard. Well, T.B.D. has officially been reborn as the Springs, a more colorful spot influenced by Palm Springs in the summertime. The food menu is pretty straightforward, offering everything from egg sandwiches to meatball sliders and shrimp tacos. But it's the frozen-drink game that's truly strong, with piña coladas, Coca-Cola floats, Aperol seltzer slushies, and the aptly named Sunburn (tequila, aloe vera, curaçao, and lime).
Eat soft-shell crabs while you can.
Soft-shell-crab season is upon us, meaning you'll want to dig in while you can. Here are three of Grub's favorites: There's the deep-fried crab with yuzu–Meyer lemon sauce at farm-to-table Chinese restaurant, RedFarm, while Sweet Chick LES has a brunch-only Nashville-hot soft-shell-crab sandwich. Or, if you find yourself in Brooklyn, you'll want to try the soft-shell-crab po'boy at Pilot, a restaurant located on a schooner docked at Brooklyn Bridge Park's Pier 6. Peak season for soft-shell crab is now through July, so grab a plate before it's too late.
Sign up for gourmet glamping on Governors Island.
This summer, the Governors Island Trust will give visitors more free reign than ever before. Not only will the island be open until late every Friday so that people can watch sunsets and host cookouts at one of the city's best venues, but the Trust has teamed up with Collective Retreats to provide $500 glamping experiences that involve a luxury tent and gourmet farm-to-table meals, including breakfast, lunch, and dinner. It is, of course, absolutely ridiculous, and it is also absolutely something that sounds totally fun.
Eat at Eleven Madison Park's summer outpost (again).
Last summer, while their Manhattan location underwent a redesign, Daniel Humm and Will Guidara sent their Eleven Madison Park employees out to the Hamptons to cook at the EMP Summer House, which served up a whole lot of lobster rolls and steaks. What seemed like a one-off may now be a yearly thing, with the EMP Summer House set to open for a second year on Friday, May 25. New menu items include linguine with clams, garlic, and parsley, lobster tempura, and a pricey black-truffle flatbread with crème fraîche and Parmesan. Reservations are only available for Amex members, though walk-ins are welcome. (Note: The only accepted forms of payment will be cash or Amex.)
Slurp summertime soup at Little Tong.
If your idea of summer soup begins and ends with gazpacho, it's time to expand your horizons. In addition to opening a second location in midtown next month, chef Simone Tong has added two new cold noodle soups to the menu at her critically acclaimed restaurant Little Tong Noodle Shop in the East Village. Crab-o-Cado includes jumbo lump crab, citrus-soy-glazed avocado, pumpkin seeds, and a green curry sauce; the Mixian and Chill, meanwhile, features Little Tong's peanut-based bang-bang sauce, white soy, cucumber, house pickles, spicy peanuts, chili oil, and more.
Eat your way through Bushwick in one afternoon
In the last five years, Bushwick has transformed from artsy hangout to tourist destination, and with that transformation has come a spate of great restaurants. On June 12, you can give a handful of them a try at the 5th Annual Taste of Bushwick (housed indoors for the first time at music venue Brooklyn Steel), which will feature food and drink from local standouts like Faro, Brooklyn Cider House, KCBC, Sandobap, and Foster Sundry. Purchase tickets, starting at $45, here.
Cool off with dairy-free ice cream.
We get that not everyone can approach dairy-based ice cream with the same unbridled passion as we can. So, we found two alternatives: First, Santa Barbara–based McConnell's Fine Ice Cream very recently launched a line of dairy-free ice creams in flavors like Turkish Coffee, Dark Chocolate Chip, and Eureka Lemon & Marionberries, and they're shipping nationwide, so order a case (or two). Closer to home, you'll want to check out Kokus, a very healthy-ish outfit specializing in plant-based soft serve chock-full of wellness-minded ingredients like turmeric, collagen, raw cacao, bee pollen, and CBD. You can find them at Springbone Kitchen near NYU or at either Smorgasburg location.
Take advantage of the newly expanded backyard at Olmsted.
Since its opening, making s'mores in the backyard of Olmsted has become a treasured tradition among frequent diners. If you haven't had the pleasure yet, you'll be glad to hear that that experience will now be available to even more visitors. Olmsted has now expanded its backyard to include the property next door, adding a lot more space to the Prospect Heights restaurant.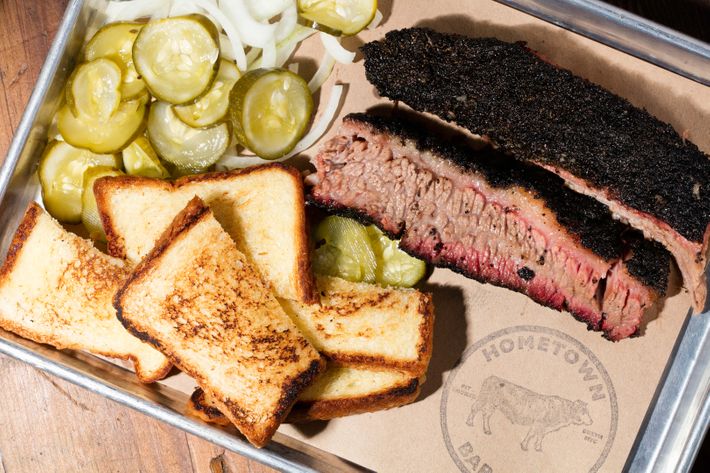 Spend a whole day eating barbecue.
If you're looking to outsource your cookouts this summer, there's no better way to do that than to drop by the Big Apple Barbecue Block Party, which will celebrate its 16th year on June 9 and 10. From 11 a.m. to 6 p.m. each day, tens of thousands of BBQ lovers will gather in Madison Square Park to sample barbecue, beer, wine, cider, and desserts from as far away as California and as close by as Red Hook (Hometown Bar-B-Que) and Gowanus (Dinosaur Bar-B-Que). Admission is free, but if you want to beat the lines, use the Disneyland approach and purchase Fast Passes (which include food) for $125 or $275. (And if you want to attend a huge cookout every weekend this summer, Ridgewood, Queens, venue Nowadays will host a BBQ cookout every Saturday this summer, starting at noon.)
Pack a few Negronis in your bag.
Imbibing on the go has never been easy, even though discreet drinking on beaches, buses, and trains is a defining part of summer in New York. Well, it just got a little bit easier: This week, Brooklyn amaro brand St. Agrestis has launched a new bottled Negroni featuring gin from Greenhook Ginsmiths, St. Agrestis bitters, and homemade red vermouth. Sold in four-packs for $25, they'll be available at liquor stores throughout New York starting this weekend.