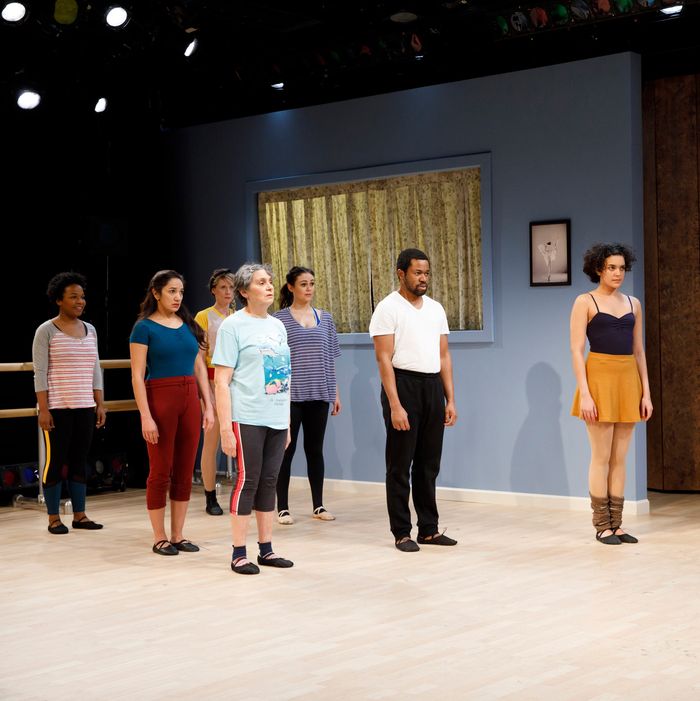 From 
Dance Nation,
 at NYTW.
Photo: Joan Marcus
Events to check out this weekend, May 3 to 6.
1. Drink some beer for a cause, or some wine just 'cause.
Beginning at 6 p.m. this evening, head to HandCraft Kitchen and Cocktails for their night-long Women in Beer event, which features breweries either owned or operated by women, including Carton Brewing, Grimm, Burial Beer, and Wolffer. $1 from every featured beer sold will be donated to Women in Need. On Saturday at Industry City is the Brooklyn Crush Wine Festival, with an abundance of wines to taste and food from local chefs to nibble. You know the drill.
2. Learn the technicolor secrets of a veteran hip-hop director …
The Red Bull Music Festival continues, bringing one-of-a-kind events to unique spaces in New York. Tickets are still available for tonight's event with director Hype Williams, who discusses translating sound to visuals with his videos created for artists like Busta Rhymes, Missy Elliott (and her giant bubble suit), Puffy, Mase, and Tupac. On Saturday and Sunday, catch the hazy electronics of Swedish musician Fever Ray (half of the Knife) in her first shows in almost a decade. That happens down at the Brooklyn Hangar.
3 … Or what it's like to work with an artist out of this world.
Tonight, in conjunction with the exhibit David Bowie Is, the Brooklyn museum hosts a discussion with Mick Rock, photographer and director of David Bowie classic videos like John, I'm Only Dancing, The Jean Genie, Space Oddity, and Life on Mars? Plus the first public screening of a previously unreleased video. $16 tickets include museum admission.
4. Celebrate some OGs.
This year marks the 30th anniversary of Phantom of the Opera, the longest-running show in Broadway history. This April, Ben Crawford (Charlie and the Chocolate Factory, Shrek the Musical) took over the iconic leading role. And downtown avant-garde performance artist Penny Arcade revives political revue (with erotic dancers) hit Bitch! Dyke! Faghag! Whore!: The Penny Arcade Sex and Censorship Show through May 19 at Performance Space New York, which happens to be the space where it first premiered in 1990. Come early for the go-go preshow.
5. And embrace a newbie.
The new play Dance Nation by Obie Award winner Clare Barron is much darker than its premise: following a group of 13-year-old girls (played brilliantly by women of all ages) as they train for a dance competition. As our critic says, it's "a brave, visceral, excitingly off-kilter barbaric yawp of a play." Even if you were never a 13-year-old girl, you'll still enjoy. You just might be disturbed.
6. Don't forget mom.
Sunday is Mother's Day. If you're still in need of a present, help her feel like the VIP she is at the Whitney, who is hosting a special before-hours tour of "Grant Wood: American Gothic and Other Fables," plus brunch. Or take her for an unlimited mimosa brunch or dinner cruise on the Bateaux New York (moms love those). Make her (or buy her) a bouquet to remember on Friday at the Floral Pop-Up and Workshop With The Wild Bunch at the Moxy hotel in Times Square, or stop by the lobby of the NYLO hotel on the UWS for the pop-up Arthouse Flower Market on Saturday and Sunday from 10 a.m. to 5 p.m. If all else fails, you can still try to make a last-minute reservation.
7. Watch musicians bang on cans (figuratively).
This Sunday is the Bang on a Can marathon at Skirball Center, with ten hours of innovative performances by pioneering musicians as well as up-and-comers. Participants include Terry Riley, So Percussion, Stephin Merritt of the Magnetic Fields, Vicky Chow, and much, much more. Plus, it's all free.
8. Catch a sneak peek of a new venue.
While the Shed begins to take shape in Hudson Yards ahead of next year's opening, the cultural venue previews the season with sound, dance and other arts events, which wrap up this Sunday. See the full schedule here.
9. Spend a day on an island.
Whether or not the weather cooperates this weekend, Governors Island is open. This Saturday, take the ferry over for Holi Hai, a springtime Hindu festival of colors with traditional dances, henna art, face-painting, photo booths, color-splashing, and more, including, of course, food. While you're there, stop by Island Oyster, from the folks behind Grand Banks, currently serving cocktails (food service starts May 16).
10. Laugh the week away, before you start it all over again. Get hyped for Sasheer Zamata Party Time! — with a killer lineup this Sunday at the Bell House, including Superstore's Nico Santos, Eliza Skinner, Solomon Georgio, Madison McFerrin, and special guests. Given the day, we're guessing one of them is mom.