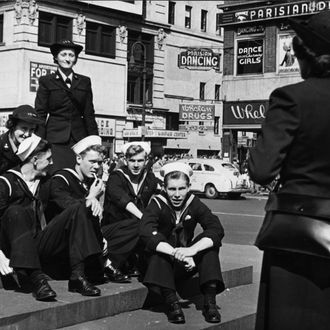 Photo: Skippy Adelman/Getty Images
Events to check out this holiday weekend, May 24 to 28.
1. Wave to a sailor.
It's Fleet Week! And, just like a sailor's company, many official events are free to enjoy. Take a tour of a ship, and Friday attend a free screening of Top Gun on the flight deck of the Intrepid, introduced by former astronaut and T-38 pilot Gregory C. Johnson. Saturday and Sunday, check out live Broadway showcases and hits from Hamilton, South Pacific, American Idiot, and more. Show off your own dancing skills on Saturday at the Battle of the Big Bands, and if you'd like to view the action from your own vessel, the Bateaux New York will be offering Fleet Week cruises, including a bottomless mimosa brunch cruise on Sunday.
2. See some independent theater in the Lower East Side … 
Friday through Sunday is Theater for the New City's free Lower East Side Theater Festival of the Arts, a marathon weekend of poetry, theater, and cabaret, including performance artists Penny Arcade, the puppetry of Chinese Theatre Works, and La Mama. Be ready for anything.
3. … And while you're there, celebrate its diversity.
This Sunday is the 31st year of the Loisaida Festival, traditionally happening the Sunday before Memorial Day and celebrating Puerto Rican and Latino cultures. From 10 a.m. to 5 p.m., stop by Avenue C for arts, performances, an impressive parade with professional puppeteers, and cuisine, including a burger pop-up at wine bar Lois, featuring brisket and chorizo burgers with pickled veg and cilantro and avocado cream, turkey burgers with goat cheese and pineapple salsa, and short-rib cheese burgers.
4. See photos by one of the world's most influential directors.
Before he was a director, Stanley Kubrick was a young photographer in the Bronx working for Look magazine, taking pictures of the postwar heyday in the city. See a slice of history and the works of Kubrick before he became Kubrick, in "Through a Different Lens: Stanley Kubrick Photographs," culled from the Look archive at the Museum of the City of New York.
5. Catch a rising star.
He provided much-needed levity in Get Out, and soon you'll be able to catch him in the summer movie Uncle Drew. But first, see breakout star and stand-up comedian Lil Rel Howery IRL, this Friday through Sunday at Carolines.
6. Music? Music!
It's Le Poisson Rouge's tenth anniversary. Celebrate a decade of them keeping it fresh with a summer's worth of events kicking off Thursday, with Thomas Bartlett and Nico Muhly performing a collection of songs inspired by Balinese ceremonial music. On Saturday, come ready for a classic hip-hop party at Rhythm Revue meets Freedom Party, with Felix Hernandez and Herbert Holler.
7. Indulge your inner bibliophile.
Celebrate a master at "Remembering Tom Wolfe (1930 – 2018)" at the New York Public Library with items including an outline of The Bonfire of the Vanities, the steno book he carried to "Black Panther Night" at Leonard Bernstein's apartment, and notes from his first interview with Jerry Garcia used for The Electric Kool-Aid Acid Test. Radiotheatre channels Halloween at the 3rd Annual Edgar Allan Poe Festival through Sunday at St. John's Sanctuary in the West Village, with 14 classic tales performed live onstage, complete with sound effects. And on Friday and Saturday, art lovers should head to the Brooklyn Art Book Fair, showcasing diverse, original work. That's free, at the McCarren Play Center.
8. Feel the rhythm of South Africa and beyond.
This weekend, BAM is host to DanceAfrica 2018, the nation's largest African dance festival, which this year focuses on South Africa, touching on Nelson Mandela's centennial birthday and the contributions of freedom fighters. See the Ingoma KwaZulu-Natal Dance Company, take a dance workshop of your own, see a film in the cinema series, visit the free bazaar on Ashland place Saturday through Monday, and much more.
9. See some art on a rooftop.
Huma Bhabha's site-specific We Come in Peace is the latest installation on the roof of the Met, reflecting on how Western experiences and values distort how images are presented, and called "among the best Met roof sculpture installations since the program began," by our critic. Might seem too heavy to pair with some bubbly from the rooftop bar, but hey, you deserve it.
10. Go to the beach!
NYC beaches officially reopen for swimming this weekend, and Riis Park Beach Bazaar has you covered with grub and entertainment. Check out newcomers Super Burrito, Two Dudes, and Warung Roadside, and oldies like Rockaway Clam Shack, Fletcher's BBQ, Oaxaca Tacos, and Ample Hills Creamery, plus free performances, including Johnny Cash aficionado Johnny Kinnaird, on Monday.
11. Catch a concert in a cemetery.
In an annual tradition, the ISO Symphonic Band and Orchestra offers a free concert at Green-Wood Cemetery on Memorial Day. Bring a blanket and enjoy the works of some Green-Wood residents, including Fred Ebb, and Paul Jabara, plus a special program this year in honor of the 100th birthday of famed composer and conductor Leonard Bernstein, also buried in the cemetery (off the Liberty path, should you want to pay homage). The Brooklyn Daily Eagle will also have a table at the event where veterans and families can tell their story.
12. Take in a parade.
Honor our fallen heroes and those who have served in several parades this weekend. On Sunday at noon, the Forest Hills Parade runs along Metropolitan Avenue. The Little Neck-Douglaston Memorial Day Parade on Monday in Queens steps off at 2 p.m., and the Brooklyn Memorial Day Parade begins at 10 a.m. in Bay Ridge. If you plan wisely, you could hit them all.