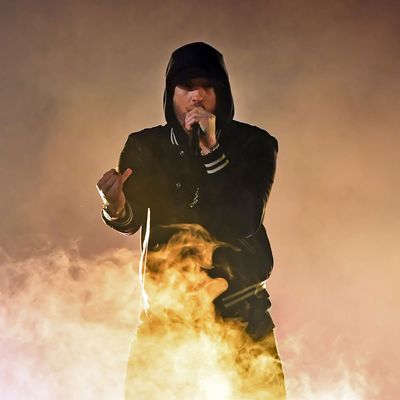 Eminem, plus fire.
Photo: Kevin Winter/Getty Images
Events to check out this weekend, May 31 to June 3.
1. Say hello to summer music.
Grab your festival fedora. This Friday through Sunday is the Governors Ball on Randall's Island. Come for a lineup including Jack White, the Yeah Yeah Yeahs, Eminem, and Travis Scott, and stay for a food lineup rivaling actual food festivals, with Newyorkina, Sweet Chick, Ramen Burger, Doughnuttery, and Luke's Lobster. Or pack your poncho and head over to Bushwick on Saturday for the annual Bushwick Collective Block Party, with street art, food trucks, free face-painting and haircuts, and a headlining concert by New York's own Ja Rule.
2. Honor some literal OGs.
Friday night at Barclays is where you'll find the time warp or 30th anniversary of Yo! MTV Raps. Alums and performers like Doug E. Fresh, KRS-One, Big Daddy Kane, Fab 5 Freddy, Ed Lover, Flavor Flav, and more will all be on hand for a kickoff concert designed to reignite the brand. Keep your eyes open for what's next.
3. Show your Pride.
While official NYC Pride events don't happen until later in the month, start this Sunday at Threes Brewing with their  Brooklyn Pride Kick-Off Celebration + Gender Neutral Beer Release Party, featuring drag performers Misty Meaner and Mocha Lite and with a portion of the proceeds benefiting the Anti-Violence Project. Sunday is also the annual Queens Pride Parade in Jackson Heights, followed by a street festival beginning at 1:30, featuring singers, comedians, drag acts, dance groups, and, of course, food.
4. Flex your brain.
Counteract your TV-bingeing with the World Science Festival though Sunday, this year highlighting Women in Science. Sadly, the panel on absinthe's effects (including tasting!) has passed, but there's still a plethora of discussions and panels to attend on everything from what screens are doing to our brain to why music makes us shiver, plus a tour of the New York harbor on a 19th-century coastal cargo schooner, trivia night at the Natural History Museum, and more. For literary (and pop culture) minds, on Saturday and Sunday over at the Javits Center is BookCon, with panels, autograph sessions, and a discussion with Bill Clinton and James Patterson on their forthcoming novel, The President Is Missing. We'll let you insert your own joke here.
5. Embrace the counterculture.
Find everything comics, collectibles, and beer at Five Points Fest, a gathering of counterculture this Saturday and Sunday at the Brooklyn Expo Center. It all kicks off with the Designer Toy Awards on Friday at the Brooklyn Bazaar, hosted by comedian Eli Yudin.
6. Explore French food in film.
This week kicks off Films on the Green, the free outdoor French film festival in NYC parks, produced by the Cultural Services of the French Embassy. This year's focus is gastronomy — sorry, gastronomie — and this Friday's screening is Jacques Besnard's Le Grand Restaurant on Cedar Hill in Central Park. Bonus points if you bring baguettes and cheese.
7. Or booze it up with a very American movie.
Co-writer Jim Taylor will be present for a special screening of modern Pinot Noir classic (the movie is credited with boosting sales of the varietal) Sideways at Metrograph on Friday, followed by a wine reception with wines provided by Francis Ford Coppola Winery.
8. Pregame for the Tonys.
Tickets are still available for this Sunday's Drama Desk Awards at Town Hall, where Broadway, Off Broadway, and Off-Off Broadway compete against each other in the same category. Even if your faves don't win, at least you can count on host Michael Urie being delightful.
9. See famous people make fun of other famous people.
The celeb-on-celeb-satire comedy sensation Celebrity Autobiography returns this Saturday to the Triad Theatre with folks like Scott Adsit, Tate Donovan, Jackie Hoffman, Eugene Pack, and more reading absolutely true excerpts from bios by Burt Reynolds, Diana Ross, Tommy Lee Jones, and more. You can't make this stuff up.
10. Bop your head in a wine bar.
Ariel Arce of Tokyo Record Bar and Air's Champagne Parlor is the latest guest DJ in a series of food-industry spinners this Sunday at Denizen wine bar in Williamsburg. Come for the tunes and stay for the wine and cheese specials, like two artisanal cheeses paired with a glass of Charles Ellner Brut Carte Blanche NV Champagne for $30.