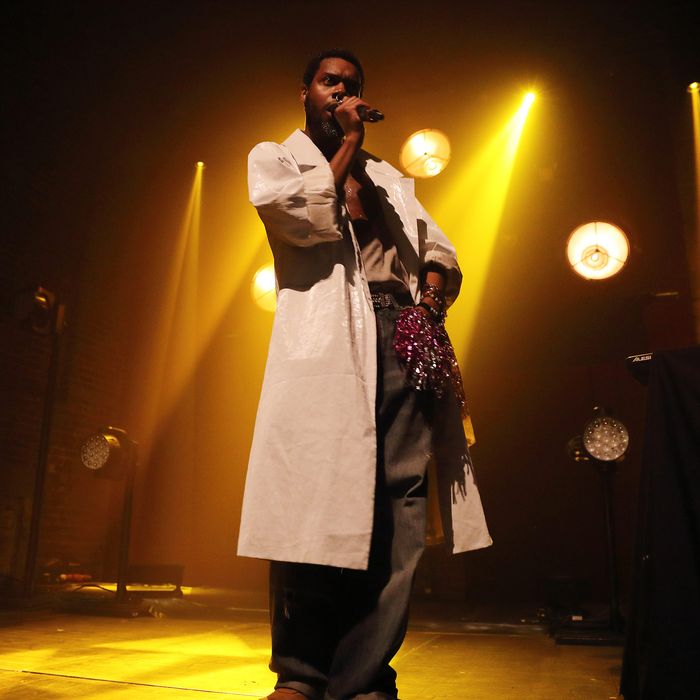 Serpentwithfeet performs as part of the Red Bull Music Festival.
Photo: Burak Cingi/Redferns
Events to check out this weekend, May 3 to 6.
1. Trip-hop your way into the weekend, then chill.
The weather gets warmer and Brit trip hopper Tricky appears, bringing his own heat. He performs tonight at Irving Plaza in support of last year's Ununiform. If you want something more intimate, on Sunday see TV on the Radio's Kyp Malone in the new Williamsburg arts venue Wonders of Nature.
2. Hear a celebrated Indian author discuss her new book. Twenty years after her Booker Prize–winning The God of Small Things, Arundhati Roy returns with The Ministry of Utmost Happiness, also long-listed for the Booker Prize, and out in paperback this spring. She discusses the work at the NYPL on Thursday with Viet Thanh Nguyen, whose novel The Sympathizer won the Pulitzer Prize for Fiction in 2016.
3. Let culture give you wings.
The innovative Red Bull Music Festival returns for the sixth year with a lineup as diverse as the city itself. This Friday, catch a performance by cult musician John Maus at Deno's Wonder Wheel, Saturday, see a conversation with Harry Belafonte, and on Sunday, see Brooklyn-based experimental R&B and gospel artist Serpentwithfeet in the Refectory at the High Line Hotel. Beginning Friday, you can also catch an exhibition by hip-hop pioneer and cult artist RAMMΣLLZΣΣ.
4. Find the force.
Friday may be May the Fourth, or Star Wars Day, but Videology is giving you 48 extra hours to brush up on facts before their free Star Wars Trivia event on Sunday, with five rounds covering all eight of the films. Why not show up in costume?
5. Get ahead of the Broadway crowds.
The Tony Award nominations were announced this week, and leading the pack are Mean Girls, SpongeBob, Angels in America, and The Band's Visit. If you're still thinking of checking out any of the nominees, best buy your tickets now before they're winners. After that, good luck.
6. Fill up on art.
This weekend is the behemoth Frieze art fair on Randall's Island, and we've been busy culling the best of more than 190 galleries from over 30 countries. If you're on the island, check out these five can't-miss artists. But the fun happens all over town, and we've got you covered there, too. And if you're anti-Frieze, there's also Cultural Traffic, Art New York, Fridge Art Fair, Moniker Art Fair, Other Art Fair, Superfine!, and TEFAF. Have fun!
7. Pretend you're in the royal family
Start celebrating the royal wedding early at the Tale of Two Cities Tea at the Baccarat Hotel on Sunday. Alongside menu items, including Yorkshire pudding with braised short ribs and Maine lobster salad, you'll be privy to — and be able to try on — Royal Asscher's jewelry, including necklaces, crowns, and more. Models will roam in Romona Keveza gowns, and milliner Leah C. Couture will display her one-of-a-kind headwear. It happens this Sunday from 2 p.m. to 5 p.m. for $120 and also doubles as an excellent early Mother's Day gift. To make a reservation, email nyafternoontea@baccarathotels.com.
8. Try a new beer.
This Saturday is the launch of Sunset Kura, a rice lager 50/50 split of Five Boroughs Brewing Company's extra-pale pilsner malt and Brooklyn Kura's American-grown rice inoculated with koji mold. They're throwing a party from noon to 11 p.m. at Five Boroughs Brewing Co., with Kings Kolache on hand for creative pairings.
9. Find something sacred in this world.
This Saturday and Sunday, the New York Landmarks Conservancy hosts the Sacred Sites Open House, where churches, synagogues, temples, and meetinghouses will open their doors to showcase architecture and highlight their musical and performance activities. To find participating locations, check out the official website.
10. Sip tequila while watching a horse race.
This Saturday is the convergence of Cinco de Mayo and the Kentucky Derby, which means plenty of festivities to go around. Check out this list of Cinco de Mayo events in New York, and for some derby action, head to Red Rooster, Maison Premiere, the Roof, or Maysville for one of their parties. Choose wisely.