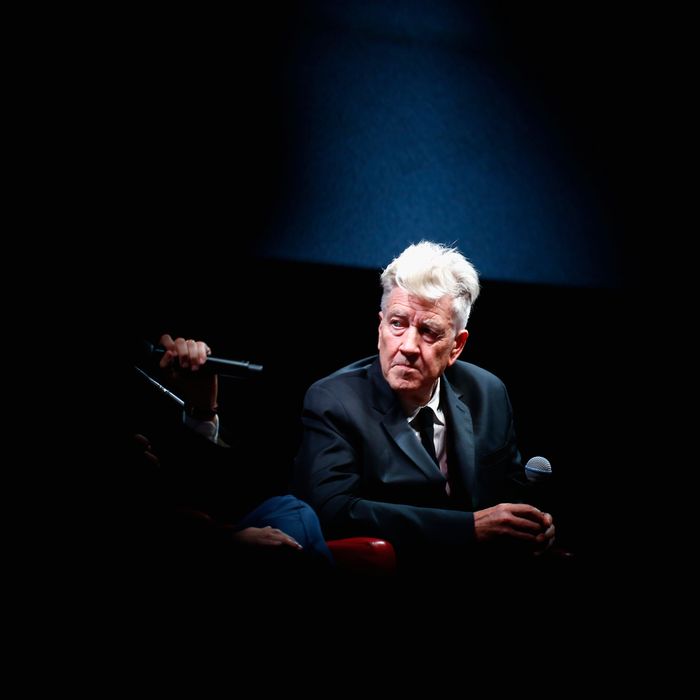 Meditate with David Lynch this weekend.
Photo: Ernesto S. Ruscio/Getty Images
Events to check out this weekend, May 17 to 20.
1. Take in the arts and flavors of Harlem.
This weekend rounds out the Harlem EatUp! festival, with free and paid events. Dine in Harlem restaurants with guest chefs like Stephanie Izard and Geoffrey Zakarian; stroll through the Grand Tasting (ticketed) on Saturday for unlimited tastings and collaborations, like cookie tarts by Make My Cake and Jacques Torres; buy a Rao's meatball in the Marketplace (free admission) to benefit the Harlem EatUp! Foundation; or catch free musical performances and culinary demonstrations. Net proceeds will be donated to foundations benefiting the Harlem community. When you're full, dance it off at FELA-Bration! a celebration of West African culture at the West Harlem waterfront park, presented by Sweet Spot Music & Arts. Admission is free.
2. Enter the weekend with a rosé tasting.
This evening from 6 p.m. to 8 p.m., will summer into existence with a tasting of the pink stuff at the Hudson Hotel's Hudson Bar: $25 buys you a tasting of six rosés, including Chateau d'Esclans Garrus, Villa Maria Rosé, and Barrymore by Carmel Road Rosé (Drew Barrymore's brand, in case you were curious).
3. Dress up like an icon and paint the town.
You may not have gotten tickets to the Brooklyn Museum's Night of 1,000 Bowies party this Friday, but nobody's stopping you from dressing up as your favorite Bowie incarnation anyway and seeing Hannibal Buress at the Capitol Theatre or Speedy Ortiz at the Music Hall of Williamsburg tonight, or maybe Kid Koala at Elsewhere tomorrow. Or just put on a Bowie record at home and dance.
4. Find all the culture in one festival.
Culture fan? There's only one place you can get it all this weekend, and that's our very own Vulture Festival. From a tour of the Met Breuer with art critic Jerry Saltz to a talk with Tracy Morgan that can go anywhere, to a night of feminist readings hosted by Amber Tamblyn and Roxane Gay, we've got you covered this Saturday and Sunday. Come ready to have fun.
5. See the greatest hits of a conceptual composer.
On Friday night, artist-composer Marina Rosenfeld — who has filled vast spaces like the Park Avenue Armory with sound — will be at Project-Q, a new pop-up music and arts space on Amsterdam Avenue. She'll present Guide de la Vie Associative (2013), a solo work written by her for collaborator and improviser Okkyung Lee. The evening will also feature GREATEST HITS: A Retrospective (2016), a work for two drummers first conceived for the Guggenheim rotunda.
6. Catch some short films in a cemetery.
The weather might not be great this Saturday but that could enhance the opening night of Rooftop Films, happening in Green-Wood Cemetery with a lineup of short films featuring neighborhood mafias, singing fish, and the cutest dog in the world (we'll be the judge of that). Plus, music by L'Rain and an after-party with DJ Tara. Brush up on your Monster Mash.
7. Discuss gender representation in photography.
On Saturday at 2 p.m., writer Vince Aletti and curator Brian Wallis (formerly of the ICP) sit down for a dialogue on the reinforcement or subversion of gender roles through photographic representations, in conjunction with the exhibit Mistaken Identities: Images of Gender and Transformation. The event is free and open to the public at the Walther Collection Project Space.
8. Toast to some people you don't know personally.
There's a wedding in London this Saturday, and even if there's no way you'll get up early for the viewing parties in our roundup, there's maybe a cocktail special or a new ice-cream flavor made for the occasion that strikes your fancy. Plus, dogs in costume.
9. Beer yourself.
Beer lovers are set this weekend. Friday evening at the Bell House is the Brooklyn Reserve Wine, Beer, and Cheese Festival, with live jazz and goods provided by Domaine du Colombier, Montauk Brewing Company, Circa Brewing Company, Crown Finish Caves, and more. Friday, you can also pair live classical music and trivia with brews from SingleCut Beersmiths at Classical Beer Jam: Mainly Mozart at WNYC's the Greene Space. And if you're headed to Governors Island on Sunday, Brooklyn Brewery and Island Oyster are teaming up for a cookout. Come for the whole roast fish and the new Pilot No. 1 brew, stay for the giant Jenga and waterfront views.
10. Hang out with a master of film.
Get all your Twin Peaks questions ready, this Saturday and Sunday, David Lynch's Festival of Disruption lands at Brooklyn Steel, featuring a talk, rare screenings, and exhibition by Lynch and a lineup that includes music by Animal Collective, Au Revoir Simone, Jim James and Jon Hopkins, discussions with Isabella Rossellini, Naomi Watts, and Gregory Crewdson, exhibits by William Eggleston, Sandro Miller and David OReilly, and, of course, a meditation lounge. Proceeds benefit the David Lynch Foundation for Transcendental Meditation.