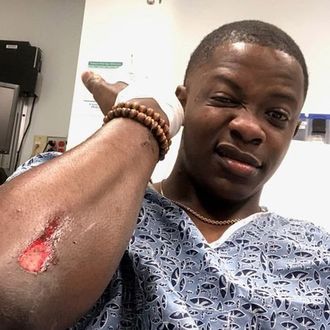 Shaw, recovering after his heroic feat.
Photo: James Shaw Jr.
James Shaw Jr., the diner who risked his life last month disarming the Waffle House shooter, has collected his second badge for distinctive badassery — this one for presenting victims and their families with almost $250,000 that he himself crowdfunded over the last three weeks. The Tennessean says a private ceremony was held yesterday on the campus of his alma mater Tennessee State, during which Shaw presented one of those giant replica checks to customers who were injured on the night of April 22, as well as to the families of Akilah DaSilva, DeEbony Groves, Taurean Sanderlin, and Joey Perez — the four who ultimately died. The paper adds that one victim's aunt thanked Shaw by saying, "Had you not been there, everybody in that building would have been killed."
Shaw's first order of business after disarming suspect Travis Reinking (once the hospital treated his own injuries) was to set up a GoFundMe for the shooting victims with a goal of raising $15,000. In the end, he collected $241,826 — an amount that will be split evenly among the families.
The weeks since the massacre have been a whirl for Shaw. He humbly explained the primary reason he took away the shooter's AR-15 was so he wouldn't die, but the bravery has won him praise from everyone from the Nashville Predators NHL team to the Tennessee legislature (which called his actions "unfathomable to most, indescribable by even the chief of police, and very poignant to the citizens of Nashville"). The White House also said that President Trump called Shaw on Monday, three weeks after the shooting, to "commend his heroic actions and quick thinking." In an interview with CNN earlier this month, Shaw told the network that, no, he hadn't heard from POTUS yet, but that "[m]aybe he just hasn't got around to me. Maybe my time is coming."
Meanwhile, the separate GoFundMe created by journalist Yashar Ali to help Shaw pay for his daughter's education is at $221,000 and counting after 22 days.