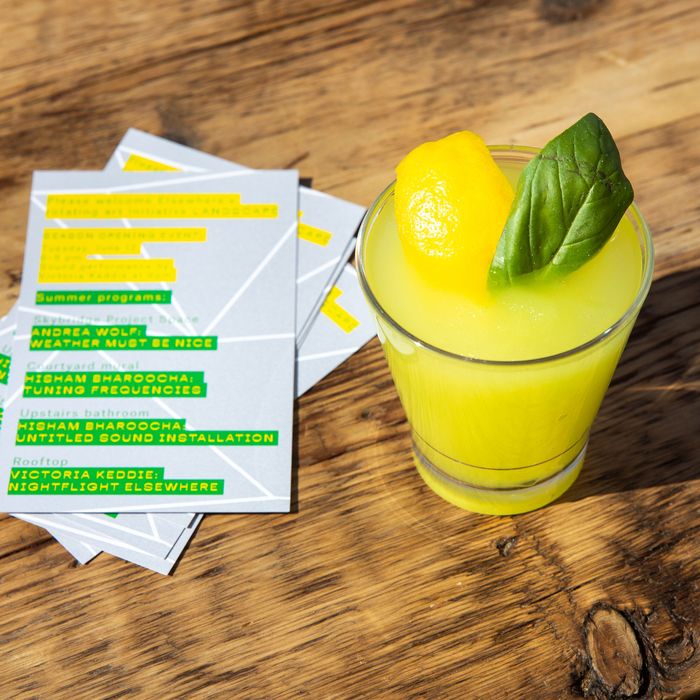 What's a rooftop bar without frozen drinks?
Photo: Nitzan Rubin
Glasslands made a big impact on the Williamsburg's music scene in the 2000s, and its successor, Elsewhere, is just straight up big. The 24,000-square-foot venue opened last fall in Bushwick with a bar-café called the Loft and two distinct concert spaces. Today, with summer undeniably (if unofficially) here, they're putting the proverbial cherry on this sundae with the opening of the Rooftop. They'll kick off a summer of barbecue and music with opening parties today and Saturday, for which they'll pair headliner NOBUNNY's punk with Mission Chinese Food's cooking tonight; and headliner Branko's dance tunes with Holy Ground BBQ tomorrow.
As you may have already deduced from your investigations, the Rooftop occupies Elsewhere's … rooftop; 5,000 square feet of it, to be exact. It's located in the more industrial stretch of Bushwick, and the blocks of largely low-rise buildings all the way to the Williamsburg waterfront afford good views of the skyline.
"More so than any space in the venue, it has a dual function. Earlier in the week, we'll give people a place that's a really low barrier to entry for hanging out, having a drink, and enjoying the air and sunset," says Jake Rosenthal. It'll transition from art, food, and film programming and after-work happy hour on Wednesday and Thursday to ticketed music events over the weekend. "When we get into Friday, Saturday, and Sunday, that's when it becomes more of a music venue."
While the drinks menu is still being developed, Rosenthal relays, they'll have one summer essential right away: frozen cocktails, in the form of Spicy Mango Margaritas (jalapeño-infused tequila, mango, and lime), Pomegranate Mojitos (vodka, pomegranate, mint, and lime), and more.
Food will consistently be provided by their friends Holy Ground, the barbecue specialist formerly known as Fort Gansevoort. They're still finalizing the food schedule, but Rosenthal says that it'll be five nights a week of smoked meats. In addition, they'll also bring in pop-ups, and say tomorrow night won't be the last time that they collaborate with Mission Chinese Food, which is opening another location in the same building as Elsewhere.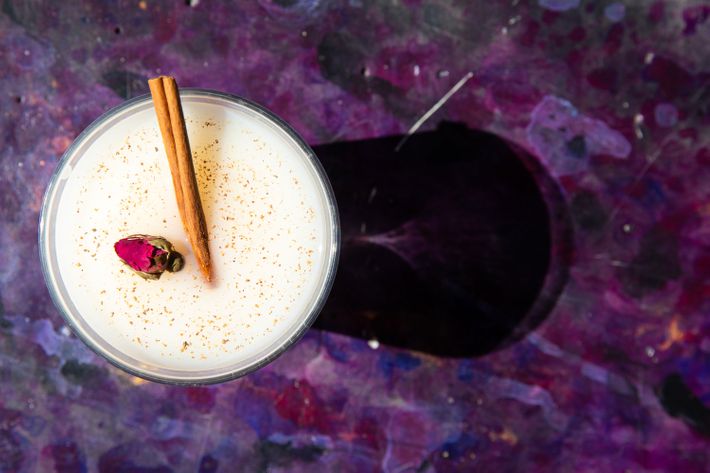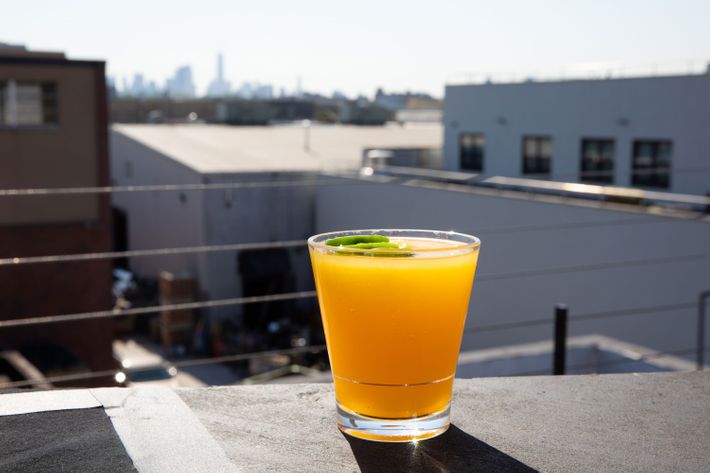 Of course, with music serving as a draw here, the space reflects that, and the big bar is matched by a large band shell for the artists. "We wanted to indicate the rooftop is not just a bar and lounge," Rosenthal says, adding that the band shell allows performances even when it's super sunny. Explaining what sort of artists they'll bring in, he says, "The direction we're going for, in general, is lighter. You're not going to see much heavy industrial techno, we're going for brighter sounds."
On the summer lineup: genre-bending producer Negative Gemini, rock band Parquet Courts, dub duo Peaking Lights, and a BBQ cookout hosted by Papi Juice, an art collective that puts on dance parties for queer and trans people of color and those who support them.
Like another recently opened and very popular rooftop bar, Broken Shaker, the Rooftop isn't sleek and shiny. Designed by Dutch East Design, Rosenthal says they wanted it to contrast to the "very dark" feeling of the indoors performance areas, so they went for a lighter, peachy color palette with touches like yellow umbrellas, plenty of plants, feature design from staff, including geometric terrariums, and a checkered stone deck. There's also an art installation from Greenpoint's VolvoxLabs, and the bar surface is a grapey purple that looks both psychedelic and like a watercolor interpretation of a nebula. It is, in other words, another welcome addition to New York's booze-in-the-sky scene.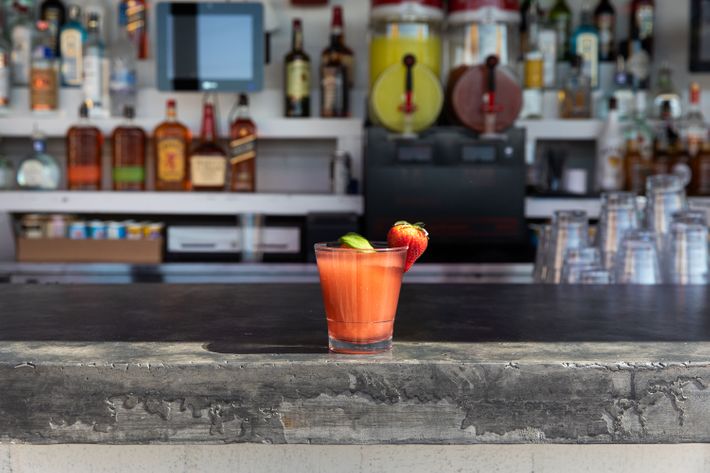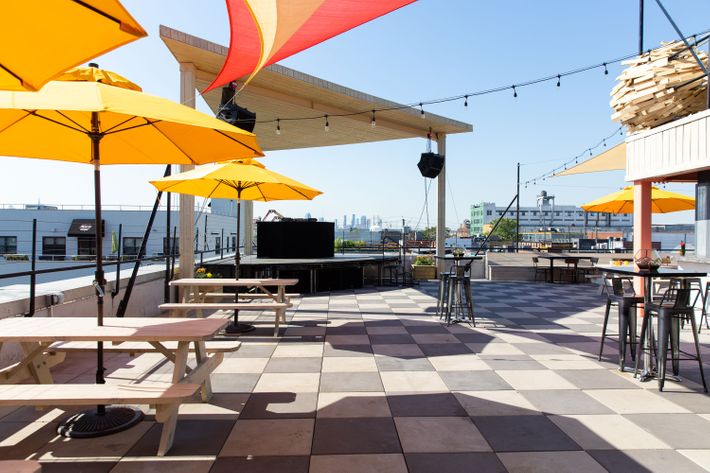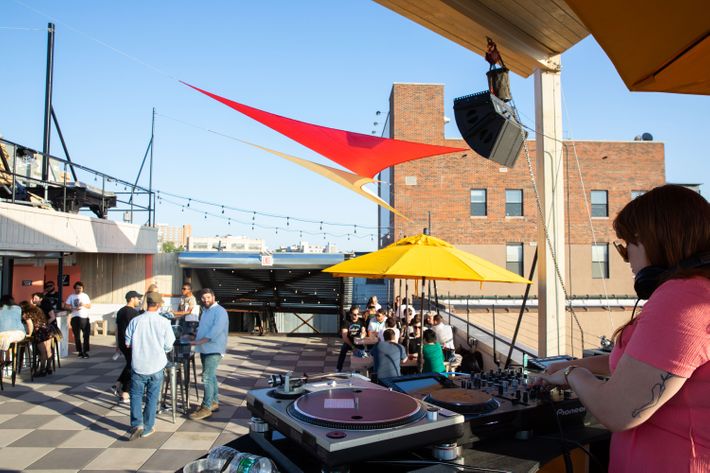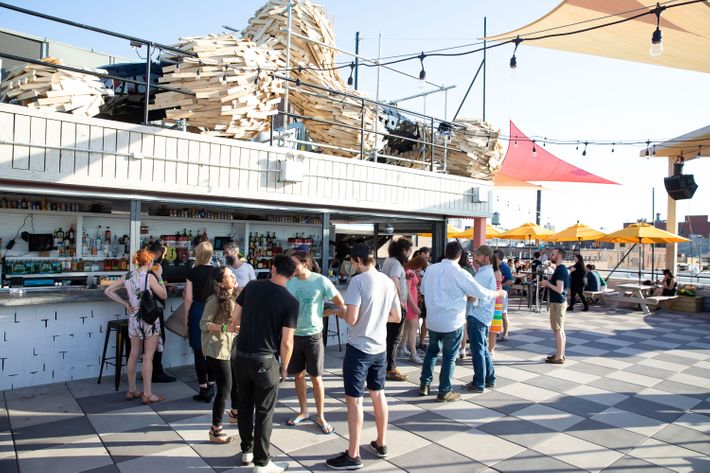 The Rooftop, 599 Johnson Ave., nr. Scott Ave.