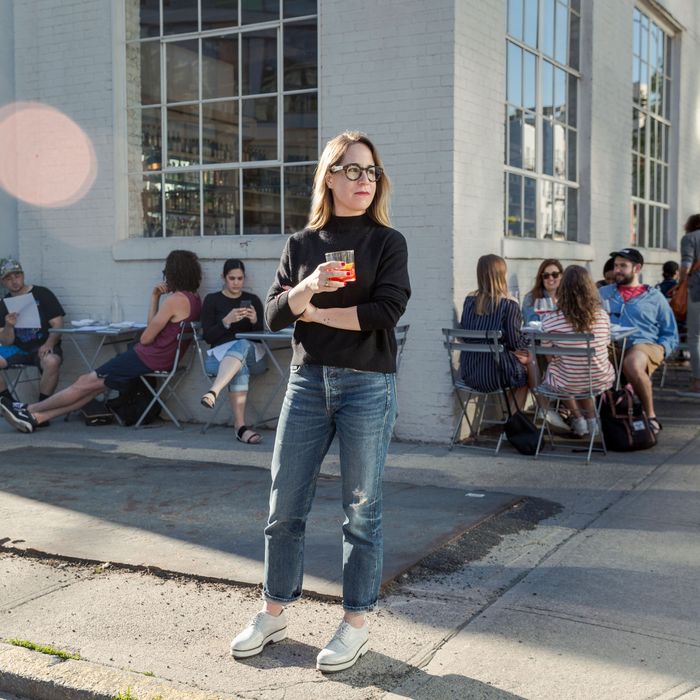 "As Leslie put it in a hungover text to me the next day, 'We drank all of everything.'"
Photo: Mark Abramson
Talia Baiocchi knows everything that you should, and should not, be drinking. The editor and founder of the online magazine for bar and drinking culture, Punch, she's also the author and co-author, respectively, of the books Sherry and Spritz. While Baiocchi's job takes her to bar stools around the country, she's not immune to the pull of "Sad Salads™" when she isn't working. More often, though, you'll find her at her neighborhood spot Lilia, asking for her "standard" six-dish order at Uncle Boons, and spending Saturday at Uogashi. Read all about it in this week's Grub Street Diet.
Thursday, May 17
Went on a 4.5-mile run, then had a cappuccino at Lilia that I paid for in all quarters. (Left my wallet at work.) I alternate between making coffee at home and going to Lilia, either when I need to hurtle myself into the world, I've run out of half-and-half or coffee, or I just want to look at all the tiramisu doughnuts.
Also had a weird dairy-free "yogurt alternative" care of SoulCycle. Hated it. It tasted "alternative," and not in a good way. Like plastic mixed with imitation coconut, it vaguely reminded me of Parrot Bay.
Ran an errand at Chamber Street Wines, then met some nerds at Fausto to taste a bunch of vintage amari for a feature we're working on. Brad Thomas Parsons organized it. We tasted a little over 20, most of them from the 1960s and 1970s, with both an old Amer Picon and a weirdo Croatian amaro stretching back to the 1940s. We had Moses Sleeper, caciocavallo, Coomersdale cheeses from Anne Saxelby, soppressata, and marcona almonds, of which I ate at least 100.
Followed this up with a Sad Salad™ from Brooklyn Natural Foods, near Punch headquarters. The Sad Salad™ has no official ingredient combination because no matter what you choose, it will most certainly be sad. This time it was hard-boiled egg, chickpeas, kidney beans, carrots, bacon, chopped black olives, and off-brand goddess dressing. It was serviceable, all I ever hope for from the Sad Salad™.
A couple handfuls of Zapp's Cajun Crawtators. Our deputy editor Jason Diamond brought them in the day before. It's a miracle they lasted 24 hours. Followed those with a bottle of Laherte Frères's rosé Champagne, which we cracked for our edit meeting. (Every week, I take drink requests for the meeting. Bianca Prum, our head of partnerships, literally only requests Champagne in an effort to game the system. She won this time.)
Rushed out to meet my friend Doris Cooper at Estela. I crave Estela when it's humid out. The food is clean and bright, and while the restaurant tends to be as humid as it is outside on days like Thursday, I never mind. Kicked off with a glass of Equipo Navazos Manzanilla sherry. We started with the crab-and-seaweed salad, burrata with salsa verde and charred bread, and the endive with walnuts, anchovy, and ubriaco rosso. All perfect in their way. The crab though … It was such a small bite, like four forkfuls of crab, but it was so intense, and I could've been fine with just that.
Followed with a pét-nat rosé from Grange Tiphaine. I drink significantly more and faster than Doris, so I avoid going by bottle with her, for my own sake. The next course was smoked eel with white asparagus and ramp leaves, and shrimp with English peas and wood-ear mushrooms. Both were also perfect, but the shrimp took the crown (Doris dubbed it "maybe the best thing I've ever eaten"). It simultaneously channeled a cold Chinese wood-ear-mushroom salad and Spanish shrimp bathed in hot garlic oil.
Followed that with a glass of a 100 percent Listán Negro from the Canary Islands' Dolores Cabrera Fernández, lamb ribs, arroz negro, and two desserts that we definitely didn't need: panna cotta with honey and vinegar and a rum cake with sweet potato. I am not a dessert person, but panna cotta (and anything panna cotta adjacent) turns me into a complete monster. I am not even sure that Doris tried it. Rolled myself into an Uber, showered the humidity off, and crashed.
Friday, May 18
Five-mile run, then coffee at home: Stumptown Hair Bender with a splash of half-and-half. Breakfast was sprouted wheat toast with crunchy peanut butter. My life some weeks, like this, consists of desperately trying to counter the night before with things like sprouted toast and, IDK, turmeric?
Got a cappuccino from Swallow on Driggs on the way to the subway.
Lunch was from home: arugula salad with hard-boiled eggs and avocado toast with Old Bay. Also, drank turmeric tea and Poland Spring soda water. I usually don't like flavored sparkling water unless it's LaCroix, but I accidentally bought the black-cherry flavor. Which is pure garbage. There's some weird nostalgia associated with it. It actually tastes like the '90s. There was a moment when things were flavored black cherry, but no longer. I mean, how emo is black cherry?
David from Haus Alpenz — an importer — came by with what's new and shiny in the portfolio: H & H Saveiro Madeira wine, two incredible Cap Corse Quinquina wines from L.N. Mattei, Comoz's new blanc vermouth, Cocchi's vermouth amaro, and Cappelletti's rip-your-face-off Alta Verde, which is basically unsweetened, Über-bitter absinthe without the anise. Returned to desk and powered through emails, with a splash of Beaujolais rosé because it was open, and why not?
Met my friend at the NoMad for a cocktail, El Tucan, and literally an entire bowl of the smoked bar nuts. I have no self-control around Japanese peanuts.
We then hopped in a cab to Uncle Boons. Pretty standard order for me: lamb larb, frogs' legs, green-mango salad, shrimp-paste pork riblets, baby octopus, and crab fried rice. We ordered too much and then ate too much. (I think Sarah is still angry at me.) Drank a bottle of Riesling from A.J. Adam. They sent us a toasted-coconut sundae (if you don't like this, you are a terrible, terrible person!) and mango-coconut sticky rice. Once again, rolled myself into an Uber and went down for the count.
Saturday, May 19
Woke up and worked until about noon, then realized I hadn't eaten and grabbed a hard-boiled egg on my way out the door, which I cracked open on a fence near McCarren Park and ate on the street.
Every Saturday, I more or less do the same thing: Soul Survivor class followed by lunch solo at Uogashi, which is, for my money, New York's best affordable sushi. It's a chain in Tokyo and the owners are fish wholesalers, so this isn't your standard tuna-salmon-yellowtail-type joint. There are some real deep cuts if you hit it right. They do a weekend sushi lunch with seven pieces of sushi, a tuna-scallion roll, chawanmushi, miso, and a salad. I always bring a book or a magazine (generally New York, and I'm not trying to kiss ass) and linger. This set was tuna, fluke, horse mackerel, amberjack, uni, ikura, shrimp, and a toro-scallion roll. Drank Asahi from those mini-kegs that almost pour nitro. I had the latest issue of the magazine: nothing like robot sex and uni on a Saturday afternoon.
After some chores, went to Vine Wine to pick up a few extra bottles for dinner. They had the 1883 Terrantez Madeira open and I had a glass. I then cracked a bottle of old sherry that I had in tow (not a thing I usually carry around) and poured it for the staff before heading to my creative life partner Leslie Pariseau and Tony Biancosino's house in Carroll Gardens for dinner. These people are my spirit animals. Our mutual friends Kat Bangs and St. John Frizell joined.
We started off with conservas that I brought: berberechos from Conservas Dardo, mussels escabeche from Queridina, and spiced sardines in olive oil from Conservas Pinhais in Portugal, one of my favorites. St. John brought spinach arancini and caponata, and our hosts put out a requisite shrimp cocktail because we had steak and Caesar, and such things should always be proceeded by shrimp cocktail.
We followed that with three beautiful rib eyes that Tony purchased illegally outside of an Upper East Side steakhouse that had refused a purveyor's full order. He bought $400 worth of steak for $100, and carried them home in a Duane Reade bag. This is some real New York shit. He started them on the grill and finished them in a cast iron with rosemary-garlic butter. Served with a grilled romaine Caesar and mushrooms.
As Leslie put it in a hungover text to me the next day, "We drank all of everything." This is fact: Laherte Frères Champagne to start, then a 2014 from the Mont-Louis region, a Xavier Courant red, another red from Calabretta Nerello Mascalese, Sanchez Romate Amontillado Old & Plus, and S.J.'s bottled cocktail of Becherovka, Calvados, and a splash of Combier topped with tonic. We drank all of that and foolishly opened a bottle of very old Osborne's Sibarita, another Very Old Rare Sherry. Not a thing you should crack when you're five bottles of wine and several cocktails deep. But it always happens anyway. Mezcal and Tecate followed. I wisely declined both, but it did nothing to save me the following morning. We ended up playing Uno and Pictionary and listening to D-list grunge albums until 2 a.m., a cool thing that people in their 30s do on weekends.
Sunday, May 20
Woke up and felt like a trash fire, texted everyone who was there about it. Made myself soft-scrambled eggs with Calabrian chilies and Pecorino, got a coffee at Lilia, and went for a long run. Came back to life around noon, ran some errands, and made a salad with tuna belly, arugula, shaved fennel, and hard-boiled eggs.
I had every intention of staying in, cooking for the week, and going to bed at, like, 9 p.m. But Missy Robbins asked if I wanted to go to Bunker and I could not resist the siren song of the crab spring roll. I had a Campari soda at her apartment first. Then to Bunker. Crab spring rolls (obviously); Vietnamese pancake with bacon, shrimp, and bean sprouts; beef jerky–papaya salad; beef pho; and lemongrass chicken. I wisely kept myself to one Asahi on draft. Was home by 10:30 p.m. and asleep by 10:35 p.m.
Monday, May 21
Started with a cup of my backup shit coffee: Lavazza beans that have been in my freezer for at least two years. They're called upon only when I run out of Stumptown and don't have it in me to walk around the corner to Lilia. Splash of half-and-half. Lavazza is such shit, holy hell.
Tangerine Emergen-C, then a long jog. Had a cappuccino at Swallow on the way to the subway. At the office, tried a weird coconut-chia thing from Brooklyn Natural, which Bianca warned me would "make me poop." I've had chia in things, but I've never got on the chia train. It was kind of gross. But all they had for yogurt was Siggi's, and I gotta tell you, I'm not a huge Siggi's person.
Drank turmeric and ginger tea, plus two Topo Chicos.
For lunch, had food I'd made. Arugula, tuna belly, and hard-boiled egg with goddess dressing. Also, avocado toast with nori — sorry. I'm from Southern California, but grew up between there and Hawaii, where half of my family is. So I'm obsessed with furikake and often eat avocado toast with it. Or nutritional yeast.
Snacked on chips with fennel pollen and peanuts at Lilia, plus one-and-a-half Negroni Sbagliatos. I'm at Lilia for dinner at least twice a week. I go there a lot and stand at the pass; a lot of nights I go on my way home from work. It's around the corner from my place and became my home away from home. Sean Feeney, Missy Robbins, and that whole restaurant became like my family in a way.
Then, three sips of terrible Prosecco at the Food & Wine Best New Chefs party. It was like every industry party.
Dinner with Missy at Prune after. Bottle of Jolie-Laide's California rosé, which is straight-up watermelon water in the best way. Lamb's tongue; tortelloni in capon broth; chicken wings and manila clams braised in sherry with leeks; buttered English peas, pearl onions, dill, and mint; radicchio wedge with pancetta and egg; warm asparagus salad with blue cheese and parsley; and lemon semifreddo. Might not sound like it, but for once I didn't order too much! Uber home, sleep, repeat.
Tuesday, May 22
Same backup shit coffee and scrambled eggs with Pecorino and black pepper.
Then, 14 margaritas. Just kidding — sort of. It was a blind tasting of 14 takes from bartenders around the country. We do these with all the classics and bring in a panel of esteemed folks who can't see why they shouldn't spend four hours in the middle of a workday tasting margaritas. This time it was John deBary, Joaquín Simó, and Claire Sprouse, along with Robert Simonson. Ace team.
A bunch of chips showed up at the office again thanks to resident chip enthusiast Jason. Kettle Jalapeño and cracked pepper, Zapp's voodoo, and Xochitl tortilla chips. I dabbled.
Topo Chico and Sweetgreen with a Postmates delivery fee of, like, $200 because it's nowhere near the office, but you can't put a price on health. Lately, I've been going chicken-pesto-parm because I lack imagination.
Topo Chico again, but different! Our office fridge has a bunch of different microclimates and this one was in the weird frozen corner. Lovely surprise. Also, half of the winning margarita.
Cortado from Sey before heading to the preview of the Polynesian, the new tiki bar from Brian Miller and Major Food Group. Tasted a few of the drinks (Gone Rumming, Smoking Sarong, Black Bart Cobbler, and Commodore Daiquiri), had a single popcorn shrimp and a jerk-chicken skewer, and then bolted to Lilia to meet my friend Dana Chivvis for dinner.
We started with a quartino of Bisci Vermentino (always my BTG move there), housemade mozzarella with bottarga, toasted garlic bread, and lemon; the whole artichoke with garlic, mint, Parmesan, and bread crumbs; and some porcini Missy got in. She poaches them in rosemary-garlic butter slowly next to the fire and then grills them. They're finished with lemon juice and a bit of the rosemary-garlic butter, which ends up tasting like porcini after the poach. Heaven is a place on earth.
Moved to a bottle of Tami Nero d'Avola because, by design, it requires no contemplation. It was a Tuesday that felt like a Thursday, and we didn't need anything else to think about. Ate the rigatoni diavola; the cappelletti with kale, ricotta, and fennel pollen; and strawberry crostata and lemon ice. I'm not a dessert person, but I guess I had it nearly every night during this.
¯\_(ツ)_/¯
Walked around the corner, showered, and died.