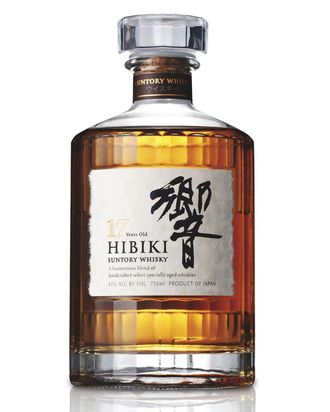 It's Suntory shortage time.
Photo: Suntory
Jack Daniels may soon become a more regular part of your bar tab, like it or not. A supply shortage in Japan is causing some of the country's most venerated whiskeys to call it quits indefinitely. Suntory announced today that it would be ending sales of both its Hakushu 12 single-malt and Hibiki 17 blended whiskey in the coming months. That confirms a report yesterday by luxury-spirits writer George Koutsakis, who said he'd heard the popular 17-year Hibiki will "be removed from the core range" in September, and that "production will stop." Japanese media now add that Suntory is doing away with Hakushu 12 as well, and that it's done for much sooner — next month.
Even if you're not a big-time Japanese-whiskey obsessive, Hibiki 17 might ring a bell: It's what Bill Murray's character hoists during that painful Lost in Translation ad where he tries to say the line, "For relaxing times, make it Suntory time."
For connoisseurs, it's somewhat devastating news. Another whiskey, Hibiki 21, is a five-time "World's Best Blended Whisky" winner, and as the distillery's most famous expression, it's not going anywhere — but bottles also rarely cost less than $300. This leaves the 17-year as Hibiki's only aged whiskey that doesn't require you to take out a loan, and now it's going away.
This is the downside of the Japanese whiskey boom: Sales have gotten turbocharged over the last decade, which at first was a good thing. Distillers also started winning every major international award. (Domestically, there was even a TV drama series in 2014 called Massan, which told the story of Masataka Taketsuru, an influential mid-century Japanese whiskey master who started the renowned Nikka distillery. The show proved popular — and before long, all of Nikka's aged single malts had run out.)
Two years ago, Suntory's CEO said he feared that Japan's imminent whiskey shortages could last a decade. One reason is because when the 2000s began — critical years for supplying today's aged spirits — nobody was drinking Japanese whiskey, so distilleries didn't age enough for what, it turns out, would be needed to satisfy demand 15 years later. Given how popular their products have gotten, their best option is to cap how much of the dwindling supplies they bottle.
Brian Ashcraft, a writer for Kotaku who's just finished a book on Japan's whiskey boom, points out that life could be toughest for Nikka. "The 2014 boom really cleaned out their maturation cellars," he explains, and since Nikka's distillation stills are powered by hand, "increasing production is difficult." It could take Nikka "even longer to recover from this sudden popularity spike," Ashcraft warns.
Suntory tells Japanese media that it's planning to increase capacity as best as it can, but for now, no one can say when either Hakushu 12 or Hibiki 17 will be back on shelves. So for the near future, looks like whiskey lovers will have to make it a different kind of Suntory time.