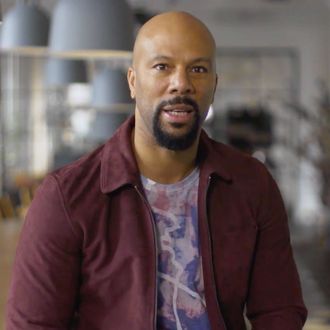 Why, yes, Common is involved.
Photo: Starbucks
Starbucks has given the public a "preview" of what its 175,000 employees can expect when they head to work next Tuesday for the chainwide racial-bias training: Common, some soul-searching from the chain's chief executive idealist Howard Schultz and other company big shots, an original documentary short by Emmy winner Stanley Nelson, and, it appears, some small-group breakout activities.
The chain says that it's already fielded more than 600 request from media eager to hear what the curriculum entails, enough interest to post a page to its press site disclosing some basic details. The actual sessions, meant to make stores "more welcoming" following the "reprehensible" 911 incident in Philadelphia, will occur the afternoon of May 29 at about 8,000 cafés (with 175,000 workers, collectively). But they'll be closed to outsiders, so the video clip below that Starbucks threw together may be as in-depth a look as the public gets.
Mostly, the curriculum is video content that will be streamed on iPads, but every employee also gets a "Team Guidebook" — a glossy, green, magazine–style booklet with activity pages filled with "guided discussions, reflection, and problem-solving." The chain says that it expects that guidebooks will take three to four hours to complete, depending on "how quickly" stores can work through them. That's a step up from the last time it tried tackling racism: Instead of writing on cups this time, baristas will do some actual self-probing and fill out worksheets in groups of three to five.
One interesting side note: The training, while paid, is not mandatory for employees. USA Today asked if Starbucks will offer makeup sessions to employees who can't, or don't, attend on Tuesday, but the company reportedly "declined to say." Presumably, they'll at minimum get copies of the materials, considering that Starbucks has already touted plans to share the curriculum with "other companies that may want to emulate it."
In his video message, CEO Kevin Johnson says racial bias "isn't just about us as a company," urging employees to dig deep and consider how "prejudice in public accommodation is deeply rooted in America." He calls the recent Starbucks incidents "sobering."